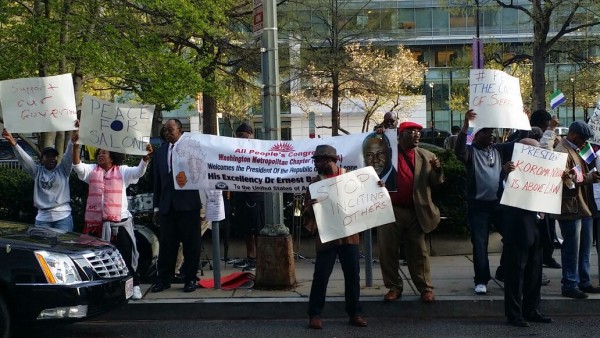 The attempts by disgruntled elements of the opposition Sierra Leone People's Party ( SLPP ), who have hijacked the Sam Sumana issue,  to  try to defame President Ernest Koroma and damage the country's international interests through demonstrations  in the U.S. have been efficiently and effectively countered by supporters of the President and proponents of peace and the supremacy of the Rule of Law in Sierra Leone .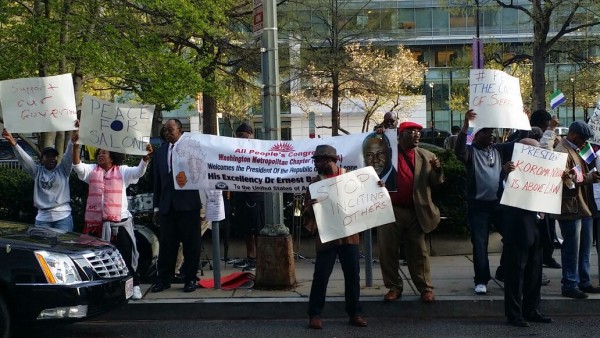 The two demonstrations that have been staged at the White House and the World Bank saw President Koroma's supporters , THE SIERRA LEONEANS FOR PEACE , going head -to head, toe-to-toe with the anti-Ernest Koroma demonstrators , who call themselves the CONCERNED SIERRA LEONEANS . Of course, with the SLPP, nobody's assets and efforts are always above their's. Even while lying prone in the gutters of defeat, they are still yapping that they are the best. They have been doing everything to downplay the potency of the counter-demonstrations but anybody who understands politics knows that President Koroma and the nation's cause are being well served by these counter-demonstrations.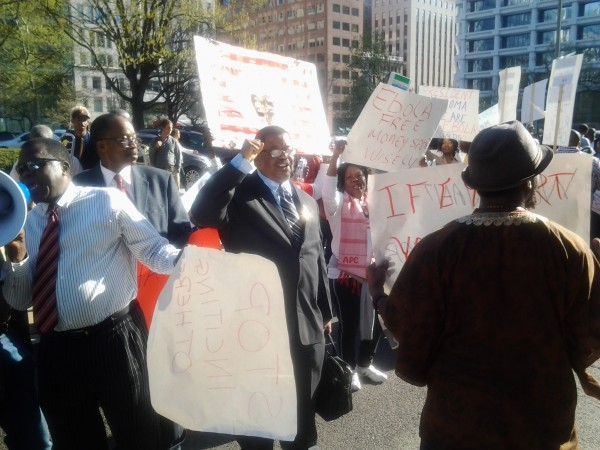 The aim of the counter-demonstrations is to prove to the outside world that President Koroma is still loved and popular in Sierra Leone and that he has Sierra Leoneans who support the decision he took recently to relieve former Vice-President Samuel Sam Sumana of his duties. This message does not need to be portrayed by throngs of crowds.
Everybody knows that people are very busy in the U.S. They have to work hard to be able to pay their bills and feed their families. But the emotions and the positions of those who are unable to make it to the demonstrations are being effectively portrayed  and represented by those who turn up to counter these SLPP  demonstrations.  The many banners, some of them screaming ,"WE SUPPORT OUR PRESIDENT " , "WE LOVE OUR PRESIDENT", "WE WANT PEACE ; THEY WANT WAR ", "PRESIDENT KOROMA IS AN ASSET TO SIERRA LEONE " etc. etc efficiently represent the views of Sierra Leoneans standing with President Koroma.  The so-called Concerned Citizens are worried about the fact that the other side's views are being massively sent out  and this is why they  have been trying to inject thuggery into the demonstrations. But they will not be able to cower the pro-Ernest Koroma supporters who have vowed to counter them wherever they go.
It is a great sacrifice and we want to thank all those who have been turning up for these demonstrations. We also thank those at the centre of the planning and coordination process. We cannot name everybody. We can however mention a few names of people who have demonstrated their love for President Koroma and the All People's Congress ( APC )  during these heady days: Mr. Ibrahim Sanfa Kamara, Kabs Kanu, Former APC -NA Chairman, Mr. Osman T. Conteh, Sheikh Daboh, Mr. Mohamed Fornah (  Pa. Yamba Lawyer ), Hassan Kamara, Abdul Hassan, Mr. Dauda Tombo Bangura, Unisa Thorlu Conteh, Mr. Arolyn Koroma, Francis Kanu , Mr. Alex Mansaray, Mr. Pavi Jalloh, Madams Susan Bona, Abie Bangali-Mansaray,Fynda Fillie-Faboe,  Margaret Lowe-Bangura, Kadi Saccoh, Namina Kossay, Sylvia Blyden, Messrs Joseph Koroma, Ahmed Wurie, etc.etc, etc and all  chapter presidents and the PRO Akmid Mansaray. If your name has not been mentioned , it was an oversight and we will add it.
Let the struggle continue until the final victory. Nothing should stop the message being demonstrated to the whole world that the SLPP  dissidents demonstrating against President Koroma do not represent the views of the generality of Sierra ;eoneans who still love President Koroma and support his socio-economic and political agenda for a better and stronger Sierra Leone.