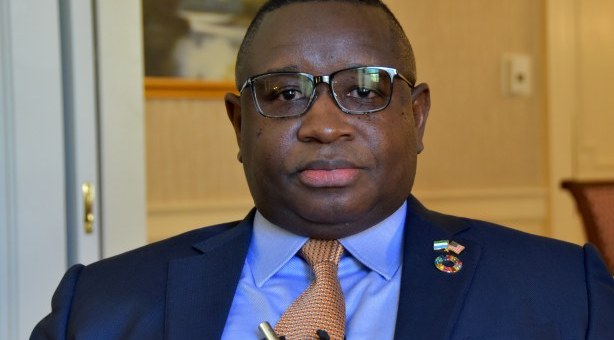 THE APC NEEDS THE DRAWING BOARD OR MAADA BIO MIGHT CONFINE US TO POLITICAL USELESSNESS.
BY SANTIGIE KANU
We are still listening to lies from our forerunners and believe 2023 APC will be voted to power. Our elders have not been sincere with political realities. They dress lies and would want us to swallow it hook, sinker and liner.
In 2012, we were told Ernest Bai Koroma will take a vacation to rest in Europe if Julius Maada Bio was elected the SLPP flag bearer. Maada became the flag bearer of SLPP and gave Ernest a run for his money. Obasanjo and all election manipulations done by our party was not enough to defeat Maada at the polls until the electoral commissioner announced the most unpatriotic election results that could have brought this country to its knees. What did we, as young APCiers learn from those lies? Nothing!
In 2018, we were told APC has never lost an election, it conducted, to the SLPP. We went into the elections overtly sure of beating Bio at first ballot. Without any political message or coordination, we followed the dream talks of our elders and believed SLPP will be threatened off the polls and as usual, the national returning officer will ultimately announce APC the winner of the elections and the forces will pervert any responses from the then opposition. Believing in these lies again did the worst to our innocent supporters. Even when we saw the writings on the walls that the elections were lost, press conferences were called where Chericoco and others deceitfully told us we have won the elections. What did we learn from this again? Nothing!
Since Bio has been elected, there are no constructive activities we are doing to give hope to the people of Sierra Leone, as a responsible opposition or to start to take us as a government in waiting. The resort to indiscriminate violence in the country or the behaviour of "Adebayor" or Sylvia Blyden, is not adding any value to us.
SLPP started bouncing back after the 2007 APC victory, through the behaviour of Solomon Berewa. In wasting no time, Berewa accepted the election results and was seated right by Ernest Bai Koroma in the inaugurations. A lot of people expected the SLPP presidential candidate to reject the result and resort to violence. The APC in preparedness had conveyed troops to the stronghold of SLPP and to our dismay, Berewa showed bravery and statesmanship to defeat our imaginations. Many swing voters started sympathising with SLPP and its leader. Did we learn anything from this?
In 2012, Bio lost and as a former military man, all eyes were wide open to see the next line of action. Our development partners were not sure of what could happen and could not allow Bio to even leave the capital. On his first outing off Freetown, a notable Civil Society activist, Charles Mambu followed him out, to make sure he did not go to either Bo or Kenema. No Maada Bio quietly went to his home town of Tihun to coil his supporters. Did we learn from that?
Bio's participation in the fight against EBOLA was also commendable. He attracted a lot of following and sympathisers. Development partners and swing voters accepted him as the next president from what they saw in him.
Fast forward to 2018, Samura Kamara and Ernest Bai Koroma are still missing. We pose as if we are running a parallel government. Where is this taking us? Nobody have monopoly over rudeness and this crop of SLPP young politicians seems to be braving whatever phobia their forerunners had with APC. If we just believe we can intimidate them, then we are showing not to be different from what our seniors have been.
The earlier we accept reality and go back to the drawing board to really look at what went wrong, the better.
Let the APC young politicians start to look at the following;
1- Minkailu Bah of Tonkolili District is no more and SLPP is growing young politicians there
2- Victor Bockarie Foh is no more in the South-East as he used to be, because of the treatment we meted on him in the last convention
3- Alpha Kanu hasn't age in his favour and is gradually being wooed to SLPP, a ministerial appointment and Juldeh Jalloh's candidature might lure Alpha Kanu away
4- The few Southerners or Easterners that pitched tent with us are being terrified by the tribal inundations against their tribe.
5- The government white paper might disqualify most of our fine politicians who have corruption cases to answer to
6- APC has never won any open elections conducted freely and free from fear
7- This growing SLPP politicians have mastered the act of our politics and fear us no more
8- Julius Maada Bio is now the leader of SLPP and will be conducting the 2028 elections
9- Ernest Bai Koroma is not still ready to relinquish the party leadership and his behaviour might be obnoxious and force many out of the party
10- There is no law in our constitution that prevents a party from ruling beyond 10 years.
The better understand the above issues the wiser we plan ourselves or else, no magic will take us to Statehouse in 2028. If anybody tells you APc will be coming to power in 2023 and you believe it, then you are part of the problems APC still face