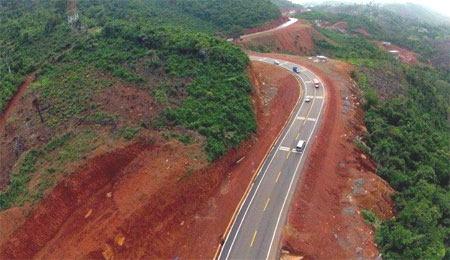 The route that President Ernest Koroma has chosen to development Sierra Leone—Infrastructural transformation –is one of the best models for socio-economic and political development and the President's decision is wisdom personified.

The President's choice of development model once again demonstrates that he is thinking well ahead of his detractors and mischief-making Sierra Leoneans like the unlearned and ignorant musicians making fun that whenever the President's achievements come to play all his supporters talk about is infrastructural development .

One should not blame these opposition elements for their asinine remarks because what it  shows is that they are bedeviled by the worst form of human ignorance, an ignorance born out of  both idiocy and being out of touch with the reality of sustainable development paradigms.

 
THE RURAL HIGHWAY OUTSIDE THE CAPITAL OF FREETOWN

 
BEAUTIFUL FREETOWN UNDER PRESIDENT KOROMA

 
SOLAR LIGHTS ILLUMINATE THE STREETS OF BO

 
NEW HOSPITAL BEING CONSTRUCTED IN KAILAHUN

Whether after next year's elections , President Koroma departs from the political horizon completely or he stays on as Chairman of the ruling All People's Congress ( APC ) ,  his memory will forever  remain evergreen in the minds of right-thinking Sierra Leoneans because he will go down as the President who developed our nation the most, since we attained Independence in 1961.

President Koroma transformed Sierra Leone from a stone-age country with dilapidated infrastructure to one of the West African countries with magnificent infrastructure and an enviable road network. Not only that, President Koroma has laid a good foundation in Sierra Leone with his development projects because socio-economic development in any country depends on good roads and infrastructure.

 
PIPE-BORNE WATER SYSTEM BEING CONSTRUCTED IN CITIES ACROSS THE COUNTRY

 
KENEMA CITY HAS A NEW FACE

 
NEW BRIDGE TO KAILAHUN

Two experts in infrastructure investment in  Africa,  Antonio Estache and Grégoire Garsous,  in their literal notes on "The impact of infrastructure on growth in developing countries" postulate that "There is, indeed, a plethora of anecdotal and more technical evidence that better quantity and quality of infrastructure can directly raise the productivity of human and physical capital and hence growth. For example, transport access can improve education and markets for farmers' outputs and others by cutting costs, facilitating private investment, improving jobs and income levels for many. "

Dr. Ibrahim Mayaki, the CEO of The New Partnership for Africa's Development (NEPAD), writes in the African Renewal : "But for real development in every sphere to happen, we need to improve our infrastructure. At NEPAD, we believe that infrastructural development is the key to all aspects of social and economic transformation."

He went on  : "Furthermore, a recent World Bank study found that the poor state of infrastructure in many parts of Africa reduced national economic growth by two percentage points every year and cut business productivity by as much as 40%, making Africa – in spite of its enormous mineral and other natural resources – the region with the lowest productivity levels in the world.In order to boost intra-African trade, we need to improve infrastructure."

 
PUJEHUN TOWN IN THE SOUTH

 
KOIDU CITY

 
PRESIDENT KOROMA TURNS ON THE LIGHTS

According to Mayaki , "Infrastructure investments can also help improve peace and security by enabling, sustaining and enhancing societal living conditions and the welfare of people in developing countries. Infrastructure connects communities and countries with market, health and education facilities, gives access to clean water, sanitation and power, and improves livelihoods and generates employment creating the conditions for lasting peace. "

Also, The African Development Bank (ADB) has made infrastructure development a cornerstone in its development agenda with regional member countries ( TMSA, 2012). Therefore, there is no doubt at all in the wisdom of President Koroma in choosing infrastructural development as one of the centre pieces of his national development enterprise.

Sierra Leone started reaping rich dividends from President Koroma's infrastructural developments as we had one of the two fastest growing economics in the world and business, investment, mining  and agriculture had started booming in the country but these gains were wiped out by the Ebola scourge and the dramatic drop in commodity prices in the world market. Ebola, especially, has been most cruel to President Koroma , but all is not lost. Once we inculcate the culture of maintenance and the next President continues where President leaves off, the benefits will come again , once our nation is fully up and running once more.

No doubt, by wisely choosing one of the best models for national development , President Koroma deserves the accolade of the FATHER OF MODERN SIERRA LEONE.