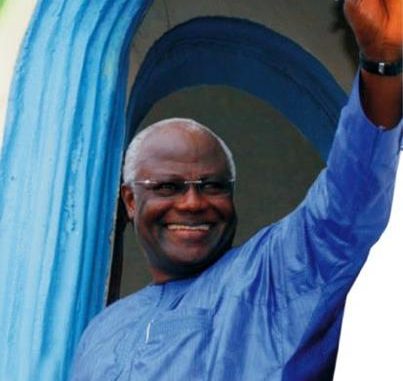 By Titus Boye-Thompson :
Strategic Media & Development Communications Unit
PRESIDENT's LEGACY ENJOINS PRINCIPLE OF ONE GOVERNMENT
There is a universal truth in politics. One week is a long time but so also is a day. Political futures have been known to have changed dramatically in just a matter of hours. This truism is underpinned by the concept of collective responsibility and adherence to a common goal or set of principles in governance. There is only one government in Sierra Leone and there are no parallel institutions, bodies or individuals that should lay claim to an opposition to that fact. The concept of one government is enshrined in the leadership style of President Ernest Bai Koroma. His commitment to duty, a strong sense of purpose and an unflinching obligation to the sanctity of the state through effective security of the nation are paramount as some of the reasons why that concept of one government is intrinsically linked to his own legacy.
The elections in 2012 were unique in one singular manner. This was the first time that a raft of politicians from all levels of the political spectrum was being voted in by a single ballot experience. The coining of Four for Four (444) by the APC Campaign machine accorded the party a formidable slogan and catchphrase. Its meaning and rationale were clearly defined, even to the politically unsophisticated and for that reason the country overwhelmingly voted in a combination of politicians at all levels, giving the majority share to the APC. Hence, the cadres of politicians who benefitted from the Four for Four wave have a direct link to the concept of one government. That was the promise that the President gave to the electorate. He asked for voters o return in majority, the candidates under the APC symbol so that he can effectively govern the whole country from local ward levels through to parliamentary constituency levels. No government courts opposition and hence the affirmation by President Koroma for a wholesale support of his party and its candidates are not to be unexpected.
A significant expectation of the principle of one government therefore is that of collaboration across political strata. There can be o infighting or barricading amongst the different cadres of governance. In the event, President Ernest Bai Koroma evinced that his principle is workable recently when he accorded financial support, directly to the Freetown City Council to reconstruct a market area at Sewa Grounds when upon his inspection, he was not altogether satisfied with the extant design and layout of the emerging structures that site. There are those who chose to view that engagement as a rebuke from the President to the Mayor of Freetown but then those are the sort of people who will always regard the glass as half empty. Those who would be more pragmatically optimistic would recognize that executive order to release funds from the consolidated fund is one of the most effective powers vested in the Presidency by the constitution of Sierra Leone and in any even when that power is unleashed by His Excellency the Presidency as custodian of the country's resources, then such an occasion is one for validating hat resources necessary for the achievement of a central objective cannot be used as a weapon to deny office holders their opportunity to perform their own duties. President Koroma uses that power sparingly in all circumstances. Its use on that occasion signals that the glass is half full, his determination to support the Mayor of Freetown to be more effective in ridding Freetown of congestion and enforcing street trading bye laws are backed by executive authority.
The one government principle encompasses an admonition for all sections of government to be able to collaborate and not work against the interests of the Presidency. That does not mean that when certain sectors are underperforming, they must not be taken to task. This principle is again tactfully energized by the introduction of performance monitoring and service delivery tracking. The Performance Monitoring and Service Delivery Unit, (PMSDU) embedded within the Office of the Chief of Staff was established by President Koroma to measure how effective a range of MDAs are in delivering public services. A measure of the effectiveness of MDAs monitored by this Unit is the extent to which they use synergies already existing within Government in the exercise of their public service delivery functions. The PMSDU monitors the performance contracts signed between the Presidency and MDAs, and assesses their effectiveness on the basis of peer group cohorts. The idea is that for MDAs to prove their mettle, they should demonstrate how they work towards meeting the President's vision enshrined in the Agenda for Prosperity and also how they utilize internal structures to combat social ills such as corruption that is proving to be the bane of this country's development. In working together to achieve the objectives of the agenda for Prosperity plus collaborative working on corruption, peer groups are to be expected to draw from comparative advantages and utilize best practice as benchmarks for sector standards.
Significantly, it is not unexpected hat President Koroma had attracted a range of personalities and characters to his inner and outer circles. There are those who are close to him with influence but who use such influence in negative ways. President Koroma is aware of such and to is credit has made it plain that going forwards, he would disdain on any concept of an inability by agencies such as the Police force on account of "orders from above." Those who use the President's name in contriving such "orders from above" are now at risk of severe censure. It cannot be denied that as well as personalities with character, the President has also attracted fiery personalities or those whose conduct may tend to be of an abrasive nature. The mechanics of dealing with such personalities may well be exacerbated by the President's leadership style, proven over the years as a man of great temerity, unafraid to cutting down to size, anyone who steps out of line, friend or foe. It is to be expected that those who exhibit such largesse of intemperance may one day be muzzled and appropriately so.
In the event, the concept of one government interposes a silent principle of non contravention and non conflagration. It is to be expected that those who are close to Government or indeed involved with any aspect of governance should be mindful of how they conduct themselves in public and also to desist from open confrontation, or otherwise conflagration of tempers and tantrums. In sort, there is no need for pen and public fights or spats between those who are so close to the Presidency. There ought to be a method of dealing with issues as they come p and a protocol of internal resolution must be devised to handle such mutterings that oftentimes get fired up to much bigger storms. There should also be a way to curtail the excesses of some who over step heir boundaries or overshoot their authority. This is not to implicate any particular individual situation but rather to serve as a guide on how best to protect the legacy of a president revered by so many. The cause to which all should focus is on the preservation of a firm foothold in the sands of time for President Ernest Bai Koroma. When history comes to judge him, let him not be subjected to unwarranted criticisms because he took consideration on those who were close to him but who behaved so badly that his tenure may be ascribed as rudderless, fractured or otherwise discomfited by internal rumblings. There is only one government under Ernest Bai Koroma, we should start to focus on putting that concept firmly in the annals of history.