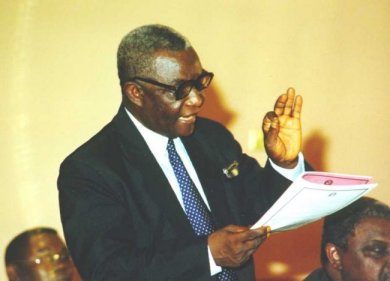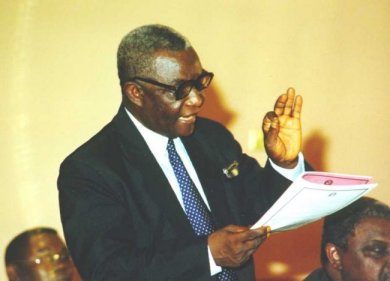 First_Name:  Jaygboy
Email_Address:  Jaygboy123@Yahoo.com
City:  Freetown
Comments:  The New SLPP: Is the VP Overconfident? And
Is Jonathan Saffa on Mission Impossible?
Reading through Vice President Solomon Berewa's rhetoric's on his would be victory in the up coming SLPP party conventions and later in the Presidential elections of 2007, (as reported by the Concord Times Newspaper of Thursday 18th March 2005 – posted on the AllAfrican.com website), I was reminded of one thing.  Overconfidence. I see "cockiness" in those remarks.
He is so sure of himself that come 2007, and were polling to be held today, he would emerge victorious. He didn't stop at that but went on to ruminate and in his own words, "I believe the people of this country have demonstrated that I'm capable than any other person as of now to handle the affairs of this country in a proper manner." This is a joke. Like everybody, he is free on his opinion. But I tell you what; this man must be looked right in his eyes and be told he is joker. Mr. VP, I beg to differ and so are many sons and daughters of this nation, on your position statement. Rephrase Mr. VP. The country is not devoid of better minds, capable mind-set within and outside who can do better than your administration is demonstrating. The list is endless. There are men and women, out there who are not only patriots, but have vision, and the political will to implement programs not just talk the talk.
They perform and live on to their promises and deliver services on behalf of their people. Mr. VP, your policies are not working. They are anti people. Your reforms are only meant to benefit your entourage and a handful of men and women of your kind. Far good initiatives and economic policies are out there when implemented will fast track the nation forward, other than yours. It would be a colossal judgment and blunder to turn over the governance of our nation to your administration for the third time.
A message of alert, Mr VP, that this nation is tired and sick of your current administration. From one end of the party to the other-the grass root, young generation, men and women, old and young- a kind of fever has taken hold to see your exit in the forth coming elections. The people are united on this and have spoken with one voice. 5 more years of the mess your administration have created and called economic progress can no longer be tolerated. On behalf of the people of Sierra Leone, thank you for the economic stagnation and for the misery you have caused your own people? The requisite training you think you have acquired under your current boss, to many falls below expectations. A passionate plea, Mr. VP: take these training to some other places; or rather you go back to court practice, as it might be useful? The country is in dire need of Prosecutors to try the ever-increasing backlog of cases, anti corruption charges, police brutality and human rights violations and abuses.
I think I know where the VP's confidence is coming from? The delegate list! It must be it! "Delegate doctoring" must have been marshaled on the eligible voters in the forth-coming party convention. Now, he thinks, he has them all in his pocket, as he has bought them off. This is sad. The VP brags on he been returned flag bearer of the Sierra Leone Peoples Party (SLPP) in the 2007 presidential elections.
This man should be stopped. It is not about the SLPP any longer. It is about a new vision, a new path to prosperity. With the VP in charge, I don't think so. The nation will pay a dear price if another of Preso. Kabbah's legacy is installed at State House.
The SLPP rank and file has to think big. Rally around one formidable candidate, rather than fighting among themselves. At least we know the names within the party who can trusted. So It doesn't matter who the person is; Charles Margai, John Leigh, Elizabeth Lavalie or Jacob Saffa..? The result is a platform that's tame and thus hard to defeat. These thoughts should be echoed once again, "This is the most extreme SLPP administration, the nation has seen. " Everybody should be willing to put aside whatever differences they have in order to defeat the VP this time around". This is my call.  The destiny of the party is at stake? The upcoming party convention is the defining moment, a make or break landmark for the party and the nation at large. Vote Berewa, and continue with the status quo and the un-repairable mess we find our self in today. Return another candidate and usher in economic prosperity for all.
Mr. VP, the thing I worry about is overconfidence. And as Barack Obama, US Illinois Senator, in his 1995 memoir, Dreams From My Father, "I.like to think of myself as wise to the world, careful not to expect too much". In these words, I make my point, be wise and careful not to expect too much from the party loyalist, this time around? I will let you in a secret. There is evidence of a new SLPP brewing up and calling for change. The party base is angry and will not vote for you this time. Trust me, Mr. VP. As far as the SLPP is concerned, your tenure was a selection and it's over. It was an imposition based on deception. We never accepted you in our hearts. We are talking about elections here. Not selection. Fair and transparent elections, any other plans invoked will not succeed.
In a similar development, Mr. Jonathan Saffa's preparation to walk on the political ice is welcome news. He is a breath of fresh air, coming in very timely, as party stalwarts reach out for an aggressive call of action, to overhaul the current party apparatus.
This is Saffa's big moment. JJ Blood as he is fondly called needs to show he can go the distance in making things happen. When the young generation stands by you as their contender, then the people are united behind you. Take the fight to Prince Harding. Don't allow him to run you down with his funny scheme of delegate "butchering" as he did in the last elections. That is what he is good at doing.
Nobody owns the SLPP. I admire you're courage JJ Blood for stepping out to throw this punch. Many are cowed and they would not dare, to take on these guys, because they see it as mission impossible? At some point in history, the issues borders around "what we all can do to change the situation on the ground". Generations to come will ask us, "What did we do".
My message to you JJ blood is to show vision. Off course you have demonstrated this in your past commitment with the World Bank Mission, but now is the time to show it out aggressively. Build your campaign on reforms and policies, completely different from the old guards.
The position of National Secretary General is pivotal. It is the engine to drive the party forward. And already, expectations are running high. The people have started whispering breathlessly on your winning. In truth, you will win and it will be an elevation to political superstardom. If you do, the callings ahead are milestone, and many problems remains to be fixed. Calls for reforms are echoing across the Potomac. And these changes should be radical. The party needs overhauling at all strata. Modernize the party and make it open and transparent to garner overall unity.
SLPP is not a private club for restricted membership? This is a party for the people. Eliminate the things that have killed the party and dropped it's rating down; the technical problems, the cultural barriers, structural and psychological impediments to change, are all in dire need of adjustment. Accountability, corruption, and incompetence at the highest level, myopic management, have all taken their toll on the party's performance. This is your fight and the people are behind you in this marathon. The few number of old and younger images, who have been reckless with the smooth running of the party, and considered by many as retired in place or brain-dead should be released. Party fundraising should be stepped up. It is overtime that the Party relocates to a new secretariat. This is the era of accountability and competence. The SLPP needs it. Our acts are together.
To you all in the race for a new SLPP, we got your back.