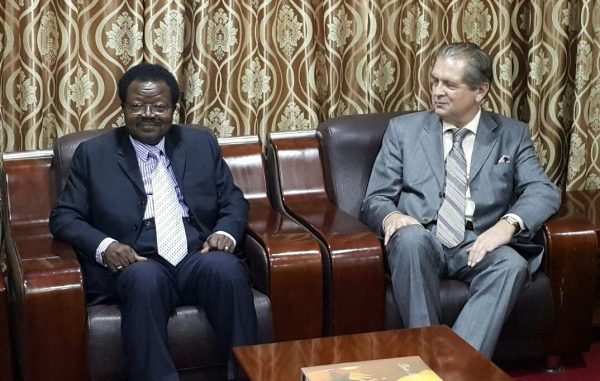 A delegation from the Russian Federation, headed by it Ambassador to Guinea and Sierra Leone, Alexandre Bregadze on Wednesday 23rd March 2016 called on the Hon. Vice President, Ambassador Dr. Victor Bockarie Foh at his Tower Hill office in Freetown.
The delegation was introduced to the Hon. Vice President by the Sierra Leone Ambassador to Russia, Mr. John Yam asu who informed the V P that they have met with the leadership of the Sierra Leonean Parliament, in order to arrange a meeting of the two parliaments, also officials of the Ministries of Defence and Trade. That him being the Vice President and Chairman of the Ministerial Council, they decided to make him their last point of call, so as to brief him on the outcome of their meetings with these Government functionaries.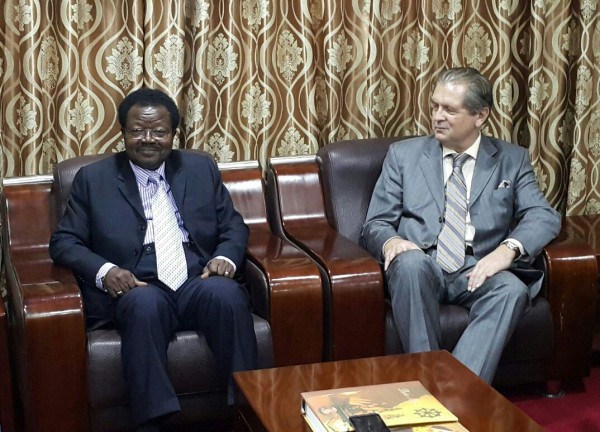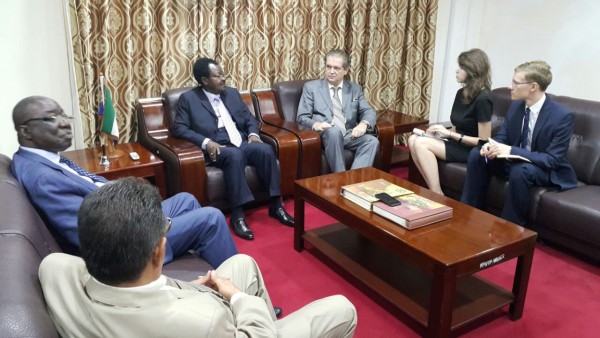 In his welcome address, the Hon. Vice President, expressed on behalf of His Excellency, Dr. Ernest Bai Koroma, the Government and the people of Sierra Leone, his profound thanks and appreciation to the Government and the people of the Russian Federation for their contributions and participation in the fight to stamp out the noxious ebola virus. The Hon. V P appealed to the Government of Russia to continue to support the President in order to effectively manage the implementation of the Post Ebola Recovery Plan. "I want to to invite, through your office, the people of Russia to come to Sierra Leone and invest more in fishing and mining" he emphasised. He encouraged the Business Community in Russia to come and engage in new frontiers of business. V P. Foh further appealed to the Government of Russia, for the resurgence of Russian Sporsored Scholarships. The Hon. V P gave a brief background history of the strong ties that use to exist between the Russian Communist Party and the All People's Congress (APC) party, which he stated shares commonalities and expressed hope that these ties will return.
The Russian Ambassador in his earlier statement, thanked the Hon. V P for receiving him and his delegation. He expressed delight at being presented to the V P and hoped for future meetings that will see them discuss issues of mutual interest.
©Communication Unit
Office of the Vice President