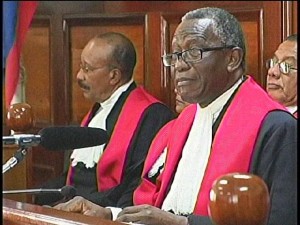 By KABS KANU :
Phew , I beat the deadline  yesterday for applying  for my annual  media accreditation  badge from the UN Media Accreditation Department which will enable me to cover the forthcoming  70th Session of the United Nations Nations General Assembly as a journalist. I never needed  this accreditation to attend the UNGA  itself  because by virtue of my position as  one of my country's diplomatic representatives assigned to the UN, I am entitled to attend the event as one of my country's delegates . I can use that position  to cover the event .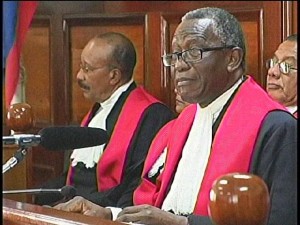 DR. ABDULAI CONTEH : My learned professor erred
The only drawback is that as if I went in as a diplomat or delegate only, I will not be able to conduct  overall media activities that only certified and accredited journalists are permitted to perform during meetings and side events –Like videotaping, conducting interviews  with heads of state, diplomats and  delegates or occupying certain seats to gain vantage positions or even using the press -assigned computers to file breaking news .
For  security purposes and to facilitate smooth  administrative functionality , when the UN General Assembly is here, diplomats and delegates always need a secondary pass to enter the UN, especially the General Assembly  Hall where Presidents and Heads of State will be giving their annual address . You need it even to attend side events . Regular IDs from our Missions or embassies are not enough . The secondary pass  is not discretional . It is mandatory. You have to have that secondary pass , which the UN issues to Missions and organizations every year only for each specific GA . Without a secondary pass ,  you will be barred from entering the gates , whatever your designation –as long as you are not a head of state. Sierra Leoneans would not like to hear this because we do not like to obey protocols , rules and regulations. I have seen many of them develop temper tantrums when they are denied entry at the General Assembly because of the lack of a secondary pass.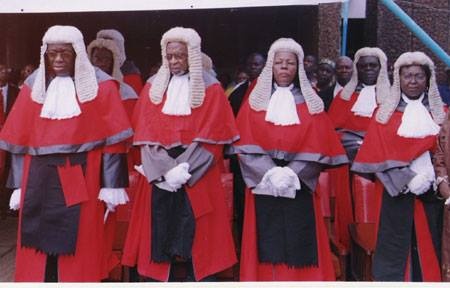 THE JUSTICES OF THE SUPREME COURT CLOSED A GAP IN THE CONSTITUTION
Now to that press accreditation. One of the conditions for being issued one is that you must be a certified journalist of a certified  media establishment  or a press attache or media person in a Mission , embassy or organization. The establishment or Mission or organization must send a cover letter of assignment  on  their official  letter heads to the UN Media Accreditation Unit when you are applying . If you satisfy all the conditions , you will receive a badge with a certified image of yourself .With that badge, you will be permitted to  enter any meeting or side event to cover it as a journalist. You can conduct interviews or do recordings without being considered as disruptive. You are also entitled to privileges accorded journalists .
But note : The protocol clearly states that "Returning journalists should renew their status ..".  The same conditions that had to be fulfilled when you applied must be renewed when you are returning. It is a continuous requirement to  satisfy the conditions for which you were first accredited. Your status  has to be renewed every year . The UN would not like to give accreditation to somebody who does not belong to a media establishment, organization, Mission or embassy ; Or somebody who has moved from being a journalist to a terrorist.  The conditions for a pass are  not static  or  one-time requirements. They must be fulfilled whenever the journalist wants to return to cover a UNGA . The journalist  has to continue to be a member of a media establishment , organization or a Mission or Embassy to continue to be issued a UN Media Accreditation badge every year to cover the UNGA . It is  common sense that even a primary school child must understand.
It is the same situation that arose in the issue of former Vice-President Sam Sumana in Sierra Leone. Section 41  ( b) states , among others, that to be elected  Vice-President , you must belong to a political party . Even a novice in the law or an elementary school kid should understand that what this means is not only that to be elected , you must belong to a political party . It also means that  to continue to be a Vice-President , you must belong to a political party. Otherwise , what is the benefit of the provision ? What social or political good was Section 41 (b) meant to serve ?  What future problems was it meant to solve ?  It is cut and dried.  It is simple. So simple that even an uneducated person in this day and age of enlightenment  cannot be expected to stumble over it. To be  elected a Vice-President , you must belong to a political party. If you do not belong to a political party, you lose one of the key  requirements for being a VP.  It is a continuous assessment and requirement. It is implied  in the constitution in black and white.
I have the greatest respect for my valued  elder brother and highly-esteemed former Foreign Minister and Attorney General of Sierra Leone, Dr. Abdulai Conteh. He is one of the best lawyers in the whole world and he has demonstrated it by excelling himself marvelously in all the local and international positions he has held. I was one of the journalists who campaigned frantically for him when he aspired to be Secretary General of the AU , not because he is my brother Sierra Leonean per se but for the fact that I respect his ability and integrity . I knew that the AU  would have been a better organization with Dr. Abdulai Conteh as  Secretary General.
However, I am confused by the role my learned mentor, brother and professor played in the confusion that attended the Sam Sumana issue. I cannot understand the legal nous behind the  interpretation  my learned professor gave to the clauses of the constitution that are in dispute.
The argument of the learned international jurist is that :
"Both sections 41 and 54 address the situation of candidates for the respective offices of President and vice President. Neither section requires continuing membership of a political party as a qualification for continuing or remaining in either the office of the President or that of Vice President.
Therefore, reliance on the expulsion of the Vice President from the APC as a warrant for his removal from office, can find no justification in the textual provisions of the Constitution.
Membership of a political party is a qualification for election to the office, but nowhere is it stated in the Constitution that membership or continuing membership is a necessary qualification for or coterminous with continuing or remaining in office. "
Did Dr. Conteh avert  his learned mind to the possibility that  the connotative  and denotative  provisions of the instrument may as well  also mean   that to remain Vice-President , you must continue to be a member of a political party ?
We are taught in our studies of Language Arts that to understand the full meanings of a word, phrase, sentence or expression , we must not only consider their textual or literal meanings, but their connotative, denotative and lexical meanings.  By the same token, documents, including constitutions, are not meant to be understood solely on the basis of  the text alone . They have to be read and understood in totality based also on Connotation and denotation .
Why would it be necessary to be a member of a political party at election time only but not while one is also serving as VP ? Which one superceeds  the  other with regards to serving a  social, political and functional  good ? Your election or the situation thereafter where it has to be ensured that you and the President belong to an entity that  will promote a harmonious working relationship between the two of you  within the confines of party synergy ?
There is the spirit and intent of the law. What does the provision really seek  to achieve ? No reasonable man would fail to  see that Section 41 (b) meant to serve a kind of social or political convenience beyond mere election.   Let us create a hypothetical situation. To be elected  head or sub-head of  an organization, it is stipulated that you  must be married. What is the functional benefit  of the provision if it is not intended to  mean also that to continue to head the organization you must be married ? Yes, according to the text it means that at the time of election , you must be a husband or a wife . But according to the spirit of that stipulation , doesn't  it mean too that you must remain married to continue to lead the organization ?   What happens when you cease to be a wife or husband ? Are you still welcome to continue to be head or sub-head of the organization  ? Will the social good that the provision seeks to promote continue to be served if the Vice-head got divorced by his/ her partner ? Will the purpose of the provision not be defeated when it comes to be headed by an unmarried member ? To grab a better understanding of its meaning of that stipulation,  we also have to consider  connotation, denotation ,  practical realities and the spirit and intent of the provision . I am surprised that a fine legal mind like Dr. Conteh failed to consider these possible interpretation  of Section 41 ( b) .
My humble submission is  also that Sierra Leone ran into what many thought was a constitutional crisis because the framers of the constitution , inadvertently, failed to foresee  problems that would emerge in the future with that clause of the constitution in the context of the complexities of competitive and break-neck politics. If they had looked at foreseeable problems  and given regard to them  , they would have included other provisions to address these likely eventualities,  such as  the resignation or expulsion of the VP  from his political party. Not addressing this important aspect of the requirements to be President or Vice-President  was a recipe for confusion . This LACUNA ( ? ) in the law contributed to what was interpreted by some as a crisis.
The gap  in the constitution inadvertently favoured President Ernest Koroma . Rather than an attempt to flout the constitutional provision,  what the Supreme Court took advantage of in the interest of a workable constitutional instrument was the loophole in Sections 41 that the framers themselves created unintentionally  .  What has happened now is that  a precedent that Section 41 (b) is a continuous requirement has been set in case law . Unlike what others may say, the Supreme Court did not subvert the constitution .  The  learned  justices of the Supreme Court, rather,  have judiciously done the nation a legal good by closing the loophole  and avoiding future confusion with that provision .
For those who have studied law, that is how legal precedents are set . Often, they arise from conflicts in interpretation of provisions of the law. Sam Sumana's legal rights were  not subverted . He only happened to be at the wrong end of a lacuna ( ? ) in law and the justices had to do their job . History has indeed been made in constitutional law in Sierra Leone.  Though it was  astonishing that the learned framers of the constitution created such a yawning gap in the instrument , the  judges of the Supreme Court have now closed that gap and rather than be ostracized, they must be hailed.
TO BE CONTINUED