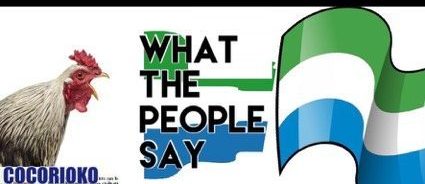 Some Sierra Leoneans are very hypocritical, feigned, double-faced and insincere. When the Liberian & Kenyan court passed an injunction prior to their elections run-off, we complimented, applauded and commended their judiciary. Now that the same has happened in Salone, we are criticizing the system. NEC should be accountable to the electorates. Sierra Leoneans should know that every plantiff has the right to be heard. If their are any election malpractice or irregularities, we should hope that the injunction is granted on Monday. The appropriate thing must be done be4 we head to the run-off..Una leh we patient ya.
Politics is not a psychoanalysis experimental gameshow but something far real. A run-off election timetable as spelt out, is a constitutional mandatory matter that has the legitimacy of Parliament. Parliament is supreme, which is the key argument here. No political party or individual has the right to interfere with the date of the election schedule through some ominous ill-founded motives. Procrastination by settled description. You can petition a post-election results and s
o perfectly within the duty and powers of the court to hear your case or grievances. Let's hope our fine judiciary don't get dragged into something they don't bargain for or they will have more questions to answer than ask. You can lie to the blind man that there is no oil in the soup but you cannot lie to him that there is no salt in the soup since salt and sugar have the most powerful sense of taste. We just want this whole election black horse over and done with so the country can move on.
What people should understand here is that the court *ONLY* granted an *INTERIM INJUNCTION* and final hearing is expected on monday. The high court has a complete jurisdiction over the matter and the plantiff has the right to be heared.
If the judges are convinced with the evidences of election irregularities or malpractices presented to them then the injunction will stand as it is but if they are not convinced and the evidences are not convincing the judges will pass a ruling for the election to hold.
In my candid opinion, i knw people are getting impatient and evrything in the country at the moment stand still but the correct thing must be done.
If the two major political parties are saying there were election irregularities and NEC also confirmed that the it is good for the matter to be looked into before going for the runoff.
We don't want to see a situation when results would have been announced and then one party did not accept it. Let us set the space for a free, fair and acceptable elections.
My two 
👌🏻cent
Sierra Leoneans please remember, this elections is not about electing a tribal leader or a Bo School prefect. We are looking for a honest, scandal free, internationally respected leader, someone who will not go blank when questioned by a BBC journalist.
 

ON THE ISSUE OF THE INJUNCTION…..
*We need credible elections. I would have loved for us to get over and finish off with these elections but we need a free, fair, transparent and credible elections that represent the will of the electorate and if delaying it for few days* (to ensure modalities are put in place to forestall rigging by any desperate politician)
*is the price we will pay for a credible elections, so be it.*
Liberia took weeks to ensure they had a credible elections. Few days will not kill us. We have spent months and Billions of Tax Payers money preparing for these elections. Let us ensure we get it right so that no one steals the will of the people.
Up till now NEC has not taken any administrative action against their officers involved in election malpractices and they want to leave them at those same stations to perpetrate their illegal acts.
Thank you Justice Mansaray.
We are no longer fools in this country.
Breaking News:
NEC has just sack 52 members of it staff in the Eastern Region that worked during the March 7 elections.
Kenema: 25
Kono: 17
Kailahun: 10
These staff have been sacked and blacklisted becaues they were clearly found to have compromise NEC standards and principles in conducting credible elections
Note: Den get for sack more rotten eggs. Inbox me to listen to the audio
 ——————————–What was thought unthinkable has happened in mama Salone. African Judiciaries are finally getting bold enough to flex their judicial independence. The Kenyan Judiciary started it, Liberia Judiciary followed and now the Sierra Leone Judiciary. This is truly an earth-shaking and momentous political development in Sierra Leone. I see the run-off pushed way out there – maybe 6 months down the road to enable all stakeholders to regroup and get it right. Nothing less than the peace and stability of the country is at stake.
The High Court injunction gives me the space to request an appointment with the powers that be at APC so I can make a compelling case for the adoption of Fred Kwoba "Solution" myself. All I want is an opportunity to stand before APC stakeholders directly and make a presentation and have them evaluate a credible solution that is in APC interest. People are telling me that my "solution" is a game-changer that it's long overdue.
"Accurate and Verifiable" polling results is what is going to settle the run-off as a credible exercise. It would be in the political interest of both sides. And that is where Fred Kwoba "Solution" (a technique to produce "accurate and verifiable" results) will come in handy. Anything less than "accurate and Verifiable" results will not be accepted by the losing side – a recipe for violence – and a serious set back in the country's development.
Fred