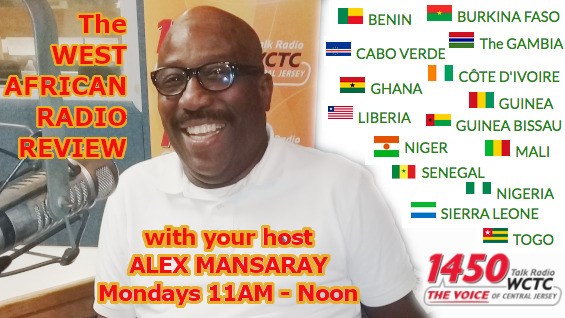 FOR IMMEDIATE RELEASE:
WestAfricaRvw@gmail.com (908) 720-2700
(Somerset, NJ) – Alex Mansaray, a long-time Franklin Township resident has begun a new radio program on WCTC-1450AM. Broadcast on Mondays from 11:00AM to Noon, this program highlights issues that affect the Sierra Leonean community and the residents from the West African nations.
Many residents of Franklin and the surrounding communities have emigrated from the 15 countries that make
up what is known as West Africa. Pursuing the American dream, they have started new lives, new businesses
and families and are part of the fabric of the Central Jersey community.
Mr. Mansaray, who has lived in Franklin for 25 years, seeks to give these communities a voice in the decision-making that takes place in Franklin. He hopes to educate new citizens as to the responsibilities of citizenship, as well as the benefits, here
in America.
On Monday, August 5th, the first broadcast featured conversations with noted pastor and Franklin businessman , Rev. Sheka Ademu-John, in the studio, and by telephone, the Former Minister Plenipotentiary of Sierra Leone to the UN and another noted Man of God, Rev. Kabs-Kanu, who is also Publisher of the famous Cocorioko newspaper ( Cocorioku.net. ) Also participating in the conversation was Alhaji 'Noah' Fofanah, a naturalized citizen from Sierra Leone, a US Army veteran, and a candidate for the local Franklin Township office of Council-At-Large.
In addition to weekly segments of international and local news, future topics will include further discussions with community leaders as well programs covering employment and educational opportunities. Mr. Mansaray will highlight relationships among town and county agencies and what their roles are in government and seek community comment.
Alex Mansaray host of the West African Radio
Review highlighting the 15 West African nations