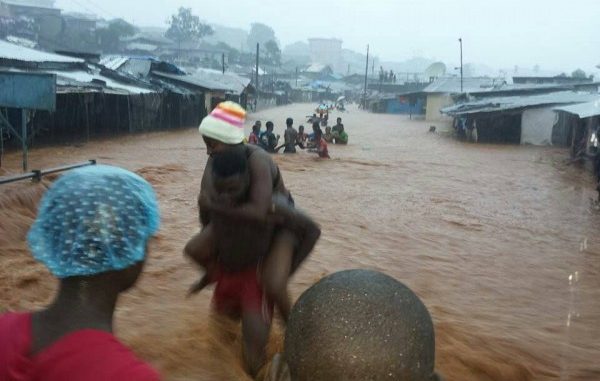 Heavy torrential rains have caused more extensive flooding in Sierra Leone.
Areas of the city of Freetown are at the moment facing heavy flooding with reports that a number of homes have been destroyed or swept away , according to our man, Idrissa Conteh.
Freetown, like other African cities , is paying the price for  climate change , aggravated by deforestation and poor construction on the once green mountain tops water run ways.
Telephone lines to Sierra Leone have been disrupted by the floods making communication with family and loved ones impossible.
___________________
His Excellency, President Dr Ernest Bai Koroma has held a high powered security meeting to provide first line of response to victims of flooding caused by torrential rains on Wednesday 16th September, 2015.
Police and military deployed to ensure people are safe and national stadium opened to those affected by the flood.
Immediate settlement of all displaced by the flood.
Doctors and nurses to be prepared to receive patients or affected persons.
To identify locations in the East and West to provide tents and clothing to those affected by the heavy downpour and flooding.
The focus is to save lives and properties. RSLAF and SLP to act as rescue teams.
Stay tuned for more on this as government will be meeting on a hourly basis with all stakeholders to assess the situation.