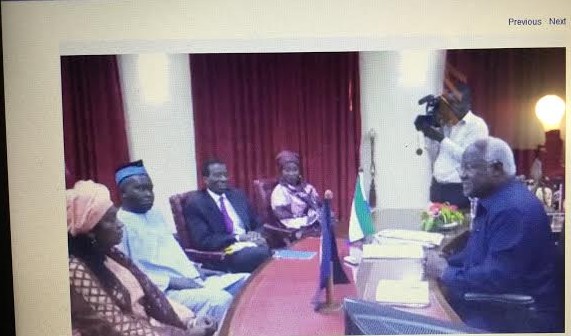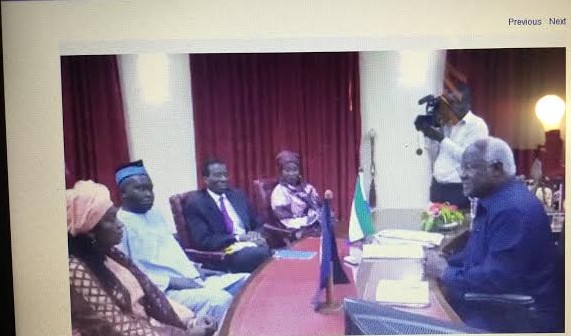 The Minister of Trade and Industry, Alhaji Wusu Boie Kamara , has commended President Ernest Koroma highly for helping to save his life. Mr. Kamara returned to Sierra Leone last week after a prolonged period in the United  Kingdom where he was receiving medical treatment.
Jarrah Kawusu-Konte of the State House Communications Team sent the following report at Facebook :
"I thank you from the bottom of my heart for the role you played during my illness which went even beyond your duty as president," ALHAJI OSMAN BOIE KAMARA tells PRESIDENT KOROMAPlease see transcript below:ALHAJI OSMAN BOIE KAMARAI thank you from the bottom of my heart for the role you played during my illness which went even beyond your duty as president, both personally and officially. It shows the type of president you are because what you have done shows the true nature of your concern for human being. I thank you very much for that. I am here with a cross-section of my family and other stakeholders who have been with me in and out to make the public testimony to the role you played and for them to accompany me to thank you for what you have done.I will take this opportunity to introduce them so that they too will know you and you know them. I have my wife here – Mrs Isata Boie Kamara; she has been a source of sustenance and strength throughout my illness. "Pipul dem kin tok say e fine mek u get good uman." That helps because even that is what the doctor said; that helped in the recovery. That's my sister Mrs. Daramy. She lives in London, Justice Abdul Koroma, Mrs. Bona is my sister as well; she lives in New Jersey, Mr. Adeyemi, Mr Maddy, Sheikh Street Life Koroma, Mr Kojo Brown, Mr Konike Kamara, and my son Mamoud.So we will not keep you long here. The purpose of this visit is to thank you not only for me personally. Thank you for the nation for your herculean effort during this Ebola crisis to make sure we have reached the stage where we are today. I thank you for that. Am sure the people of this country are grateful to have had you as president to steer the ship of state so that the situation which arose in this country. So once more we thank you, thank you, thank you.PRESIDENT KOROMA'S RESPONSELet me start by welcoming you and your family to State House and to welcome you again hale and hearty. Personally the government and the nation have gone through very anxious moments onto your illness and we are happy that today you are back. And I also want to thank the members of the family and the friends who have supported you through this very difficult moment. For us I think your health is most important. You cannot price it with money; you cannot price it with my time and efforts. I think what we have succeeded in doing God being the helper is having you back. So once more let me welcome you and to say that we are happy that we are back and I am sure with the continued support of the members of the family and with God's help you will continue to play the role you've been playing in national development.The support of the government should not come as a surprise to you. Besides serving in government you have been a long standing public figure in this country. You have contributed in your own way towards national development. I think if it's anything the country has a responsibility to ensure that our citizens are protected and are provided for in whatever circumstances they find themselves. This is just one of such situation.
Let me again urge madam to continue to provide the support and I think health is most paramount in whatever we can do to continue to enhance your health. You can always count on us as a government and you can come to me personally.
Once more let me welcome and thank God you are back.