As China continues supporting  Sierra Leone in a  number of areas including the development of the country's human resource capacity, in the next two weeks, our country will be blessed with twenty-four graduates from China, following the completion of their studies in different fields of academia like  Journalism, Human Resource Management, Medicine, International Relations and Mining Engineering.
Among this group of twenty-four will be 5(five) PhD graduates including a lady with PhD in Statistics, 17 (seventeen) with Masters and 2(two) with Bachelors in Medical Sciences.
Sierra Leone's Ambassador to the People's Republic of China, Victor Bockarie Foh encouraged the graduates to give their best services to Sierra Leone and to "put into practice the knowledge and skills they have acquired during their courses of studies in the People's Republic of China"
He underscored that the future of Sierra Leone depends on its youthful generation and that "it is of cardinal importance for those who get opportunity to study here in the People's Republic of China to return home and make positive contributions to national development for by such measure, we could reach our desired developmental destination".
Ambassador Foh expressed deep appreciation to the Government of the People's Republic of China for her continued support to Sierra Leone especially in the fields of Education, Health and Infrastructure, amongst others.
Secretary-General for the Sierra Leone Students Union in China, Adikali K Sesay (PhD. Candidate), expressed optimism that the graduates returning home will adequately represent the general student body of the PRC"in positively contributing to Sierra Leone's growth." He called on Ministries, Departments and Agenciesin Sierra Leone to utilize the expertise of these graduates and move our country to prosperity.
Sesay commended the Government of His Excellency, President Ernest Bai Koroma for maintaining "the long, unbroken and cordial relationship between China and Sierra Leone."The Sierra Leone Students Union in Beijing, he said "appreciates the President's commitment to our country's development," and then appealed to fellow graduates to return home and make meaningful contributions to national development whilst at the same time, called on and encouraged all institutions with job openings, to make use of their group for effective and positive development of our mother land.
Below are profiles of 5 of the 24 Sierra Leonean students who graduated this year from various Universities in the People's Republic of China: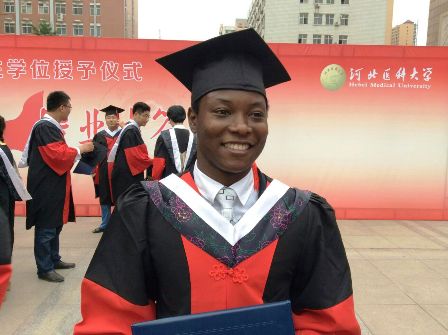 Lamin Daddy Massaquoi:
PhD-Epidemiology and Sanitation from Hebei Medical University-Hebei Shijiazhuang, China. Study includes investigation of "Wastewater Exposures and Health Outcomes"  with objective assessment of Mortality and Morbidity patterns in wastewater irrigated areas vis-à-vis clean water irrigated areas using standard weights and ICD-10 classification system;  Heavy Metal and Persistent Organic Pollutants concentrations in Soils, Cultivars and Hair Samples of farmers with previous exposure to wastewater, including Health and Environmental risk assessment using US-EPA assessment tools ; and heavy metal distribution and concentration in Chinese agricultural soils exposed to  various contaminants and risk assessments.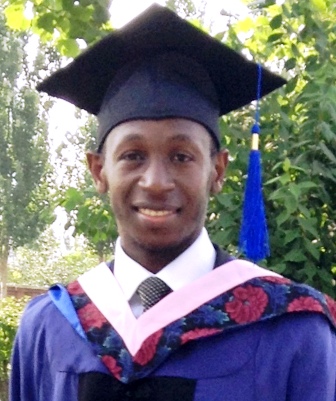 Mohamed Fernando Conteh:
He is returning home after two years of studies in China, with a Master of Arts in Journalism from the School of Journalism and Communication, Hebei University. His area of research was Africa's image in Chinese Media, specifically doing 'Content Analysis of Africa's Image in the 'China Daily'. His study revealed that "Despite the fact that there is presence of African news in the 'China Daily', yet those issues which present the continent in bad light receive more space and focus." Conteh's investigation assessed Africa's image in the China Daily for a period of one year – 1st January 2013 to 31st December 2013. Parameters of his research were identified, coded, and grouped as Favorable, Unfavorable, Mixed, and Neutral. The findings account for 26 per cent of unfavorable coverage of Africa, and 23 per cent favorable. Though the two major parameters are separated by a very small margin, his study concludes that the China Daily, like many other global news media, also portrays Africa negatively to its audience by providing more space for and focuses upon issues which paint a negative picture of the continent.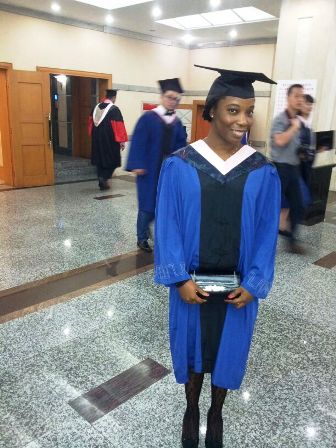 Christocia OE Kawaley:
She is going home with a Master in Business Administration from Chongqing University, Chongqing. Her Thesis was 'An Evaluation of Sierra Leone's Policy on Free Health Care in the Western Area of Freetown' specifically, ' evaluating the country's Policy on the Free Health Care Delivery, introduced by the Government of His Excellency, President Ernest Bai Koroma. Her research work took into consideration Policy Formulation, Approach and Alternatives considered during the FHC implementation, Strategy, Monitoring and Evaluation mechanisms and its achievements and some of its challenges.  Her Target Group included Pregnant Women, Lactating Mothers and Children under the age of five, Doctors, Nurses, Pharmacists and other Medical Personnel. Assessment indicators included but not limited to Dispensation and Utilization of Drugs and Service Delivery by Health Personnel to end users.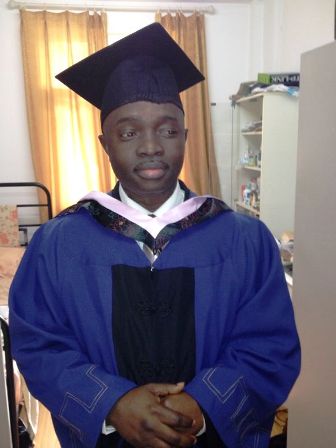 Alhassan B. Kamara:
With his background in Taxation and Revenue Mobilization from the National Revenue Authority in Sierra Leone prior to his departure for further studies in China, Mr. Kamara is returning home with a Master in International Relations. He did extensive research on the Economic Community Of West African States (ECOWAS), titled, 'A Critical Evaluation of Regional Economic Integration in Africa: A Case Study of ECOWAS' His study looked at why despite serious efforts, ECOWAS Countries have not had a successful economic integration. He tried to find out the barriers to trade and economic policies.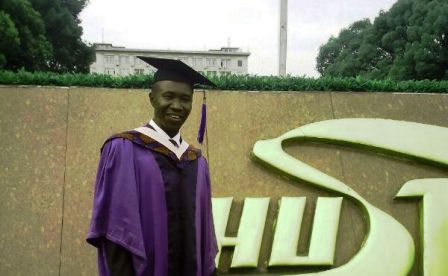 Bai Santigie Kanu:
He graduated with a Master in Administrative Management from Huazhong University of Science and Technology, Wuhan City Hubei Province. At the conclusion of his two years studies, he came out with a Research Conclusion on 'Accountability of the Public Sector in Sierra Leone.'