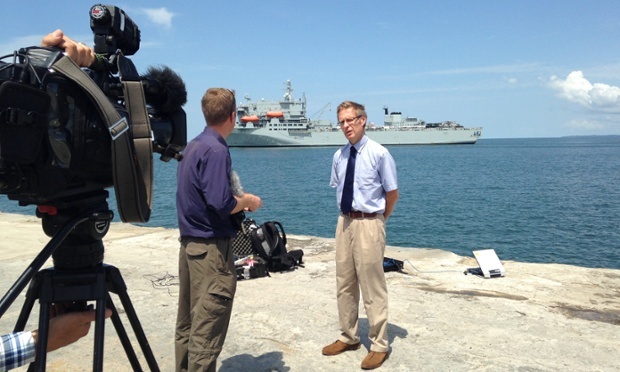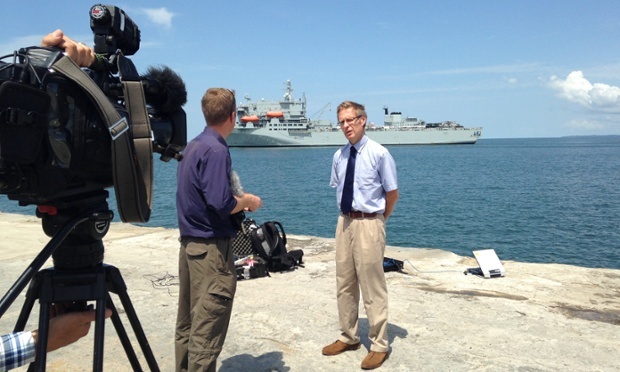 Donal Brown, who led the UK's Ebola taskforce in Sierra Leone, says the outbreak revealed serious failings in the world's ability to deal with health crises
Donal Brown says the debate over whether the Ebola outbreak was a health or a humanitarian emergency hampered efforts to combat it.
Donal Brown says the debate over whether the Ebola outbreak was a health or a humanitarian emergency hampered efforts to combat it. Photograph: DFID
Failure to learn the lessons of the Ebola outbreak will have unthinkable consequences when the next global health emergency erupts, the former head of the UK's Ebola taskforce in Sierra Leone has warned.
Donal Brown, who led British efforts to tackle the disease in the west African country, said the outbreak had exposed serious technical and collaborative failings in the international community's response mechanisms.
"We got off lightly on Ebola as a global community and we couldn't even respond properly to that," he said.
Brown declared that not only was the response late because international alert systems were not working properly, it was also hampered by "an ongoing debate" as to whether the outbreak should be treated as a health emergency or a humanitarian one.
"It was both, very clearly – and we need to ensure that we've got systems that speak to each other so we're not in a thing about should it be the World Health Organisation (WHO) leading this or should it be a UN humanitarian response. This is a complex health-humanitarian emergency and our systems need to be able to lead that together," he said.
Brown, a former vet who is now head of the Department for International Development's (DfID) global funds department, said that the situation would have been immeasurably worse if the world had been dealing with a respiratory-borne infection rather than one spread, like Ebola, through bodily fluids.
"I have seen the consequences in animal populations of airborne diseases and I just cannot contemplate that in a human population," he said.
"We have to learn the lessons. There is no option. It is so frightening if we don't learn the lessons. I will keep going and ensure that whether it's the Department for International Development in London or anywhere else, it's something we don't let drop."
We got off lightly on Ebola as a global community and we couldn't even respond properly to that
Donal Brown
Brown welcomed David Cameron's announcement of the creation of a team of "disease detectives" – epidemiologists and infection control specialists who would be ready to deploy in response to outbreaks – but said the challenges of epidemics could not be met by technology alone.
"The UK and the international community can bring all the weapons – the labs and the treatment centres – but we're foreigners," he said.
"We can support you, but we can't change behaviours. We don't even understand the subtleties of your culture. I think people underestimate just how difficult it is. You can't just press a button and change behaviour. You can't just sign a cheque and change behaviour. It's about person-to-person engagement. It's about verbal communication."
Advertisement
Brown pointed to Sierra Leone, which reported 15 cases of Ebola in the week ending 7 June, saying such flare-ups were inevitable because of secret burials – "which have been just a nightmare" – and the reliance on traditional herbalists.
"It's all about behaviour change and cultural practices," he said. "People still go to herbalists – and you can't blame them, because in the UK you'll get people going to herbalists or to alternative medicine when it's clear that it has its place but it certainly won't cure certain things. In a quite uneducated, poor population, it's even harder to change that behaviour."
Equally difficult, if equally understandable, said Brown, was the complacency resulting from people's desire to reclaim their lives and routines.
"That's what this is all about, complacency from everybody – government, population and so on – because people are so fed up with Ebola they just want a normal life," he said.
"They want their school to function properly, they want to be able to go to shops and restaurants and so on. So you get the complacency and then you get people who still go on with traditional practices, which just fuel it each time."
Despite the new cases, Brown said he was reassured to note that the Western Area of Sierra Leone – which includes the capital, Freetown – had just recorded its first week without a single case of Ebola.
"When I left in February, we were down to just under 50 cases a week from 500 cases a week in mid-November and we all agreed that this was going to be a long, bumpy tail," he said.
"We can't be complacent but I wouldn't say I'm unduly worried because it's gone up from 10 to 15 each week. If you look at it, it's gone up a bit and down a bit. It hasn't gone up massively."
But Brown added there was still more to be done to make sure more cases were recorded on contact lists to minimise infection and on tackling the disease in Guinea and shoring up its border with Sierra Leone.
"We know there's a lot of movement across that border and we know it's going to be very difficult to totally eradicate Ebola in Sierra Leone until you get on top of it in Guinea," he said.
Brown, who was awarded a CBE for services to international development in the Queen's birthday honours list, said he hoped that humanitarian and health agencies would learn to work better together in the wake of Ebola and in the run-up to next year's world humanitarian summit.
"One of the key things we need to do is not only ensure that the lessons are learned around WHO, but it's equally important that lessons are learned about why the humanitarian response could have been better," he said.
LONDON GUARDIAN