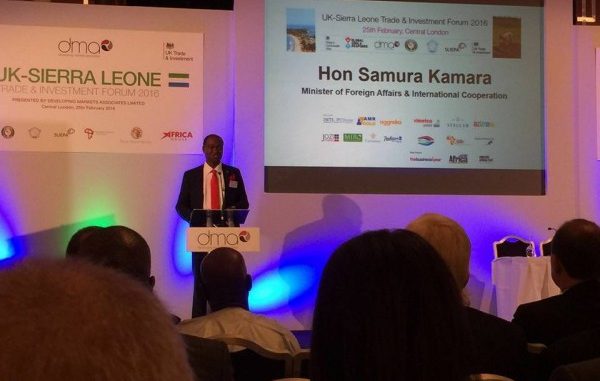 ABOUT THE FORUM
The Forum is Sierra Leone's most significant investment event since the ending of the recent Ebola outbreak and an important part of the country's agenda to restore and strengthen private sector growth and to encourage new inward investment.
Hon Samura Kamara, Minister of Foreign Affairs & Cooperation, will open the Forum and present his Government's investment priorities for key sectors – including extractives, agriculture and infrastructure – to an audience of senior figures from the international business and investment community.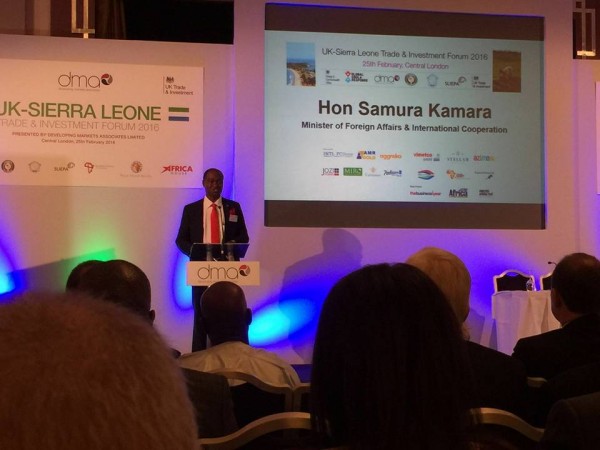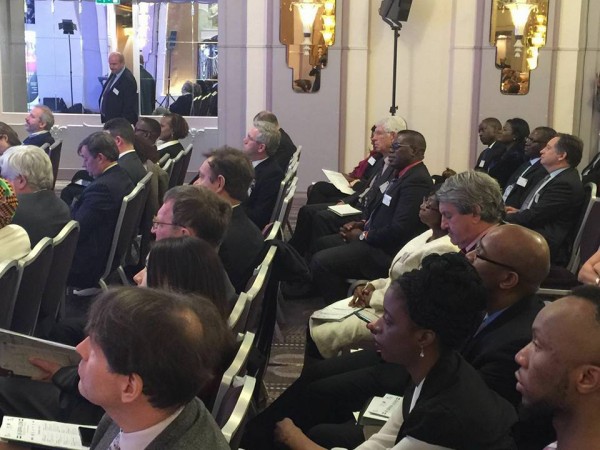 DRAFT PROGRAMME
0800-0900: Registration & Refreshments
0900-0920: Welcome
• Dr Saran Kaba, Secretary General, Mano River Union
• Dr David Nabarro, Secretary-General's Special Envoy on Ebola, UN
0920-0930: Opening Remarks
• Hon James Duddridge MP, Parliamentary Under-Secretary of State, Foreign & Commonwealth Office
0930-0940: Keynote Addresses
• Hon Samura Kamara, Minister of Foreign Affairs & International Cooperation
0940-1100: Session 1 – Economic Outlook & Financial Sector Development
Chair: Guy Warrington, High Commissioner Designate, Foreign & Commonwealth Office
• Hon Patrick Conteh, Minister of Finance & Economic Development
• Raymond Gbekie, Chief Executive, Sierra Leone Investment and Export Promotion Agency (SLIEPA)
• Gavin Williams, Partner, Herbert Smith Freehills.
• Dr Gibril Faal, Board Member, AFFORD
Q&A Session
1100-1130: Refreshments Break
1130-1245: Session 2 – Investing in Agribusiness
Chair: The Rt Hon The Lord Hain, Former British Cabinet Minister and MP
• Hon Marie Jalloh, Deputy Minister of Agriculture, Food Security & Forestry
• Adrian Simpson, CEO, Tropical Farms
• Rocco Falconer, Director, Carmanor
• Claudio Scotto, President, Africa Felix Juice
• Dr Joseph Bahsoon, Managing Director, Bennimix
Q&A Session
1245-1400: Networking Lunch
1400-1515: Session 3 – Investing in Industry & Extractives
Chair: Hon Sir Henry Bellingham MP, Former UK Minister for Africa
• Hon Usman Boie Kamara, Minister of Trade & Industry
• Representative, National Minerals Agency
• Karl Smithson, Chief Executive, Stellar Diamonds
• Colin Harris, Senior Technical Advisor, AMR Gold
• Clive Dawson, Chairman, British Chamber of Commerce Sierra Leone
Q&A Session
1515-1530: Closing Remarks
• Atam Sandhu, Chief Executive, DMA
• HE Edward Turay, Sierra Leone High Commissioner to the UK
• Hon Samura Kamara, Minister of Foreign Affairs & International Cooperation
1530-1700: Gala Drinks Reception – Sponsored by INTL FCStone
REGISTRATION
To register your interest in attending this event, please email jamie.brunsdon@developingmarkets.com(link sends e-mail) or call DMA on +44 (0) 203 117 2500.