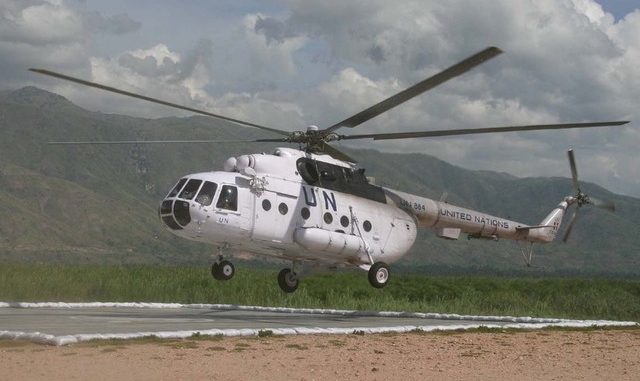 Tuesday June 29, 2004
By Cocorioko Reporter Samuel John
A U.N. helicopter on a scheduled flight from Hastings to Yengema crashed in Sierra Leone this morning. All 24 people aboard, including 3 crew members, were killed.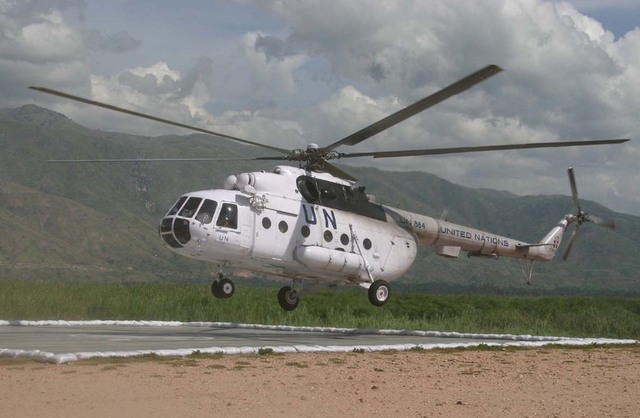 The helicopter, a Russian-built MI8-MT, registration number UNO-091, took off from Hastings Airfield at 8:00 a.m. At 9:17, ground controllers lost contact with the craft. Three aircraft were dispatched at 10:00 a.m. and they found the burning wreckage on a hillside five minutes from Yengema.
The news of the crash today left Sierra Leone wrapped in shrouds of grief, with thousands speculating who the victims may have been. 
According to a manifest, the passengers included 14 Pakistani peacekeepers and a Pakistani police officer, and travelers from several African countries. Others on the manifest were a U.N. volunteer from Ghana, three Sierra Leonean citizens, a Tanzanian working for the International Committee of the Red Cross and one Ugandan.
HERE IS AN ASSOCIATED PRESS REPORT ON THE ACCIDENT :
24 die in Sierra Leone U.N. copter crash
FREETOWN, Sierra Leone (AP) — A U.N. helicopter crashed in flames on a remote hillside in Sierra Leone on Tuesday, killing all 24 peacekeepers, aid workers and others aboard, U.N. officials in the West African nation said.
Victims aboard the Russian-made Mi-8 included the Russian crew, U.N. mission spokeswoman Sharon McPherson said. A passenger manifest made available to The Associated Press said the passengers included 14 Pakistani peacekeepers and a Pakistani police officer, and travelers from several African countries.
Authorities offered no immediate explanation for the accident, which left the wreckage in flames on a hill.
The United Nations has about 11,800 peacekeepers in Sierra Leone, overseeing the country's peace accord, which followed a vicious 1991-2002 civil war.
Fighting stopped by 2002, and there have been no known attacks on U.N. officials since.
The helicopter had taken off from the Sierra Leone capital of Freetown with 21 passengers and three crew, said Daniel Adekera, another U.N. spokesman.
Its ultimate destination was the western city of Kailahun, after a stop in Yengama, near some of the main diamond fields in mineral-rich Sierra Leone.
Ground crews lost radio contact, and sent out a search crew within seven minutes, Adekera said.
A farmer near the village of Massabendu Junction, in the area of the crash, told The AP he watched the flight's last seconds.
"I saw this aircraft coming down and it hit a tree and it burst into flames," the farmer, Komba Missa, said. "I was scared, and I ran into town to tell the police chiefs and others."
The chopper had crashed just southeast of Yengema, U.N. and Sierra Leone aviation officials said.
The wreckage and victims were in remote, hard-to-reach bush area covered in red dirt and thick undergrowth. War has left communities nearby in ruins, with few roofs left on huts.
U.N. recovery teams had to use a second helicopter to reach the area, U.N. associate spokesman Marie Okabe said in New York.
They spotted the wreckage, still in flames more than an hour later, from the air, U.N. officials said.
After landing and walking three kilometers (1.5 miles), the searchers reached the crash site. They found no survivors.
Villagers by late in the day were helping clear brush to open a path to the site, Missa said.
Helicopters are the main method of transport cross-country in Sierra Leone, where sound roads are few. The white-painted U.N. helicopters lift off frequently from a helipad in the U.N. missions headquarters in Freetown, ferrying peacekeepers, relief workers and supplies.
In New York, U.N. Secretary-General Kofi Annan's office said the United Nations had opened an investigation into the crash.
"The secretary-general extends his deep condolences to the families and governments of those who have perished in this tragedy," a statement released by Annan's office said.
"He once again pays tribute to the men and women who have lost their lives in the name of peace in this and other important peacekeeping operations."
An official familiar with the flight, speaking on condition of anonymity, told The AP that the manifest for the flight included 14 Pakistani peacekeepers and one Pakistani civilian police officer.
Others on the manifest were a U.N. volunteer from Ghana, three Sierra Leone citizens, a Tanzanian and a Ugandan.
In New York, the aid group International Rescue Committee confirmed that two of its staff members were among the victims. Alan Mukuru, 35, a Ugandan, was director of the IRC's aid programs in Sierra Leone, and Tanzanian Bahati Barongo, 37, was an administrative adviser based in Freetown, a statement said.
Passenger manifests in Africa frequently are incomplete and incorrect, and there was no confirmation that the manifest was correct for the flight.
Thirty-one countries have peacekeepers in Sierra Leone, including Britain, the country's former colonial ruler, according to the mission's Web site.
Bangladesh, Pakistan and West African nations are among the top contributors of troops.
The U.N. Security Council approved the U.N. mission in October 1999. Until Tuesday, a total of 137 U.N. personnel had died in Sierra Leone, including many killed in attacks during fighting.
In 2001, another Mi-8 used by the United Nations crashed in Sierra Leone, killing eight people.
Sierra Leone's war pitted government forces against an insurgency fighting to gain control of the government and of diamond fields. Forceful military intervention by neighboring Guinea, Britain and the United Nations helped crush the rebels by 2002.