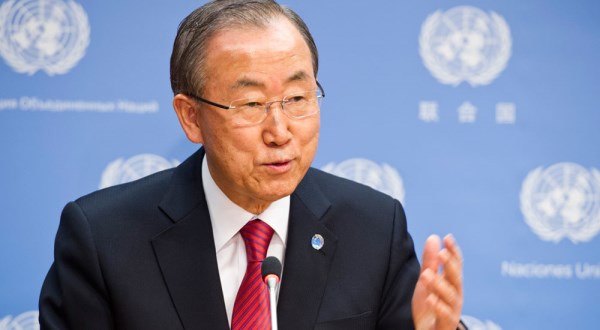 The Secretary General of the United Nations, Mr. Ban Ki-Moon, has addressed the international media on the Ebola scourge presently ravaging Sierra Leone, Liberia and Guinea.

Ladies and gentlemen, good afternoon. Thank you for your time. And I am glad that I have an opportunity to speak about Ebola.
We have just had an in-depth, extensive discussion among the Chief Executives of the United Nations system on Ebola.
We are determined to do everything in our power to help the affected countries to stop the outbreak of Ebola, treat the infected people and ensure that all essential services are provided, and preserve stability of the country and prevent outbreaks in the country and prevent further spread to other countries.
Results to date are uneven. The rate of transmission continues to increase in many places.
We need more international responders — trained medical teams and volunteer health workers – especially in remote districts. And we need to avoid travel bans, discrimination against health workers and other steps that would isolate countries when they need help most.
There has been some welcome progress. Where the Ebola response strategy is implemented, the rate of new cases appears to be slowing. We are seeing the curve bending in enough places to give us hope.
There are three main reasons.
First, the efforts of the affected governments and local communities are working in close coordination with the United Nations system. People are taking action to protect themselves and their family members. The proportion of safe burials has rapidly improved, especially in Liberia.
Second, there is greater capacity for treating people. There is more case identification and contact tracing. I thank the many countries of the international community that are making life-saving contributions.
Third, the entire UN system is fully mobilized.
The UN Mission for Ebola Emergency Response, UNMEER, continues to support the affected countries in managing this crisis.
The World Health Organization, WHO, is providing strategic guidance; the World Bank is providing crucial resources; and all UN agencies, funds and programmes in the affected region, as well as the UN peacekeeping operation in Liberia, continue to provide assistance.
The new chain of transmission in Mali is a cause of deep concern. We are translating the lessons we have already learned from the Ebola outbreak into early action to mitigate against a further spread in Mali.
The Malian authorities have demonstrated great leadership and resilience since the onset of the outbreak. They have requested UNMEER's assistance.
I have just spoken to President [Ibrahim Boubacar] Keita of Mali, about half an hour ago, and informed him that, as a way to show our solidarity and unity and immediate support, Dr. Margaret Chan, Director General of the World Health Organization, and Dr. Michel Sidibé, UNAIDS Executive Director, are travelling to Mali immediately this afternoon. They will have in-depth discussions on how the United Nations system can eradicate this and prevent further outbreaks in Mali.
At the same time, I have instructed the head of UNMEER, Tony Banbury, to establish on an urgent basis a United Nations support mission in Mali and pending the establishment of this UNMEER mission in Mali, I have designated, upon agreement of President Keita, the WHO country director in Mali, Dr. Ibrahima Fall, as representative of UNMEER.
Decisive national action combined with international support today will help to prevent a spread of the outbreak in Mali to crisis proportions tomorrow.
Even as we focus on the immediate threats, it is not too soon to start working on recovery.
The consequences of Ebola will long outlast the outbreak. Ebola has had a significant impact on health care, education and food security. Trade has suffered. Businesses have closed. The affected countries will need assistance long after the crisis has passed.
If we continue to accelerate our response, we can contain and end the outbreak by the middle of next year. I appeal to the international community to stay engaged. We hope the continued support, funding, logistics and personnel support, particularly health workers, will continue to be provided.
The United Nations system will continue to scale up our response until the very last case of Ebola is identified and treated.
Thank you.