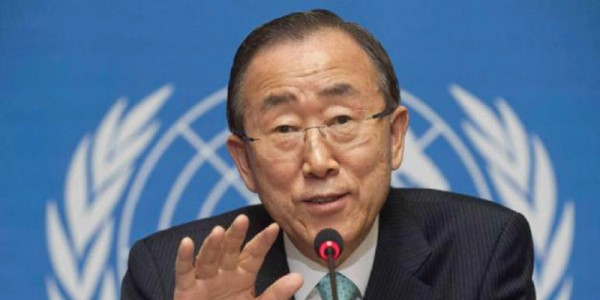 United Nations secretary general Ban Ki-Moon has called for more financial support from the international community for the struggle against killer disease Ebola in west Africa, after it emerged that a trust fund he set up has received only 100,000 US dollars (£62,000).
The fund, which is part of a one billion-dollar (£620 million) UN appeal for humanitarian needs in Liberia, Sierra Leone and Guinea, is intended to provide fast and flexible funding for the medical response.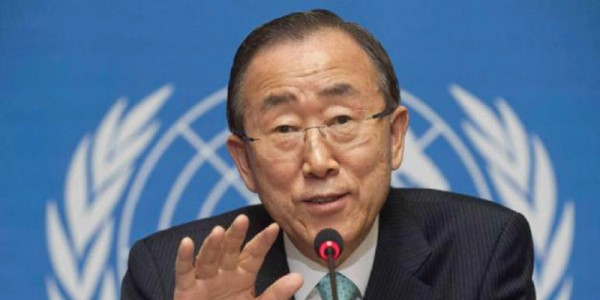 Prime Minister David Cameron, who yesterday chaired a meeting of the Government's Cobra contingencies committee on the outbreak, will use an EU summit in Brussels next week to push for more funding and assistance for the poverty-stricken countries which are struggling to contain outbreaks.
The Royal Navy medical ship RFA Argus, which has a fully-equipped 100-bed hospital on board, is setting sail from Cornwall to join the humanitarian effort and is due to reach the area by the end of the month with 225 military personnel from a total planned UK deployment of 750.
British Army medics arrived in Sierra Leone yesterday to work at a UK-supported treatment centre, which has 12 of its 92 beds set aside for healthcare workers who risk infection while treating others.
The World Health Organisation has reported a total of 8,997 cases of Ebola, including 4,493 deaths up to the end of October 12, the vast majority of them in the three afflicted west African countries.
Premier League clubs have said their doctors will closely monitor players who are returning from African Nations Cup qualifiers.
Mr Ban said last night that a "huge and urgent global response" was needed and that countries which have "the capacity" should provide funding now.
"I believe that it is time that those other countries who really have the capacity provide financial support and other logistical support," said the UN Secretary General.
"This is quite serious. We need an urgent global response and support."
Some 20 million US dollars (£12.4 million) have been pledged to Mr Ban's trust fund, but only 100,000 dollars has actually been received. The wider UN appeal has received 376 million US dollars (£234 million) in pledges – about 38% of the amount sought – though some countries are also providing help directly to affected countries and humanitarian agencies.
Mr Ban's predecessor as secretary general Kofi Annan has said he is " bitterly disappointed" at the scale and speed of the international community's response to the crisis.
"If the crisis had hit some other region it probably would have been handled very differently," Mr Annan told BBC2's Newsnight.
"In fact when you look at the evolution of the crisis, the international community really woke up when the disease got to America and Europe.
"And yet we should have known that in this interconnected world it was only a matter of time.
"I point the finger of blame at the governments with capacity … I think there's enough blame to go around."
Mr Cameron has urged other European countries to introduce Ebola screening regimes at airports, warning they "must do more" to halt the spread of the killer disease.
At Thursday's Cobra meeting the Prime Minister voiced doubts about the quality of protection in place in Europe, saying other governments should emulate the checks brought in by the UK.
A Downing Street spokesman said the meeting heard that the chief medical officer still regarded the risk to the UK as "low".
UK pharmaceuticals firm GlaxoSmithKline is trying to fast-track a vaccine for Ebola.
But the company's head of Ebola vaccine research said it would come too late for the current epidemic.
Dr Ripley Ballou told BBC Radio 4's File on Four: "To have a vaccine that people can use, you have to have the vaccine registered and it has to be manufactured on a scale that is consistent with the intended use.
"It is going to be well into next year if not the year beyond before we have that kind of level of manufacturing and the data that is necessary … The vaccine is going to come too late for this epidemic."
US president Barack Obama has given the go-ahead to the Pentagon to call up reserve and National Guard troops if they are needed to help fight the disease in West Africa, and said he may appoint someone specifically to head America's response to the virus.
The US has faced criticism after Amber Joy Vinson, a nurse with Ebola, was allowed to board a flight from Ohio to Texas despite telling officials she had a fever.
International Development Secretary Justine Greening said that the international community needs to "wake up to this crisis" and provide money to fund efforts to halt the epidemic.
It was not "tenable" for the rest of the world to allow the burden to be shouldered solely by the UK in Sierra Leone, the US in Liberia and France in Guinea, she said.
Britain is taking the lead role in Sierra Leone because of its historic links with the country. UK aid so far has totalled £125 million, which is intended to provide 700 beds in Ebola treatment units, tripling the number currently available, as well as putting in place community care to allow early identification and isolation of Ebola victims.
Ms Greening told BBC Radio 4's Today programme: " I do think Ban Ki-Moon is right to say that many more countries need to get involved. We had the World Bank annual meetings last week in Washington and I was there making these points. I had a chance to meet directly with Ban Ki-Moon and we discussed the need for the international community now to step up to the plate.
"It is simply not going to be a tenable approach to simply leave the UK to work with Sierra Leone, the US with Liberia and France with Guinea and for no other countries to get involved.
"There is now movement. Germany is starting to provide funding. I think it's quite right to say that the international community now needs to wake up to this crisis and start putting resources into working with the UK and US in particular to help deliver our strategy, which we believe will be successful.
"I'm pleased that the UN is now stepping up its messaging to the rest of the world to say that they need to be part of that overall effort."
The commander of the Argus, Captain David Eagles, said that the ship had three helicopters on board which would be used to transfer personnel, equipment and stores throughout Sierra Leone, as well as Royal Marine landing craft, which will enable swift movement around the capital Freetown.
The ship also has 83 medical staff on board, but Capt Eagles said the Argus's 100-bed hospital would not be used to treat Ebola victims.
Capt Eagles told Today: "O ur hospital facility is not for the Ebola patients themselves, but it's to provide reassurance to the UK military and civilian personnel operating in Sierra Leone in support of the DFID mission, that if they have a non-Ebola injury, they will have facilities identical to what they would find in a UK NHS hospital off the shore on UK sovereign territory.
"We also have the ability to screen our personnel returning from duties ashore, so anyone who has been on shore in Sierra Leone will be screened and monitored on their return, and if anybody had inadvertently been in contact with an Ebola patient, we have a process in place that will see them isolated and returned ashore to the dedicated Ebola treatment units in very short order. I'm confident we have a safe system.
"It would serve no purpose to bring Ebola patients out to the ship. The purpose of the DFID mission is to increase the number of Ebola treatment units and Ebola beds and training ashore in Sierra Leone, and as such we are supporting that mission rather than actually using the hospital for Ebola patients. To bring them on board a ship would lead to all manner of complications."
Ms Greening defended the decision not to open the ship's hospital to Ebola patients: "We hope that our military personnel and Government personnel – of which there will be several hundred out there now – don't fall ill, but we absolutely need to make sure we fulfil our duty of care to them, so that they and their families have the confidence to go out there and be part of this support.
"Some of the beds we are providing in Kerry Town are specifically there for healthcare workers. One of the challenges that Sierra Leone has had in tackling Ebola is that its own health systems have broken down and many of the people who have lost their lives have been healthcare workers. So putting that reassurance back in the system, that people who go out to help, will be taken care of, is vital."
Mr Cameron said some countries needed to "look at their responsibilities" as he prepared to push the issue at the 50-plus nation Asia Europe Meeting in Milan, Italy.
"This is the biggest health problem facing our world in a generation," the Prime Minister said as he arrived for the talks.
"It is very likely to affect a number of the countries here today.
"Britain, in my view, has been leading the way.
"The action we are taking in Sierra Leone where we are committing well over £100 million, 750 troops, training 800 members of health staff, providing 700 beds – we are doing a huge amount and I think it is time for other countries to look at their responsibilities and their resources and act in a similar way to what Britain is doing in Sierra Leone, America is doing in Liberia, France is doing in Guinea.
"Other countries now need to step forward with resources and action because taking action at source in West Africa is the best way to protect all of us here in Europe."