By KABS KANU AND  PASCO TEMPLE :
At the  69th Session of the United Nations General Assembly presently going on, the annual high-level General Debate will officially start today .
The theme of this year's debate is : "Delivering on and Implementing a Transformative Post-2015 Development Agenda". However, it is expected that  leaders taking the rostrum will also speak about burning issues presenting affecting the world today , especially the Ebola scourge presently ravaging West Africa , the crises in Syria, Iraq, Ukraine and South Sudan , as well as the threat to international peace and security posed by the terrorist group, ISIS.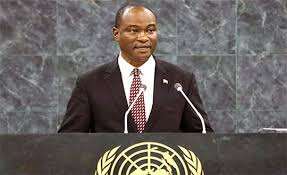 MINISTER OF FOREIGN AFFAIRS, DR. SAMURA KAMARA
Before the start of the high-level debate, world leaders had a one-day meeting on Climate Change, another matter of international concern that requires urgent action.
Sierra Leone 's delegation to the General Assembly this year is led by the Minister of Foreign Affairs and International Cooperation , Dr. Samura Kamara. Other members of the delegation are : the Minister of Finance, Dr. Kelfala Marah; the Director General of the Ministry of Foreign  Affairs and International Cooperation, Ambassador Andrew G. Bangali ; the Director of the International Division , Mr. Duwai S. Lungay ,  Mr. Mannah Kpukumu ( Also of the International Division );  Sierra Leone's Ambassador to the United States , Ambassador Bockarie Stevens , the Permanent Representative to the United Nations , Ambassador Vandi Minah ,  the Deputy Permanent Representative ( Political ) Ambassador Amadu Koroma  and  the  Head of Chancery  Mr. Alhusine Sesay .
Other members of the delegation are :
Hon. Mr. Augustine B. Torto, MP – Chairman of Parliamentary Oversight Committee for Foreign Affairs
 – Hon. Mrs. Helen Kuyembeh, MP – Coordinator of the SL Parliamentary Action Group on Population & Development (SLPAG/PD) Leading the Group (including Dr. Lynda Foray; Mr. Mohamed K. Lebbie of MoFED; and Rev. George-Buannie) attending the International Conference on Population and Development (ICPD)
 – Mrs. Haddijatou Jallow, Executive Chairperson of the Environmental Protection Agency (EPA/SL) Leading the group (including Director Mr. Momodu Ankrah Bah of MLCP& the Environment; Mr. Aiah Wurie Kembay; Ms. Fatmata Abu-Bakarr Sesay; and Ms. Asmaa James) attending the SG's Climate Change Summit and related Side Events.
The UN News Service reports that : "Among the high-level meetings are a Security Council summit Wednesday chaired by United States President, Barrack Obama, whose country holds the body's presidency for the month, to draw international attention and action to the growing and dangerous phenomenon of foreign terrorist fighters; and a session convened by Secretary-General Ban Ki-moon for 25 September to focus on a more robust international response to Ebola crisis in West Africa. As has been the case over the past 68 General Assembly sessions, the journalists and diplomats will be focusing on the meetings and unplanned encounters of the "sidelines" of the General Debate. "
WE WILL BRING YOU FULL EPORTS AND PICTURES OF SIERRA LEONES PARTICIPATION . STAY TUNED.