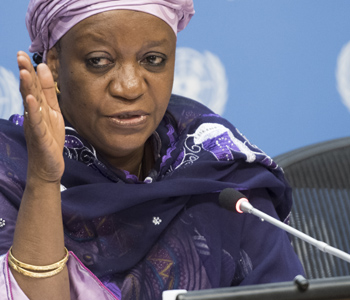 Six years on, UN Special Representative urges continuedefforts to end impunity for sexual violence crimes committed on 28 September2009 in Guinea
(New York, 28 September2015) On the sixth anniversary of the events at the Conakry national stadium on28 September 2009, which left at least 156 persons killed or disappeared and atleast 109 victims of sexual violence, United Nations Special Representative ofthe Secretary-General on Sexual Violence in Conflict, Zainab Hawa Bangura,commends the national authorities for exercising ownership, leadership andresponsibility over this process which seeks to bring justice to victims ofthese horrific events.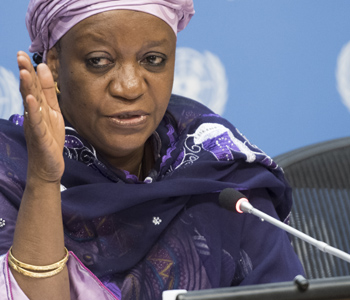 In theframework of a Joint Communiqué signed between the United Nations and theGovernment of Guinea in November 2011, Special Representative Bangura's Office,through the United Nations Team of Experts on the Rule of Law/Sexual Violencein Conflict, has been providing technical support to the Panel of Judgesestablished by the Guinean authorities to investigate and prosecute thesecrimes. With the Team's support, the Panel has already issued 16 indictments,including against former President of the Republic of Guinea,Moussa Dadis Camara, and high ranking military officers. This was based on morethan 400 hearings, which included 200 victims and witnesses of sexual violence.
"Thisis test case for Guinea.If successful, this will demonstrate the ability of national jurisdictions toprosecute serious and complex international crimes," Special RepresentativeBangura noted.
Duringa four-day visit to Guineathat ended on 21 September 2015, the Special Representative receivedconfirmation from the national authorities of their full engagement andownership of this process, and their commitment to also provide support for theurgent needs of the victims.
"Frommy meetings with the President of the Republic and other senior levelofficials,  I came to the conclusion thatwe are closer to seeing justice and reparations for victims, as well as medicaland psychological support for those who continue to face very serious healthchallenges," the Special Representative said.
Shealso met with the Panel of Judges in charge of the investigations andprosecution of the crimes which occurred at the stadium, as well as withvictims and their representatives.
"Thecourage and determination of the Judges, as well as that of the victims inbringing forward their case, is commendable. None of the progress we have seenwould have been possible without their relentless efforts in pursuit ofjustice."
SpecialRepresentative Bangura added: "Today represents an anniversary unlike any ofthe others, because it takes place after the indictments of those alleged to bemost responsible, and we have also seen from the highest political and judicialauthorities in Guinea a clear adherence to the commitmentsoutlined in the Joint Communiqué. I urge the Government of Guinea to ensure thecompletion of the investigations as soon as possible, and the start of theseimportant trials."
TheUnited Nations will continue to support ongoing efforts by the Guineanauthorities towards a successful conclusion of the process, including in theareas of protection of victims and witnesses, and reparations.
Six ans plus tard, la Représentantespéciale de l'ONU exhorte la continuation des efforts pour mettre fin àl'impunité pour les crimes de violence sexuelle commis le 28 septembre 2009 enGuinée
(NewYork, 28 Septembre 2015) – A l'occasion du sixième anniversaire des événementsdu stade national de Conakry le 28 Septembre 2009, au cours desquels au moins156 personnes ont été tuées ou ont disparu et au moins 109 ont été victimes deviolences sexuelles, la Représentante spéciale du Secrétaire-général desNations Unies sur la violence sexuelle en période de conflits, Zainab HawaBangura, félicite les autorités nationales guinéennes qui ont fait montre deleadership, de responsabilité et de prise en main du processus visant à rendrejustice aux victimes de ces horribles événements .
Dansle cadre d'un Communiqué Conjoint signé entre les Nations Unies et leGouvernement de la Guinée en Novembre 201, le Bureau de la ReprésentanteSpéciale Bangura, par le biais de l'Equipe d'Experts sur l'Etat de droit et laviolence sexuelle dans les conflits, apporte un soutien technique au Panel desjuges d'instruction mis en place par les autorités guinéennes pour enquêter etpoursuivre ces crimes. Avec le soutien de l'Equipe d'Experts, le Panel des jugesa déjà délivré 16 actes d'inculpation, y compris contre l'ancien Président dela République de Guinée, Moussa Dadis Camara, et des officiers militaires dehaut rang, après avoir conduit plus de 400 auditions, dont celles de plus de200 victimes et témoins de violences sexuelles.
«Ceciconstitue  un  test pour la Guinée. En cas de succès, celadémontrera la capacité des juridictions nationales à poursuivre les crimesinternationaux les plus graves et complexes», a noté la Représentante SpécialeBangura.
Lorsd'une visite de quatre jours en Guinée qui a pris fin le 21 Septembre 2015, laReprésentante spéciale a reçu la confirmation de la part des autoritésnationales de leur plein engagement et de l'appropriation de ce processus,ainsi que de  leur détermination àfournir un soutien en vue de satisfaire les besoins urgents des victimes.
«Mesrencontres avec le Président de la République et d'autresresponsables de haut niveau, m'ont laissé le sentiment que nous nous approchonsde l'obtention de la justice et des réparations pour les victimes, ainsi qued'un soutien médical et psychologique pour les personnes qui continuent à faireface à des problèmes de santé très graves», a souligné la Représentantespéciale.
Ellea également rencontré le Panel des juges en charge des enquêtes et despoursuites des crimes qui ont eu lieu au stade, aussi bien que les victimes et leurs représentants.
«Lecourage et la determination du Panel des juges,  ainsi que ceux des victimes qui ont portéplainte, doivent être félicités. Aucun des progrès que nous avons vus n'auraitété possible sans leurs efforts inlassables dans leur quête de justice».
LaReprésentante spéciale Bangura a ajouté: «L'anniversaire d'aujourd'hui n'estpas comme les autres, dans la mesure où il intervient après les inculpations deplus hauts responsables présumés, et aussi du fait que nous avons constaté uneadhésion claire aux engagements énoncés dans le Communiqué Conjoint de la partdes plus hautes autorités politiques et judiciaires. Je sollicite duGouvernement de la Guinée  de tout mettreen œuvre en vue de la clôture des enquêtes en cours le plus tôt possible etl'ouverture  de ces procès siimportants».
L'Organisation des Nations Uniescontinuera à appuyer les efforts déployés par les autorités guinéennes en vued'une conclusion réussie du processus, y compris en ce qui concerne la protection des victimes et des témoins, aussi bien que laquestion des réparati