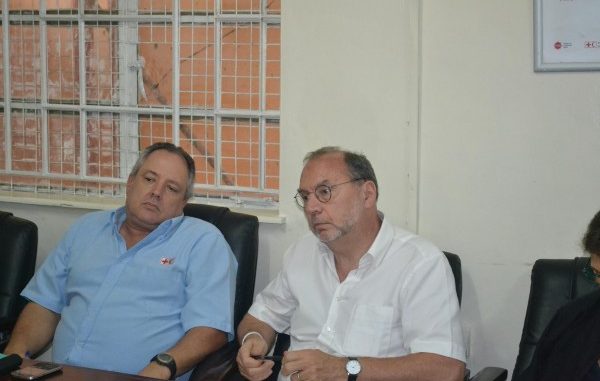 By Abu Bakarr Tarawallie, SLRCS
Ebola Scientist and Director of London School of Hygiene and Tropical Medicine (LSHTM) Professor Peter Piot Thursday 18 December praised the Red Cross and assured of their support in the fight against Ebola through the development of a vaccine that will bring a final halt to the spreading virus. He made this assurance during a stop-over visit at the SLRCS headquarters on 6 Liverpool Street Freetown.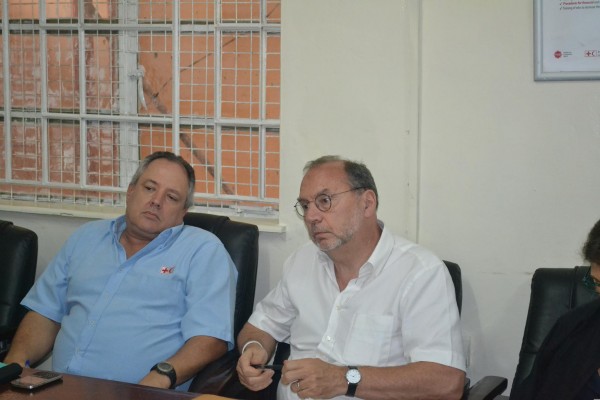 The distinguished Belgian microbiologist well-known for his research on Ebola and AIDS is in the country to support government's fight against the disease and discuss how best science, innovation and discovery can better contribute to defeating the virus. Dr. Piot commended the Red Cross for the use of the Beneficiary Communication volunteers in community engagement during the collection and burying of dead bodies and further said "Engaging the communities about the process involved in Safe and Dignified Burial and allowing the family members to offer prayers from a safer distance for their love ones is a contributing factor to prevent or minimize community uprising against the burial team" in Sierra Leone.
Welcoming the scientist and his delegation, the IFRC Head of Delegation, Stephen Mac Andrew expressed his profound delight for receiving Prof. Piot, who had been involved with Ebola outbreaks since 1976 and has played a lead role in the research to identify a vaccine against the Virus. He gave a quick highlight of the operational structure of the Red Cross in Sierra Leone.
The SLRCS Acting Secretary General, Constant Kargbo gave a brief highlight of how the Red Cross is engaged in the National fight to eradicate Ebola from Sierra Leone and West Africa, noting that the Red Cross already started community education on Ebola prevention and control even before the first case was detected in the Eastern region of the country.
Professor Piot described the outbreak in West Africa as different from previous outbreaks, warning that complacence would be the biggest mistake now as the outbreak will not be over until it is over everywhere in West Africa, and therefore suggested intensified community mobilization as the only solution.
The National President of the SLRCS, Edward Tamba Ngandi, was interested to know from the visitor whether there has been any evidence before of someone having survived from the virus and later contract the virus. The professor responding to that question mentioned that there has never been a situation that he is aware of where a survivor got infected again.