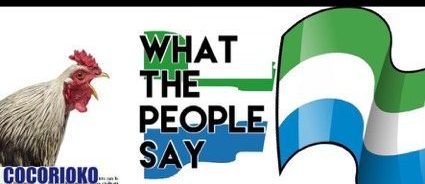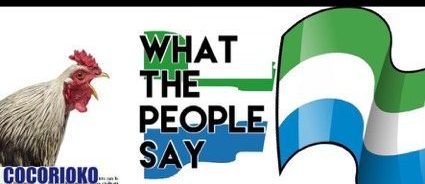 AN OPEN LETTER TO HIS EXCELLENCY RTD. BRIGADIER JULIUS MAADA BIO
Dear President Bio,
You have been in office for 11 months now and during this period: You have made 98 trips abroad during this time = Zero returns
Minister of Foreign affairs has made 82 trips abroad = Zero returns
Trade Minister made 54 Trips abroad = Zero returns
The Free Education you promised us = A complete mess. Zero Financing capabilities
You promised to create 500,000 new jobs within 10 months, instead you have so far put people out of their jobs based on the region they are from instead of creating jobs = total number of people fired = 675 and counting
Commission of Inquiry will not create jobs. Please focus on development and in attracting investors. These are the people that actual create jobs. Stop using the COI to cover up your blatant incompetence.
President Bio please Focus on the main challenges including public safety, job creation and raising money for the government budget. Since the last 10 months, there has been a rise in violence, and violent acts. Investors will frown on these things and will not invests. Freetown has seeing rise in armed robberies, again investors will frown.
People are complaining about this increasing insecurity, Your Poapa Government has not been able to mitigate it. Sierra Leone relies on a great deal of foreign aid to function, particularly when it comes to health care and education. Foreign aid accounts for up to 70% of our annual budget. Work towards raising funds from the private sector of the economy through different schemes such as maybe a special economic zones to attract foreign investments. Stop creating chaos. Sierra Leone deserve better. Surround yourself with business people not inexperienced classroom academicians.
Yours Truly D'Prince
Sierra Leone news updates
PRESIDENT JULIUS MAADA BIO WILL COMPLETELY DESTROY SIERRA LEONE BEFORE HIS FIVE YEARS MANDATE ENDS
Sierra Leone's President, Retired Brigadier Julius Maada Bio is presently the most frequent travelling President within the sub- region.
Bio, since his election as President of this country, eleven month ago, the latter is said to have traveled 28 times outside Sierra Leone. This Press reliably learnt that with all of President Bio's visits and trips overseas, he has not been able to bring home any tangible development, goodies and programmes other than just wasting the country's resources with reckless abandon.
Bio's convoy on most of his overseas trips usually cost the Government of Sierra Leone huge amount of money that can be better diverted into other areas.
Public discussions into the frequent travelling of the President border on the fact that the SLPP New Direction is hell bent on foolishly wasting taxpayers' monies on useless overseas trips.
Whilst in Opposition, Bio, outrightly condemned the previous APC led Government of President Koroma on the similar basis. It appears that most of what Bio had condemned whilst in opposition are exactly the true picture of his current stewardship.
Bio's trip in early 2018 was highly criticized when notice was taken of certain people who were part of the delegation virtually had nothing to do. The Qatar trip exposed the SLPP Government of reckless spending when Bio's blue eye boy Senessie Tarawally aka London Jet's name was among the delegation. State House Press Secretary, Yusuf Keketoma Sandi was unable to tell the Press the exact size of the President's delegation to Qatar at the time.
In all of his overseas trips, Sierra Leone has lost close to ten billion Leones just within 11 eleven month of the President's 28 trips abroad.
Political analysts view it as just a waste of the country's resources. It appears as if the President has never enjoyed such an opportunity before, said, Ibrahim K. Bundu one of the political analysts in Freetown.
He said, our President who cries to have inherited a broken economy is busy travelling without bringing home anything beneficial. This, he said, is another form of public exploitation of the masses. Whilst Sierra Leoneans are living in abject poverty with eking to get their daily living, our President is busy spending money on overseas trips.
Civil Society Organizations, who over the years were very critical of the previous APC led Government of President Koroma have gone silent as a result of the Presidential packages and opportunities given to them by the New Direction Government.
Inflation under the New FORKARI Direction is not anything good to write home about whereas the dollar has gone up to nine thousand Leones to a dollar and Sierra Leone almost declared to a GARI STATE
Sierra Leone is in deep mess under slpp Bio leadership
Musa D. Ronsho
 It's evident to me the preoccupation of the SLPP is to settle old scores. Getting even with the APC sticks out like a sore thumb. Hence, there is no new direction to whatsoever the SLPP does. So far, it's been about repaying the APC for what they did to the SLPP from 2007-2018. The very wrongs made by the APC which the SLPP spoke against have inevitably become right and acceptable because the SLPP is in power. Is avenging previous grievances through the abuse of power the right thing to do irrespective of dire consequences? Again, I ask at what price would Bio use the judiciary to gain legislative majority in parliament? What would it "profit" the SLPP to remove over a dozen APC MPs from Parliament and tip the nation into conflict?
The Kailahun and Kenema incidences under the previous APC, are well-known. When dealing with the present situation, the high volume of affected Constituencies and MPs should concern authorities. So far, the all-encompassing goal of the SLPP administration appears to be achieving parliamentary majority. Make no mistake, the APC is not as compliant and submissive as they may currently appear. Bio needs individuals who instead of seeing a lawmaking majority at all costs through the courts, would recommend he proceed with caution. An audacious move to remove 16 MPs from parliament would undoubtedly incite a nationwide political instability.
*ELECTION CORRECTIVE*
Thursday, March 28, 2019
by Mahmud Tim Kargbo
The fact that 90 percent of SLPP "Paopa" approve of President Bio's performance means they support: his government tribal and regional actions against fellow nationals in the Western and northern parts of the contraption with his supporters opposing inclusivity; therefore Bio's actions in labelling the previous Ernest Bai Koroma APC administration as a lawless regime is hypocritical, totally baseless and irrational. Bio's administration continue to exhibit outright disrespect for the due process of law as inscribed in our Constitution. This kind of tribalism by the Bio administration is beyond frightening; it is a threat to our democracy.
Two things have become crystal clear: President Bio, a 54-year-old man, cannot (and will not) change his behaviour, and his base is willing to abide lying, hate, tribalism and attacks on the Constitution as a matter of course. We who oppose this must become involved in the 2023 elections.
In 2023 we have the ability to create a check on this president's dangerous, irrational, cruel, and chaotic behaviour by giving control of the State House to another political party. It's obvious that a 54-year-old man will not (or cannot) change his behaviour. By creating three co-equal branches of government the Constitution put a system of checks and balances in place which is now, with the SLPP "Paopa" in control of the State House completely out of balance. The SLPP "Paopa" has, with very few exceptions, become the Party of Bio, immune to challenging or correcting his policies.
To stop this, national voters can and should elect another political party in 2023 regardless of party affiliation. They can also volunteer to help campaigns throughout the state. This can be done long distance by phone banking, assisting with mailings, on line campaigning, and for those who can afford it, making donations.
We have never seen anything like the destructive behaviour of the Bio administration being enabled by the SLPP "Paopa"Party. If "we the people" are to stop this, we must become fully engaged in the political process.