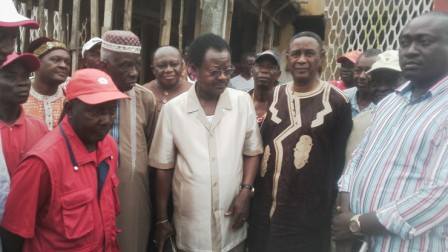 By Hassan Bruz
Northern Bureau ChiefThe Vice President of the Republic of Sierra Leone, Dr. Victor Bockarie Foh has concluded a 2 day visit to the Northern District of Port Loko. Although the notice for the visit came less than 48 hours, it had a very good turn out and is one of the most successful in recent times. The Vice President met and had frank talks with key stakeholders in the District including the District Members of Parliament, Paramount Chiefs, Ward Councillors and the Youths.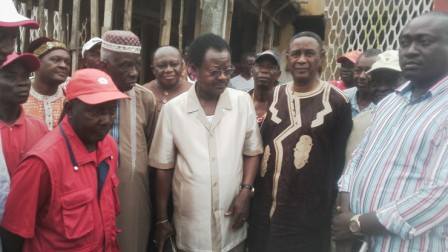 In a meeting held at the Port Loko District Council Hall, the Vice President said, he was there to empathise with the Ward Councillors whose condition he described as deplorable. He said the Sitting allowances for Ward Councillors are not only small, but are often not paid on time. He noted that their situation is made worse by both the Members of Parliament and Cabinet or State Ministers who are parading with the excuse that things are rough in the country. He said even though it is true that times are tough, yet the situation is not as bad as it is being presented by them. He said the Politicians are making such emphasis largely because; they do not want to share with their constituents. He said the Government is assiduously working out modalities in ensuring that the allowances of Ward Councillors are increased to enable them cope in the execution of their duties as grass root politicians.
The Vice President went further to outline some of the vast developments the President Koroma led Government has done in the Country as a whole and Port Loko District in particular. It includes the Solar Street Lights and the Newly Constructed Roads. He made reference to the Road Networks to Gberay- Junction, Lungi and Kambia which have eased the age old constraints of travellers especially the business people. Vice President Victor Bockarie Foh was however dismayed in noting that the crime rate has been on the increase in the District. He said it is a total disgrace especially to the youths and other able bodied persons. He made mention of the Road Sign Posts, Solar Panels and Batteries that have been stolen along the high way and streets in the Townships of Lungi and Port Loko. He noted with disappointment that these enemies of progress have also tampered with the Bankasoka Mini Hydro Copper Cables in the township of Port Loko.
On a more serious note, Vice President Dr. Bockarie Foh spoke of the ugly and scaring developments at Lungi in the Kaffu Bullom Chiefdom where 2 people have lost their lives in armed robbery related incidents. He said this should be shameful to the young people in the District who are supposed to enhance security in their respective communities. While condemning these hideous developments, the Vice President called on all to ensure that the culprits are brought to book. He said they should as well ensure the prevention of a reoccurrence of such serious offences.
Earlier in his welcome address, the Paramount Chief of Marampa Chiefdom- Pc Bai Koblow Queen spoke of the plight of the Youths, the bulk of who were rendered jobless following the closure of the African Minerals Mining Company. He zeroed with an appeal for Government to look at the possibilities through which Mining can be reactivated. Similar sentiments were expressed by Hon. Hassan Sheriff who on behalf of his colleague Members of Parliament maintained the hope that, the People of Port Loko would be able to actualise their dream against the pending General Elections. The Vice President and entourage which included the Resident Minister –North, the Deputy Minister of Local Government and stream of APC Party veterans later went on an inspection at the Bai Burreh Memorial Hall –the District Party Headquarters, which is under rehabilitation. Below are pictures to help you digest it went out here in Port Loko to ensure