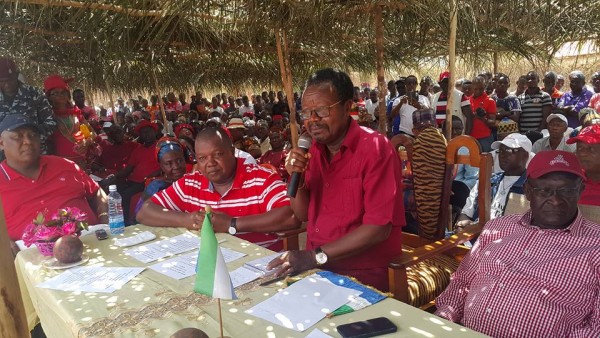 The Hon. Vice President, Ambassador Dr. Victor Bockarie Foh storms the northern town of Bumbuna, Tonkolili District to galvanise support for the ruling APC candidate in the upcoming parliamentary by-elections in constitution 066, Madam Rosemarie Bangura.
The township of Bumbuna erupted into frenzy as hundreds of people poured onto the streets to welcome the Hon. VP who entered the township in the evening of Tuesday 14th February, 2017.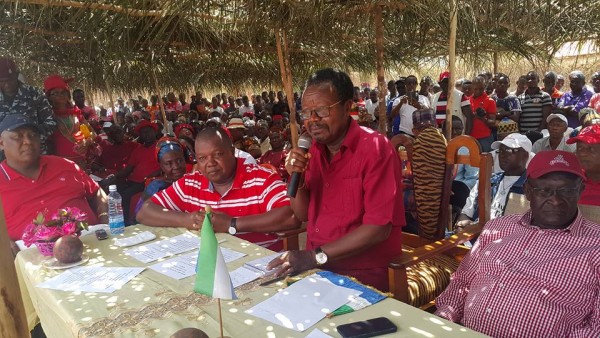 The rally which was held this morning (15-02-17) saw multitudes marched through the streets of Bumbuna, led by the Hon. Vice President and Senior District Party Officials, with melodious renditions complimented by the popular bubu music and bondo drums.
Converging at the community field, the very large shaded area was visibly inadequate to hold excited party supporters, scores of whom had to brave the hot burning sun just to hear Vice President Foh speak.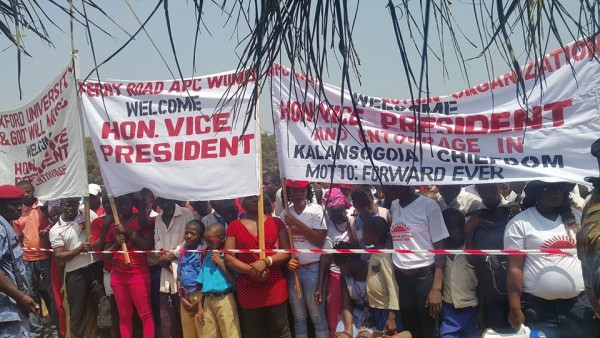 In his address Vice President Foh thanked the Paramount Chiefs and District Party Executives for the hospitality accorded him during his one night stay. He reminded them that the APC is their own and must therefore not look at Rosemarie Bangura as an individual, but the symbol that she carries. He warned against inter-party disputes, stating strongly that "comrades must not allow leadership struggles to tear us apart". A good leader, he furthered, must be a good follower. He outlined the developmental plans of the President Koroma Government and assured the people of Tonkolili that their District will not be left out in all of these developments.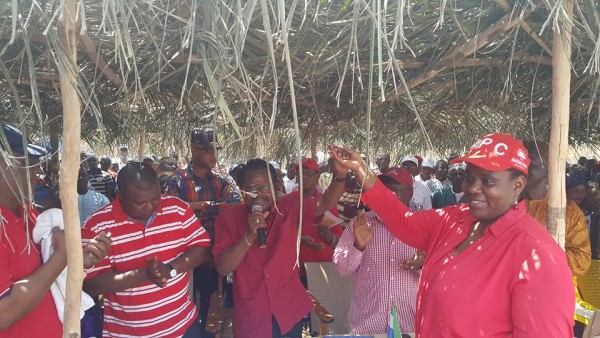 In presenting Rosemarie Bangura to the people of constituency 066, VP. Foh cautioned her against marginalising her opponents within the party. He admonished her to remain humble and to always show compassion to the less privileged.
The by-election which is slated for Saturday 18th February, 2017 will be held in the three (3) Chiefdoms of Kalansogoia, Sambaia and Kafe Simiria which made up constituency 066.
©PR/Social Media Coordinator
Office of the Vice President