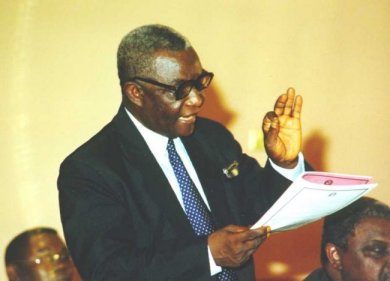 Cocorioko Correspondent in Freetown
Wednesday December 14, 2005
Dr. Abass Bundu yesterday disclosed to journalists at a press conference at SLENA headquarters in Freetown, that he never issued a bounced cheque to the SLPP government in 1996, as part payment of US $210,000 he was asked to refund for the illegal sale of Sierra Leone passport to foreign nationals.
"I issued a bank draft of US $ 105,000 (one hundred and five thousand US dollars) and a bank draft is an irrevocable commitment on the bank", he said.
Dr. Bundu read out a prepared marathon statement to explain the entire passport saga (Read full statement below).
He further informed journalists that the same SLPP government which indicted him in 1996, has recently exonerated him from any wrong doing as evidenced by two letters written to him by the Attorney General and Justice Minister dated 30th September and 7th October this year.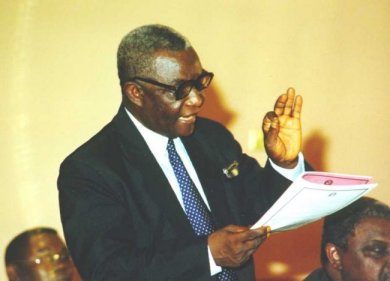 SOLOMON BEREWA
Questioned by journalists whether the exoneration was one of the reasons he decided to join the SLPP, he replied in the negative. Dr. Bundu added that he paid the US $105,000 under protest and did not pay the balance. He added that even though he had been exonerated, " I consider it my legal right to claim the refund of the money I paid to the government in 1996 In view of government decision to issue a public statement exonerating me of any wrongdoing or impropriety and considering also its present financial constraints, I have agreed to renounce my right and forgo the claim".
When questioned also on why he embarrassed the former Vice President, Dr. Albergt Joe Demby by dragging him to court in London for stealing his Jeep, Dr. Bundu answered that he sued Dr. Demby in his capacity as an individual and not as Vice President of the Republic of Sierra Leone because, "no one can imagine that a Vice President could seize and use the property of a private citizen".
On his book Democracy by Force, which journalists said was very uncomplimentary of the SLPP, a party he has now decided to join, Dr. Bundu said he authored the book, "but I did not attack personalities in that book rather, I attacked the then bad policies of the SLPP".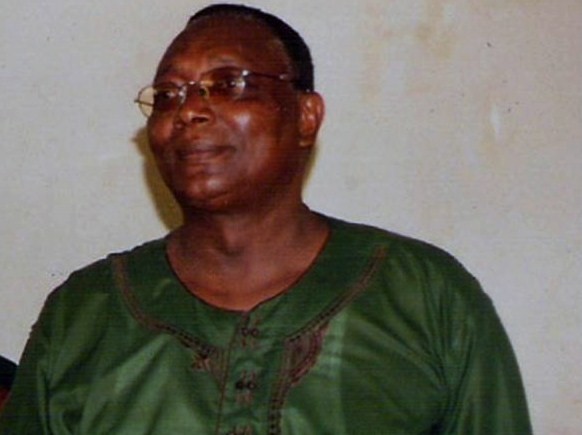 ABASS BUNDU
When further questioned how he would describe a politician who once served the APC, NPRC, PPP, AFRC and now SLPP, the learned Doctor refused to answer the question but added that he did not leave the APC to join the SLPP but from the PPP.
"I was suspended from the APC in 1991 along side others like Hassan Gbessay Kanu, Dr. Sheka Kaun, Thaimu Bangura, Osman Kamara and others. But they used my name as the most prominent. Since then I have never returned to the APC. I will not say any bad things about the APC because I worked in that party diligently and I'm proud of that. However, since my suspension, I was never welcomed by the APC but by the SLPP. And who would want to associate himself with a party that is full of internal squabbles"?, he questioned.
It would be recalled that in 1996, Vice President Solomon Berewa who was then the Attorney General and Minister of Justice summoned a press conference to inform journalists that Dr. Abass Bundu had requested for an out-of-court settlement of the matter against him and had issued a cheque of $105,000 dollars which had bounced. Since then, the press had never been informed of any further development until the now reaction of Dr. Bundu.