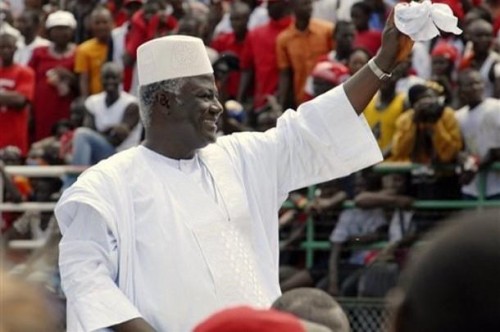 The failure of President Ernest Koroma to speak at Saturday's inauguration of President Maada Bio has got many tongues wagging in Sierra Leone. This paper learnt that President Koroma actually wanted to deliver his handing over speech but he was not allowed to do so by the government and this has not gone down well with lots of Sierra Leoneans.
WE BRING YOU THE VIEWS OF SOME SIERRA LEONEANS ON THE MATTER :
Aimee Sheriff and others who went about accusing former president Koroma of being disrespectful to the people of Sierra Leone, because he'd 'refused' to speak at President Bio's inauguration. Here is what you were not preview to! And pls you owe him a public apology on watching this video from Dr S.O. Blyden. Thanks

Posted by Adams Bangura on Monday, May 14, 2018
 
 Joseph Rahall 

I believe he is entitled to short a statement as he hands over the staff to the inaugurated president. Wishing all Sierra Leone farewell on the commencement of a new journey. This is my take.
 It is now justifiable why our Ex president never made a speech on the inauguratioin ceremony for his name was not on the programme . Hmmmmm Slpp ve got to work very hard !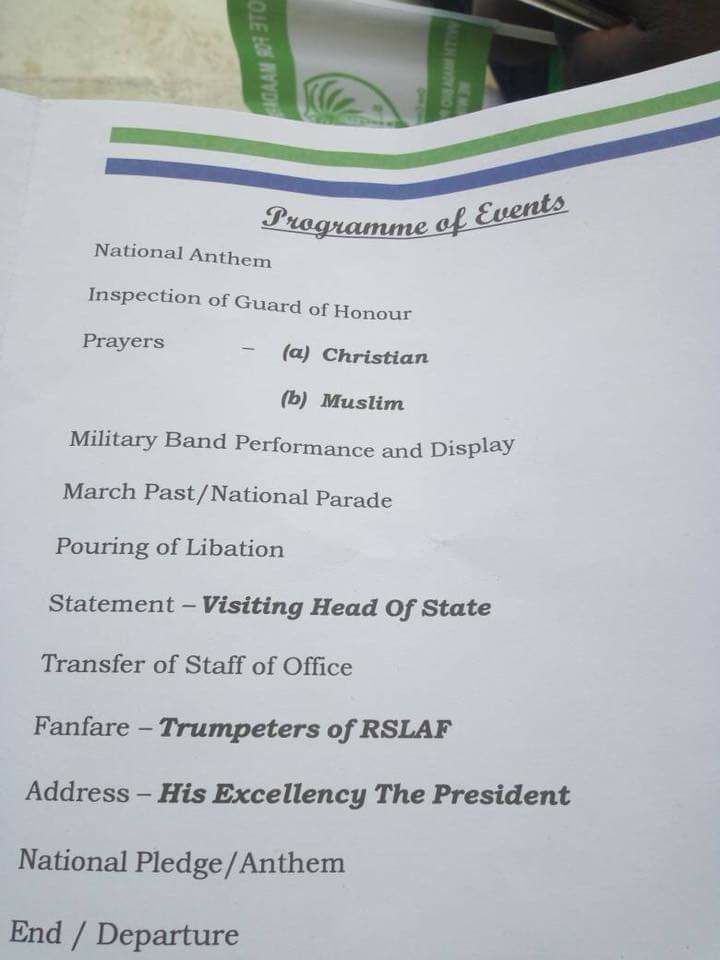 Osman Amadufofanah 

NO PROVISION WAS MADE IN THE AGENDA FOR HIM TO MAKE A SPEECH
 Abdul Tejan Kargbo Ben Musa take a look on the list of the program if the NAME of the OUT GOING president Dr. EBK is mentioned . Can you please give us proof  to show that because of the shock of the past election that's WHY President Koroma can not make a speech ?.
You see, one thing why our country is always going to remain behing like a tail is the fact that we have so many of your type in that country. You guys are in the habits of supporting the ugly, EVIL and even stupidity things or events.. I feel sorry for MaMa Saleone.. May Allah help us.
AB Bangs Bakarr King Conteh there was bad blood in this election. We should be thankful that we are still United as a country. The level of insults directed as President JMB since 2012 to date, if President JMB was vengeful we will be saying something else.
The Presidnet Kabbah allowed democracy to have its cause. President in his last few months did not help unite this country. He did not attend the presidential debate , he was not seen in public where Dr Samura Kamara and Bio were brought together to calm down violence during the election. There was anger even within the APC against president EBK.
The swearing in was done under tension. SLBC the state broadcaster is still reticent to a Bio presidency.
The SLPP support base don't trust the security sector.
All these things make some of these decisions difficult for President Bio.
I am 1 person who wanted EBK to make a farewell speech but it would have been a national disgrace for people to booo our Ex president . He made his mistakes but he still contributed to the Sierra Leone we have today.
Bakarr King Conteh 

There was no reason for any crowd booing, it did not happen during Kabba time and it would not have happen during Pa Ernest e time. Your views make some sense but the fact remains that advisers to the president were not comfortable of what the former president might have planned to say, so they adviced him not to allow him to make a speech as we usually do. Bad for democracy
 This is more like the act of a drunk sailor who does not understand the 'sea boundary' two words. At first SLPP barred 16 APC elected members of parliament on the pretext of enforcing a made-up non-existing court injunction (as the respective MPs we later understand were in fact never officially served any injunction by any Judge). This they did so as to create chaos and confusion as to enable them impose their preferred candidate for Speaker of Parliament which they succeede
d in doing.
Now they have done it again, preventing the former President from delivering his handover statement as did his late predecessor, Alhaji Ahmed Tejan Kabbah, just to feed their propaganda apetite that APC left nothing for the country. This is too bad or are we now running a gorilla democracy where only those with silver back reign supreme? It sends all the wrong signal about us as a nation, put party politics aside. So the 'ONE NATION ONE PEOPLE' famous SLPP motto does not include opposition political parties and their people. Is that so?
Issa Maladoh Barrie
It is a petty for the people of this country, I smell something fishy by this government. This regime is up to something serious I pray their diabolic plans would not divide us as a nation.
Abass Collier
Tells you the extent of the country's partisanship, Bro Abdoul. Every partisan hack looks for something—anything, even the dumbest thing—to score political points against or make snide commentary about the other. Folks don't even get it that the symbolic ceremony is about the new president, not the outgone. The decision not to have the new president and the former making statements on the same podium, or at the same ceremony, has merit and isn't without precedent; thankfully, Abdoul, you allude to the US, which presidential-type system ours is a hybrid. Not also forgetting that during the 2007 Inauguration Ceremony, the first time the country witnessed a peaceful transfer of power from one civilian government to the other following elections, late President Tejan-Kabbah's sole official task was the handing over of the presidential staff to President Koroma, which he did without making a statement. Following an intensely contested presidential poll that stretched the ethnoregional divide to near breaking point, how might it look for the country's cohesiveness going forward if both made contradictory statements at the public event?
Joel Dangiwa
Farewell speeches by outgoing presidents are not a norm, and should the outgoing president chooses to deliver one, it is not requisite that he does that on the inauguration day and ground. Barack Obama was the tenth (10th) president of the U.S. to deliver a farewell address; which was delivered in Chicago. Some do that at the well of the parliament on their plenary session. Therefore, EBK not delivering a farewell speech at the inauguration of H.E. Rtd. Brig. Maada Bio is devoid of abnormality. This is my humble submission to disembody the assembled puzzle supposed to mirrow the past inauguration.
Mamadu Juma Bah
My bro I am sure you have seen a copy of the program of event. Blame it on the New Direction for depriving the People of Sierra Leone.
Ramadan Mubarak.
Julie Solima Matt Kamara
And more over SLPP folks don't want Ernest Koroma to talk about the money APC left at the account. Cos Maada Bio go abt saying he didn't meet money at all. Hmmm! God see watin dey hapen oooh nar we contri junta democracy paopa government with their corruption. Den beg Ernest mek e nor pul the money secret. Maada Bio don beg oooh lonta
 As the saying goes , " silence over matters means consent" . As Our Ex president of 
Sierra Leone
 never made a handing over speech , yet documentary evidence ve began to prove that there was something to proud of from his ten years administration despite all contradicting statements surrounded by cynnics like myself and the opposition parties.
Research documentary evidence have shown beyond all reasonable doubts that , our Revenue from the consolidated fund have now risen from Le 543 billion ( Leones ) as handed over by the Late Tejan Kabba Slpp govt to Four Trillion with added billions Leones on top in ten years of Apc administration with asset value worth Billions of Dollars . Despite numerous administrative challenges such as : corruption , Ebola, mudslide and few governance malfunctions .
President Koroma must be given a divided portion of accreditation if we are to be honest to ourselves despite few economic , political and social problems faced by his administration. Since no government on earth even in most developed economies can do it all .
However , the ball is now thrown on the current President Julius Maada Bio's court to prove himself if he is to survive the mantle of Leadership for another five years term of office .
Sierra Leone is the only country in the world that there present Government will not celebrate Independence day. A day of National Pride, heritage and culture. A day to show nationalism, honour outstanding citizen and showcase to the world that Sierra Leone can handle her own affairs. Instead, they will skip such a memorable day to celebrate a President birthday and inauguration. Not only that, inviting mainly Nigerians – comedian, actors and artist to the event that Sierra Leone government paid for with tax money. Hiring Gambians to do the catering, hiring vehicles from Guineans but get Sierra Leoneans to do the cleaning and driving. Is this the sort of direction we need for our country?