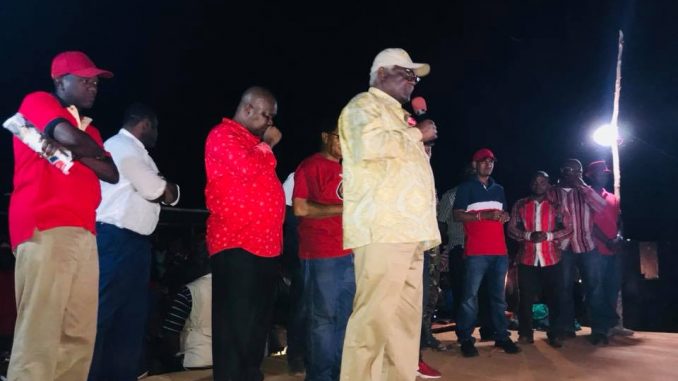 "We don't make empty promises" – President Koroma
During a stopover at Mile 91, President Ernest Bai Koroma delivered another installment in his "thank you" tour on Saturday 23rd December, and used the opportunity to slam wannabe politicians who are promising change to deceive the populace.
President Koroma reminded Mile 91, a stronghold of the All People's Congress (APC), that in 2007, the party campaigned on the platform of change and fulfilled most of the promises to turn things around for the betterment of all Sierra Leoneans. This change, he said, is progressive and the "Samura Kamara – Chericoco" ticket would build more schools, more hospitals, more infrastructural development, including roads, more agricultural production etc. etc. etc.
According to the president, the energy and dynamism the "Samura Kamara – Chericoco" ticket would bring to the table is ten times more than what he has.
Please take a listen.
SHCU
©️2017
"We don't make empty promises" – President KoromaDuring a stopover at Mile 91, President Ernest Bai Koroma delivered another installment in his "thank you" tour on Saturday 23rd December, and used the opportunity to slam wannabe politicians who are promising change to deceive the populace. President Koroma reminded Mile 91, a stronghold of the All People's Congress (APC), that in 2007, the party campaigned on the platform of change and fulfilled most of the promises to turn things around for the betterment of all Sierra Leoneans. This change, he said, is progressive and the "Samura Kamara – Chericoco" ticket would build more schools, more hospitals, more infrastructural development, including roads, more agricultural production etc. etc. etc.According to the president, the energy and dynamism the "Samura Kamara – Chericoco" ticket would bring to the table is ten times more than what he has. Please take a listen.SHCU©️2017

Posted by Jarrah Kawusu-Konte on Sunday, December 24, 2017