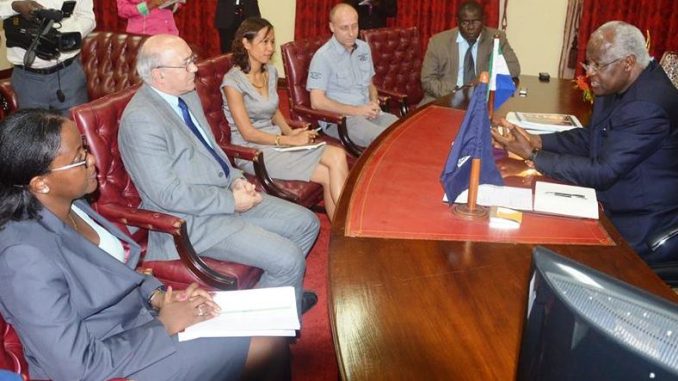 By State House Communications Unit
President Ernest Bai Koroma Thursday 29 January called on all Sierra Leoneans and development partners to remain focused in the fight against the waning Ebola virus disease.The president made this call while receiving Oxfam's Chief Executive Officer Mr. Mark Goldring at State House, Freetown.

Whilst commending Oxfam for galvanizing the international community to pay keen attention to Sierra Leone, President Koroma underscored the significance of remaining focused and vigilant even as the country continues to experience a downtrend of the virus, adding that this is not the time to remain complacent. "We have to remain focused until we get through the 42 Days set by the World Health Organization," he said.

As the number of new infections continues to dwindle, the president emphasized it will be judicious to use this transition period to kick start other social services, including the reopening of schools. He underscored the need for a lot of preparatory work, and noted that medical institutions require training and rehabilitation in order to encourage people to report to the nearest Peripheral Health Unit (PHU).

In as much as government was preoccupied with the reopening of schools, the president maintained that schools across the country must be safe, ensuring water and sanitation facilities as well as training teachers before resumption of their activities. He added that government is putting together a post-Ebola recovery plan and will enhance an effective partnership with its development partners in addressing the challenges and moving forward.

Oxfam's Chief Executive Officer Mark Goldring on behalf of Oxfam expressed appreciation for the leadership of President Koroma in the fight against Ebola. He maintained that the world was slow in responding to the outbreak and informed the president of the issued press release by the organization to pay attention to Sierra Leone with specific attention to immediate recovery and long term development.

Mr. Goldring registered their commitment to work in a more proactive way alongside the Ministry of Water Resources. He also mentioned the organization's support to the Water, Sanitation and Hygiene Project in the country.

The Deputy Minister of Water Resources Alhaji Foday Bayoh said Oxfam is one of the reliable partners in the WASH project.