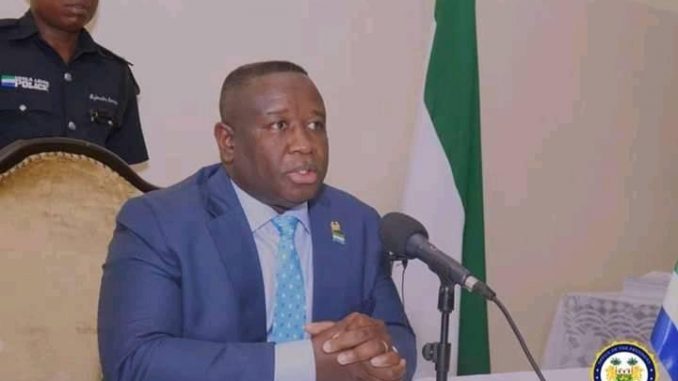 WE WERE GYPED! – THE MANY LIES OF Mr. PRESIDENT IN 100 DAYS
by Mahmud Tim Kargbo
14th July 2018
1ST IN THE SERIES OF THE MANY LIES OF MR. PRESIDENT
I will declare my assets, publicly.
– Julius Maada Bio.
Conscious of the yearnings by Sierra Leoneans for greater level of transparency from those who aspire to lead the country, Mr. Bio, whilst campaigning to be elected President expressly reiterated in his 'I pledge To Sierra Leoneans', 'to publicly declare my assets and liabilities, encourage all my appointees to publicity declare their assets and liabilities as a pre-condition for appointment'.
Immediately upon being sworn into office, drastic changes, amounting to violent assaults on the pledge to publicly declare assets became pronounced. Recourse was had to legalese, subterfuge under contrived protocols and bureaucracy and even direct insults on the sensibilities of the populace, with some of his aides asking Sierra Leoneans to 'show proof' that any such 'pledges' were made in line with the Anti Corruption Commission Act.
From SLPP Manifesto Page 58 of the New Direction:
"In the New Direction, the SLPP government will treat corruption not only as a governance issue but as a national security threat. It will therefore leave no stone unturned in its fight against corruption. In particular, the New Direction will":
 "Review within the first 100 days the ACC Act to include the publication of all assets declaration forms of all public officials before they take office and upon leaving office".
 "Commit the political leadership to lead in the fight against corruption".
 "Review the relevant provisions of the Constitution of Sierra Leone 1991 (including Section 119 in particular) and the ACC Act to strengthen the ACC's investigative and prosecutorial mandate with respect to audit reports tabled by the ASSL before Parliament to give it powers to proceed without the need to wait for Parliamentary
investigations".
By his failure to publicly declare his assets upon being sworn into office (and ensuring that his appointee thus far do same), Mr. Bio has created an enabling environment for monumental fleecing for self-enrichment of the Sierra Leonean treasury, as it becomes impossible for the Sierra Leonean public and interested parties to gauge his assets prior to entry into office and at the expiry of his tenure.
Over 100 days after his ascendance into the Office of President of the Republic, Julius Maada Bio has failed to publicly publish declare his assets.
Julius Maada Bio, on this score, lied!
2ND IN THE SERIES OF THE MANY LIES OF MR. PRESIDENT
I will respect the Sierra Leone Constitution.
– Julius Maada Bio
Sierra Leone President's Oath: (Constitution page 85-86)
"I Julius Maada Bio ( in the name of God swear) (solemnly affirm) that I will at all times well and truly discharge the duties of the office of the President of the Republic of Sierra Leone according to law, that I will preserve, support, uphold, maintain and defend the Constitution of the Republic of Sierra Leone as by law established, and that I will do right to all manner of people according to law, without favour, affection or ill will. (So help me God)"
By violating the mentioned sections below the President has failed in his oath to the nation:
*Section 57.: "A Minister or a Deputy Minister shall not enter upon the duties of his office unless he has taken and subscribed the oath for the due execution of his duties as set out in the Third Schedule".* (law offender: J. J. Saffa to World Bank meeting)
*Section 84.(2): "There shall be a session of Parliament at least once in every year, so that a period of twelve months shall not intervene between the last sitting of Parliament in one session and the first sitting thereof in the next session":
"Provided that there shall be a session of Parliament not later than twenty-eight days from the holding of a general election of Members of Parliament".*
This is a very dangerous unconstitutional action of delaying commencement of Parliament by our President which even lay the grounds for his impeachment as it is an entrenched clause.
Julius Maada Bio, on this score, again lied.
3RD IN THE SERIES OF THE MANY LIES OF MR. PRESIDENT
My administration will depoliticise institutions
– Julius Maada Bio
In Page 30 of the Presidential Address to Parliament President Bio said, " more especially my administration will de-politicise NATCOM to enable it carry out it functions efficiently and effectively."
But the appointment of the SLPP Chairman and Leader as Chairman of NATCOM woefully failed to correspond to the statement of our President. And to make matters worse the same Chairman and Leader when he was the Minister of Communication ministered CELTEL exploitation against Sierra Leoneans.
Coming from an uninformed aspirant to political office, the above statement made by President Bio would not have qualified for inclusion in any serious 'list of lies', as ignorance of the intricacies of overcoming politics in independent institutions in a democratic dispensation would have been rightly presumed. Here, however, we have a retired Brigadier General and former Head of State of a country's democratic institutions, that at the very least appreciate the nature of politicising democratic institutions to narrow the political landscape and make the President bigger. More worrisome is the fact that some individuals in our democratic institutions determine to effect peaceful positive change for the good of all might have been positively led by his comments, but were only deceived later by his action.
Julius Maada Bio, on this score yet again, you lied!
4TH IN THE SERIES OF THE MANY LIES OF MR. PRESIDENT
My administration raised Le 150 billion in two weeks
-Julius Maada Bio
In selecting the falsehoods to be highlighted in this series, generous allowances are made for the usual hot balloons emitted by politicians in the heat of campaigns and focus is had merely to lies that give an insight into the character trait of Mr. President.
The need to reduce wastage in governance by blocking the leakages in various facet of the economy, a scam that had been transformed to a monumental drain-pipe of public funds, had over the years become an ideal dear to Sierra Leoneans. To cash in on this fad, just in two weeks of his Presidency he announced that his government raised Le 150 billion from blocked leakages without comprehensive financial details to ascertain how the said amount was raised left so many doubts in the minds of rationally minded nationals. Ironically, though government revenue seriously increase, prices of essential goods are unaffordable for the majority. To make matters worse, government went ahead raising price of fuel from Le 6,000 to Le 8,000 per litre.
Julius Maada Bio, on this score still, lied.