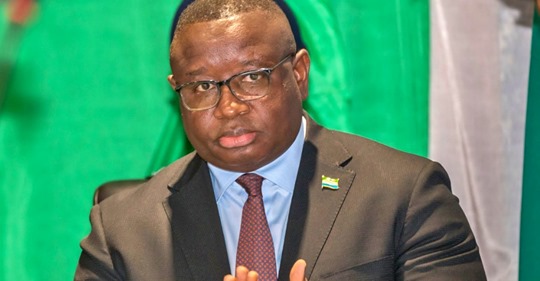 By COCORIOKO Reporters
Sierra Leone faces a tense period of suspense and uncertainty as the mystery surrounding the absence of President Maada Bio continues to deepen .
The nation and the social media are buzzing with every imaginable speculation as the Government itself cannot produce any viable explanation about the whereabouts of President Bio.
The Presidential press secretary reported two weeks ago that President Bio and his wife, Fatima Bio, had left for a private trip to Lebanon, but A report by the popular Lebanese TV station , MTV, immediately got tongues wagging .The TV reported : "Sierra Leone President will arrive in Lebanon at midnight and the Lebanese Red Cross awaits him to transfer him to AUBMC to receive coronavirus treatment".
The report was denied by supporters of the ruling Sierra Leone People's Party ( SLPP ) and President Bio but they failed to offer any satisfactory explanation about what the President was doing in Lebanon at a time like this when there is a world-wide coronavirus pandemic and leaders had restricted their travels for fear of catching the deadly virus.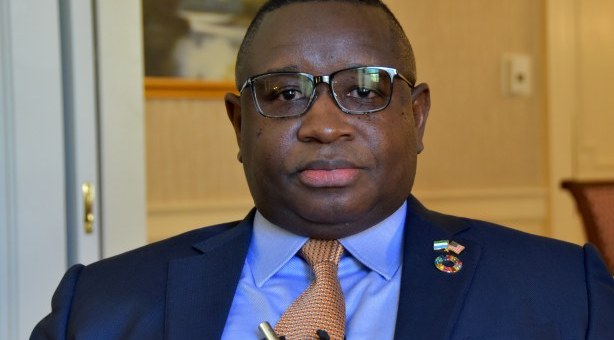 The failure of any good explanation about the President's trip fueled lots of speculations . Many Sierra Leoneans on social media said the president was sick and had gone to Lebanon for urgent medical treatment . An aggrieved Lebanese social media commentator, Adnan Anter, resident in London, said that the Lebanese community, led by its president, Mr. Samir Hassaniyeh, helped to smuggle President Bio and he specualate that the MAADA BIO MUST GO campaign Sierra Leoneans had started was no longer necessary because Bio was gone for good and will not return to Sierra Leone.
The President was supposed to have returned the following Thursday but when that day came, the presidential press secretary issued a very sgort color-coded remark on his Facebook page that the president and first lady had extended their private trip and will return soon.
But Sierra Leone Consul in Lebanon , Mr Hashem Hashem, posted the following report on Lebanese News Agency website :
"The President of the Republic of Sierra Leone, Julius Maada Bio, will be discharged from the American University Hospital in Beirut this evening, after he underwent the necessary examinations under the supervision of former Minister, Professor. Dr. Mohammad Jawad Khalifeh, and he is in a good health condition. President Bio will stay at Beirut's Eden Bay Hotel for a short recovery period and will pursue his personal visit to Lebanon before returning to Sierra Leone."
It is now one week after that report and there has been no further statement from the Sierra Leone Government about the status of the president in Lebanon.
As the president's absence heads into a third week, a power vacuum is being gradually created in Sierra Leone. There is speculation even that the knives are out for Vice-President Mohamed Juldeh Jalloh whom the SLPP tribal extremists do not want to replace Bio, being a Fula.
HERE IS ONE SPECULATION ON FACEBOOK
1d · "TRUTH ABOUT BIO'S TRIP"It's been about two weeks since the President of our beloved Sierra Leone was snmuggled out of the country in the most bizarre of fashions. When President Bio was whisked away to Lebanon allegedly to have a rest away from the daily operations of the office of the first gentleman everyone was demanding to know what's going on.His departure was greeted with uproar as the mass of the population would ask to the silence from the government operators about not only his whereabouts but also the cause for his mischievous movement. State House has had it's lips sealed.As a result we've been left with the choice of having to seek for ourselves the information on the President's trip to 'Lebanon' by all means.According to reliable sources, the first gentleman has surfaced in India for an alleged intestinal cancer operation. This cannot be far from the truth for no rightful thinking Sierra Leonean would believe the 'September fool's' talk of a pleasure trip to an improvished and disaster prone Lebanon. Further more, we're learning that the President's condition is worrying. The early return of our first lady after accompying his spouse is itself unsual and alarming to the nation, and has merely added to further create tension. A lady that fancies talking boastfully in the person of the first could have come out boldly to dispell the rumour and set records straight by telling us in usual fashion what could allay our fears. She's for the first time in her right chosen to be tight lipped over such a burning subject, an action that has only to fuel speculation about the President's health. One thing the government must know is that News is like pregnancy,it can't be hidden. As the days and weeks and months wear on so shall we be exposed to the truth.I'm not writing out of Joy rather it's out of curiosity that someone would want to know about the President's condition. God save Mama Sa Lone.THE MAN AROUND TOWN