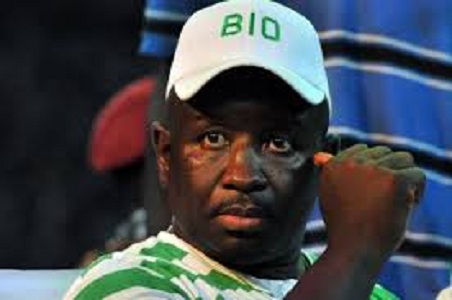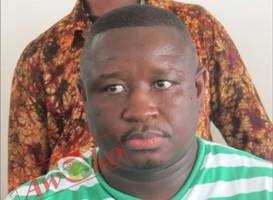 INVESTIGATIVE REPORT BY KABS KANU
A U.S. official told me today why Julius Maada Bio is not being allowed to come to the U.S. it is more serious than we thought.
According to the official, it is not so much because he committed domestic violence for which he was punished by deportation. It is for human rights abuses and the extrajudicial killings of the 29 people whom we know included Bambay Kamara, Kawuta Dumbuya, Yayha Kanu, Hanciles Bangura , Salamy Coker and others.
He is in a blacklist at the Homeland Security, which is far worse than being excluded for a normal felony, like domestic violence.
I was surprised to hear this because I asked him if that was so, why are other NPRC members living peacefully in the U.S. From his explanation, the U.S. is dealing with the heads and those who bear the greatest responsibility for the human rights abuses committed by the NPRC. Secondly, some NPRC members were reprieved because they provided evidence of the human rights abuses. However, if any of them commits any offence , they will be deported as it happened to TOM Nyuma and Komba Kambo.
We also discussed why John Benjamin too was blocked at the airport here over 5 years ago.
The official said Benjamin was blocked for the same reason but was given temporary reprieve after the intervention of the Sierra Leone Ambassador to the U.S, , Mr. Bockarie Stevens . He was told that he had problems with the Homeland Security and was being given chance to fix it while he was here. It was however not know whether John Ben fixed the problem and whether he will face the same problem if he came back. That gives me the feeling that Captain Valentine Strasser will not be allowed to come to the U.S
I asked why Maada Bio was not given the same chance . He was given, I learnt and some very, very big fish I will not name , piloted his efforts but the Home Security rejected him. Maada has made many more efforts through the U.S. Embassy in Sierra Leone but he did not succeed.
What are the implications of this new information ?
1. Maada Bio's problem is more serious than we thought because the crimes for which he is being blacklisted by the Home Security are far more serious than the domestic violence we first heard about . The killings of Kawuta Dumbuya, Bambay Kamara and others was more heinous and serious and the Federal Government takes them very seriously, to the extent that the Homeland Security gets involved, unlike normal cases . But Homeland Security will not easily remove Bio from the blacklist.
2. Maada Bio could have been reprieved more easily if he was not being blacklisted by Homeland Security. Domestic violence cases do not rise to that level. The domestic violence case did not involve murder and was a far less serious crime. As his supporters are rightly contending, it was not enough for him to have been blacklisted by Homeland Security. Usually, former public officials from other countries who commit these crimes are deported. This information makes sense because Bio's colleague, Tom Nyuma, was deported when he committed the same offence. Another colleague, Komba Kambo had problems too and suffered some consequences. Usually, after a while, the case is dropped, based on case -by- case analysis and other factors. But we know that the Homeland Security does not remove somebody easily from the blacklist for human rights abuses.
3. It would have been easier for Maada Bio to defend himself against domestic violence than extrajudicial murder and human rights abuses . The U.S. Government monitors and documents all cases of violation of human rights and extrajudicial killings .It is not Maada's word against his wife's word as it would have been in a domestic violence case. There are no extenuating .circumstances in human rights abuses and e,tranudicial killings as one could find in a domestic abuse case.. With the U.S, there is absolutely no excuse for human rights abuses and extrajudicial killings . Once you commit them, you face the consequences. It is like Strict Liability cases in law. All you need to do is to commit them. Once you are caught, no excuses.
4. If Maada Bio was being kept out for domestic violence, he would have easily been forgiven later when he displays good conduct. O.J. Simpson has been released for showing good conduct in jail. But in the cases for which Maada is blacklisted by the Homeland Security, it is not easy for him to impress U.S. officials that he has changed because he is violent by nature and has continued to demonstrate itsince he returned to Sierra Leone. Since Bio adopted the Pa -O- Pa philosophy, he and his supporters have expatiated violence against opponents and even his own SLPP supporters. This does not show somebody on the verge of change or remaking his image.
HOW CAN BIO GET OUT OF THIS MESS ?
Only the U.S. has the authority to remove Maada Bio's name from the blacklist and if he is serious about it , it could be achieved. He has to impress the U.S. with deeds that demonstrate that he has regretted what he did when he was one of the leaders of the NPRC and that he has decided to turn a better leaf. He has to continually renounce violence and stay away from it.
If he ever WINS an election, he has to prove himself. He or supporters must not injure or kill anybody again. He must practice democracy and the rule of law. He must respect the constitution. He must stop badmouthing the U.S. He must try to seek the goodwill and support of the U.S. and even help them to expose, catch or punish terrorists and extrajudicial killers.
WHY MAADA BIO WOULD BE AN ABSOLUTE FAILURE IF HE BECOMES PRESIDENT AND IS STILL ON THE HOMELAND SECURITY BLACKLIST
He can come to the U.S for the UN General Assembly only , but his movements will be restricted. He will not be able to move more than a stipulated distance from the UN to different parts of the city or states to hold meetings with Sierra Leoneans. He will not enjoy the kind of honor given President Ernest Koroma. He will be treated as a pariah leader and it will be very humiliating. His visitors will be seriously monitored and he will not be able to have large crowds in his hotel.
Make no mistake about it. The U.S. is the leader of the world. The U.S. controls all international financial institutions like the IMF and World Bank . The U.S. exerts tremendous influence and clout over international stakeholders and development partners. The opinion of the U.S is very important in international negotiations and agreements. Tell me how Sierra Leone will fare with a leader blacklisted by the U.S.
Sierra Leone is a desperately poor nation and frankly needs the U.S perhaps more than any other nation in the world. We cannot afford any strain in relations with the U.S. No poor nation in the developing world can do without the U.S. it will be suicidal.
If Bio becomes President, Sierra Leone will not get loans, grants and aid easily from the West , especially in these days of President Donald Trump and his AMERICA FIRST philosophy. Sierra Leone's voice in the international world will fade into oblivion . Other Western nations will be wary to deal with a leader blacklisted by the U.S. for human rights abuses and extrajudicial killings.
Bio will be isolated and treated with scorn and disdain in the international world.
His government will fail and serious problems will arise in the nation , leading to protests and chaos that will cripple the country and provoke covert interference from outside. The spectre of Ghadaffi 's fate will hang over Bio.
ARE WE READY TO GO THROUGH ALL THESE PROBLEMS ALL BECAUSE OF ONE MAN AND HIS STUBBORN PAOPA POLITICS ?
DISCLAIMER
This INVESTIGATIVE report was conducted in my duty as a journalist and not as a diplomat. Views expressed in this article do not represent or reflect the opinions and standpoints of the U.S. or Sierra Leone Governments. They are entirely mine as a journalist.