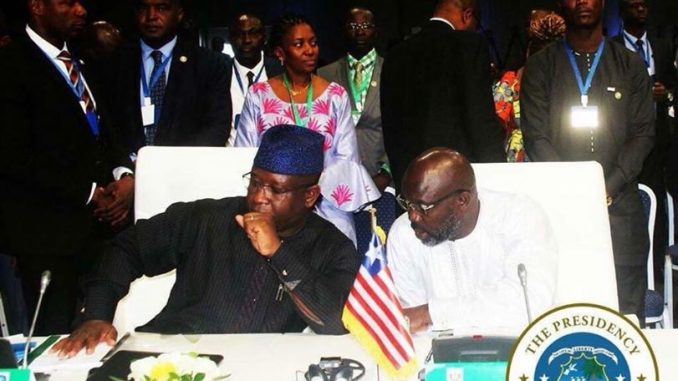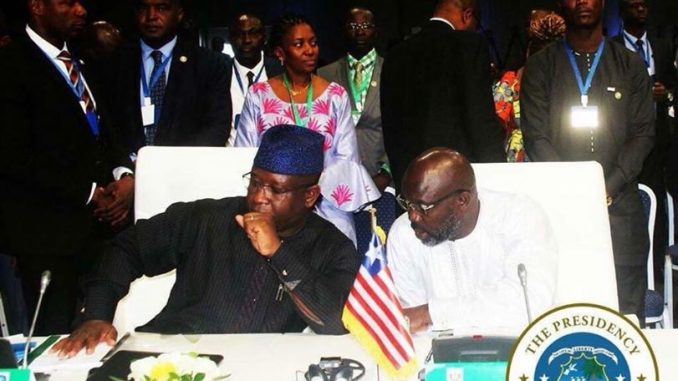 Amidst rumours by the public that President Maada Bio suffered a stroke before the recent ECOWAS Summit and denials by the supporters and the media team of the president, a photo of the President at the Summit has emerged from Liberia that poses many questions.
In the picture, President Bio is seated with an awkward bent and his right hand delicately and purposely planted on the table and he and President George Weah of Liberia are seen fixedly gazing at the hand with concern. What must he have told President Weah about the hand ? Why are both men gazing at the hand with concern ?
Even though the issue of the President's health has been cleared up by his team, rumours abound in the social media that President Bio may not be well and that he is pretending to be well. Even the video of the President's arrival from Togo , circulated by his team, showed him slightly limping on his right leg.
There were more rumours today that President Bio will likely be going abroad for treatment and his Vice-President, Dr. Juldeh, might soon be in control of the nation.
African countries have a penchant for concealing the sickness of the presidents in the name of security concerns or staving off chaos from  succession crises.
President Bio's right hand also looks swollen.
Also, President Bio seems to be in distress in the picture. He certainly is not comfortable.
Is it normal for two presidents at a summit to be seated side by side and talking without looking at each other ?
The conversation is certainly about Bio's right hand . But what was it ?
WHY WAS THE PRESIDENT OF LIBERIA SHOWING CONCERN ABOUT HIS RIGHT HAND? WHY WAS BIO LOOKING AT THAT RIGHT HAND WITH CONCERN?
YES I AM NOT CONVINCED HE HAD A STROKE, BECAUSE HIS FACE DID NOT DROP AND HIS POSTURE IS SYMMETRICAL. BUT I DO BELIEVE HE SUSTAINED SOME INJURIES.