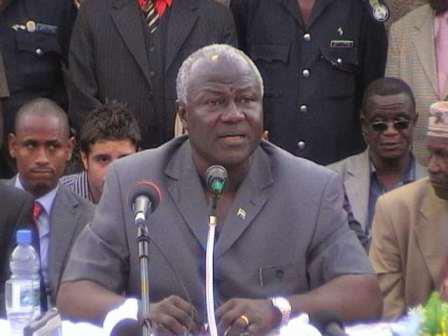 By Oswald Hanciles :
"You gave us a mandate to deliver…We delivered the change we
promised…Thank you for trusting us with the leadership of our
beautiful country in 2007….We inherited a country where the
government no longer respected the people…We stopped this tide of
disrespect for the ordinary man…We allowed the ordinary people to
come near us…Even little kids see us as their friends, that's why
kids call me, 'Ernest…Ernest…Ernest'…And, the youth call me,
'World Best'…": President Ernest Bai Koroma, during the launching of
the APC Manifesto – 'Agenda for Prosperity' – at Regimanuel Gray
Estate just before the November, 2012 elections.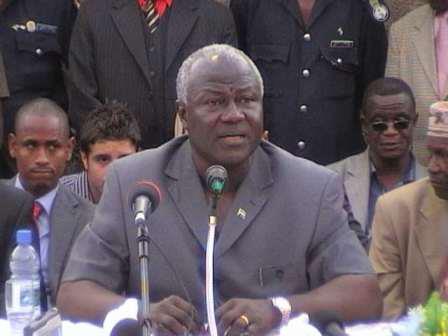 Mohamed Gibril Sesay, one of the best writers in local newspapers in
the 1990s, has picked up his public pen again. In a four-page article
published in five newspapers last week, this Sociology university
professor-turned-presidential adviser gave reasons why the APC won the
November 2012 elections against the main opposition, the SLPP. They
included the APC co-opting campaign slogans from the ordinary people,
rather than imposing slogans from on top. Most of Gibril's analysis
were cogent. To me, the biggest political asset of the APC in the
November 12 elections was the perception the public – especially the
youth – have of President Koroma. The people generally see President
Koroma as the man who sincerely loves them. He is seen as a humane
President who is God-fearing. He is seen as the architect behind the
expanding economy, and the new construction of roads, and agriculture
surge, and the investments in new mining companies that is generating
jobs. He is seen as the man who presents the greatest hope to make
their lives better. He is seen as paradoxically a loving uncle and
aged wise man with his white hair AND a film star or iconic pop
musician.
Ernest: Most Popular President in the World Today
I have not yet seen any scenario of any president ever in Africa's
history being so much idolized like President Koroma has been over the
past five years by his people, especially the youth. As I travelled
with the President around the country over the past year, as I guided
a video team to film the President's encounters with the people a
month to the elections, I would get awe-struck at the palpable
excitement the President would strike among youth when he would
appear. Girls and boys, young men and young women, would jump up and
down wildly; they would chase his vehicle in berserk joy; they would
hold wave their hands with sheer ecstasy; they would shed tears with
joy…… Even the EU Observers who came to monitor our elections
this year would 'leff mott' at the sheer adulation of the crowd for
'Ernest'.
We Must not Fail the Children and Youth
The President is aware of this as is indicated in his speech quoted
above. I am also sure that he is keenly aware of the grave
responsibility to meet the hope, to cater to the expectations, of the
children of youth. Often, as I watch the children and youth dance
passionately in a flurry of the APC colours of red and white, their
teenage hopes set afire in a blur of energetic dancing, tears would
roll down my eyes. And, I hope I can stimulate the President to cry
too, and, be resolved thus: 'We must not fail them. All they have
is what they have given us…We must do all what is necessary to make
their lives much more better than ours ever was…'
There is, on the global historical landscape, one parallel for
President Koroma: he is Lee Kuan Yew. Let us glimpse a bit at what
Lee was, and what he did for Singapore, and do comparisons with Sierra
Leone. Lee's Singapore in the 1960s was a bare rock in South East
Asia with almost no natural resources that could be exported.
Ernest's Sierra Leone in 2012 is one of the richest piece of real
estate in the world; endowed with the largest deposit of iron ore in
the world, best jewelry diamonds in the world, best grade of rutile in
the world; some of the best shrimp fields in the world; some of the
best beaches in the world…. These are not natural resources that are
agricultural produce planted recently – they have always been there.
In the 1960s, the GNP per capita of Singapore was about $600 – and
that of Sierra Leone was $300. Today, the GNP per capita of Singapore
is $28,000 – and Sierra Leone's GNP per capita is about $600. What
could be the political advantage which Lee enjoyed which Ernest may
not enjoy?
In June 5th 1959, Lee Kuan Yew, a prominent member of the People's
Action Party, became the first prime minister of a pre- independent
Singapore and remained in his post for twenty six years. 26 years!!
Well, Ernest has been in power for only 5 years; and would be in power
for another 5 years more, constrained as he is by the provisions of
the constitution of Sierra Leone.
Sierra Leonean youth must be made to practise 'Kiasu'
Pore deeply on this fact on Singaporean 'attitude': There is a word
that defines Singapore's quest to get ahead and that is 'kiasu'. Kiasu
is a term that means afraid to lose. Singaporeans make it a must to be
number one in everything. They are overachievers, and when something
like when Singapore's port slipped behind Shanghai (China) in 2005
in total cargo tonnage, it was treated like a national tragedy. Can
Ernest succeed in transforming the Sierra Leonean attitude into a
Singaporean one?
Generally, Sierra Leoneans don't see failure as a tragedy. Rather,
they see failure as a 'natural phenomenon'. Most of our youth take
their school leaving exams – WASCE – expecting to fail. And, when
they fail, they actually laugh about it. And, society does not shame
them. When Sierra Leoneans participate in international sporting
competitions – like the Africa Cup of Nations – they take consolation
that, for example, Nigeria's Super Eagles would not beat our Leone
Stars 4 to 0; and only beat us by one goal. 'We try bo, nar one goal
nor more dem beat we by'. This same attitude extends to business
enterprises. Few Sierra Leoneans even venture into new areas of
science and technology; and, when they do, they fold up their mats
after a few tries. And, blame the 'gods' for their failures. Or,
cuss witches for mistakes which would have been avoidable. In his
first term, Ernest established the Attitudinal and Behavioural Change
(ABC) secretariat. I don't know whether the ABC secretariat has a
specific programme on changing Sierra Leonean attitude from one of
'failure complex' to one of 'success spur'….
Ernest should wield a 'Big Stick'….and a 'Fat Carrot'
Think on this fact on Singapore. Economic growth is encouraged by
what some Singaporeans refer to as the "big stick and the big carrot."
Everyone can see evidence of the big carrot, by simply witnessing
Singapore's impressive economic growth – probably, one of the biggest
rise in living standards for any society on planet earth occurred in
Singapore the 40 years after independence. The big stick is another
matter. This is done by creating and enforcing many rules that are
foundational for a well ordered nation. When entering the country, on
each airport entry card, it is stated in red letter that the penalty
for drug trafficking is "DEATH". Lew perceived human nature as being
animal like. He believes that man can be trained and needs to be
disciplined. This is accomplished by lots of rules. The enforcement of
these rules is very strict. They are enforced with anything from fines
to occasional outings. They also believe in practicing corporal
punishment. In Singapore caning is mandatory for at least 42 offenses.
Re-read that paragraph.
Can we replicate the form of discipline we have in Singapore in Sierra
Leone? Can we immediately arrest and prosecute and fine a person for
dropping a single 'granat kanda' on the roadside in Freetown? Can we
get our okada riders and petty traders to obey the traffic laws? Can
we pay serious fines for urinating in public?! And, the arrested for
violating such laws? Can we have people canned in public for not
paying their taxes; and prosecuting and jailing those who
significantly evade their taxes? We can!!! We can develop a
society in Sierra Leone that obeys all rules of decency as in
Singapore, and spur our citizenry towards accelerated development.
The advantage we have in Sierra Leone is that the majority of our
citizenry are children are youth. They can be re-educated; they can
conform to rigid discipline – as long as it is not selective
application of laws. The advantage we have is that most of them have
pinned their hopes and trust in one man, President Ernest Bai Koroma.
We have another advantage over Singapore when it was 'growing up': new
information technology; radio and T.V. stations; the internet. As
they say in the US about their presidency: 'the buck stops on the desk
of President Koroma'.
The children who call President Koroma 'Ernest….Ernest…Ernest';
the youth who call him 'World Best' have given the President
unprecedented power to transform the nation. He dares not fail.
Those who use subtle 'political blackmail' to make our society
anarchic can be checkmated after two years and the majority begins to
see the benefits of a more disciplined society. Of course, President
Koroma has to harness the best of media minds, moral opinion leaders
at all spheres of society, to have promulgated tough laughs, and
ensuring their enforcement. What a Thinker like me can be categorical
about is this: Prosperity, especially if it has to be egalitarian, can
only become tangible reality when there is rigid discipline at all
levels of our society, when there is not only a perception of Justice,
but, the reality of 'Holistic Justice'. When President Koroma
succeed… , he would be forever reside in the Pantheon of the
Greatest Leaders of all time, like Lee.