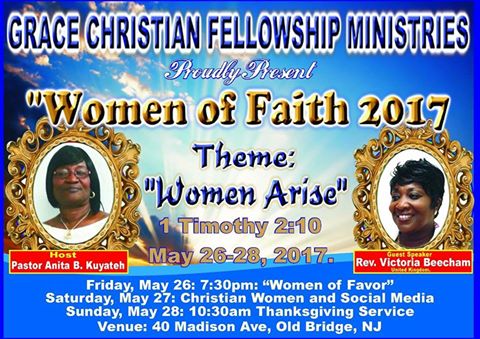 The Women of the Grace Christian Fellowship Ministries of Old Bridge, New Jersey,  under the leadership of the chairlady of the Women's Ministry. Joyce Tower,  along with the Host Pastor, Prophetess Anita B. Kuyateh will host their Annual WOMEN OF FAITH Conference on the theme "Women Arise" .
The Conference, is set to host the wives of pastors, and other first ladies at this year's edition of the Women of Faith conference scheduled for Friday, May 26 through Sunday, May 28 at the Family Restoration Worship center, 40 Madison Ave. Old Bridge, New Jersey. Women will gather at this year's Conference.
Guest minister and main speaker for the three- day conference will be Reverend Victoria Beecham , the Senior Pastor  of Action Chapel International (UK).
"The conferences since 2009 till date have been testified to be positively changing lives and improving the quality of life of the everyday woman," one of the beneficiary said.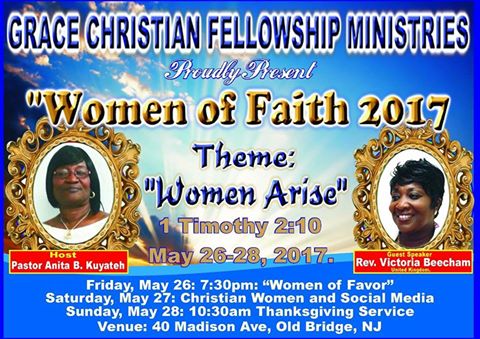 "Last year's edition was one of the major highlights for Women of Faith conference; we heard testimonies from women who were diligent in serving God now in leadership positions in their own ministries. With our theme this year being 'Women Arise', we want to discuss how women can improve their relationship with God and excel in their different works of life."
The Program will kick off on Friday, May 26, 2017 with sub theme "Women of Destiny. And on Saturday at 11:00am, the program will continue  with  a presentation on "Christian Women and Social Media".
There will be free medical awareness consultancy, free services on blood sugar Level and blood pressure checks. Attendance to the  conference is free.
The Women of Faith conference this year is committed to accelerating nation and business building through the empowerment of women to achieve their God-given potentials, by the words and teachings of carefully chosen and proven speakers. It will help women in the society who  are suffering from low self-esteem and confused with the present plight due to prophetic vipers in our culture.
Sunday May 28, 2017 will be a special thanksgiving service at the church edifice starting at 10:00am and followed by a reception at one of  the Old Bridge prestigious halls.