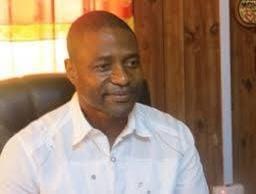 By Jane B. Mansaray
Culled from the Cocorioko Facebook Forum
A 15-year-old girl child and a Junior Secondary School (JSS3) pupil in Kono, Eastern Province of Sierra Leone on Friday 28th August 2020 testified before Justice Samuel O. Taylor in the alleged sexual penetration matter involving the Leader and Chairman of Alliance Democratic Party (ADP), Mohamed Kamarainba Mansaray and Marion Arouni.
Led in evidence by Senior State Counsel, Umu Sumaray, the victim told the court that she was previously with her biological parents whilst at the same time visiting her Aunty who is the second accused.
She said she moved to her aunty, Marion Arouni's house to assist her with domestic chores and taking care of her children. "I later left my parents when we were given notice and finally went to stay with my aunty, Marion Arouni who requested for me to come and stay with her, as her (Marion) children had become used to me", the witness said."It all happened in 2019 when my father handed me over to the second accused person, Marion Arouni who promised to be responsible for my schooling.
In January 2020 the first accused person, Mr. Mohamed Kamarainba Mansaray started visiting Aunty Marion", the victim told the court.Explaining her ordeal, the first prosecution witness recalled on the 14th February 2020 on Valentine's Day, when Mr. Mohamed Kamarainba Mansaray met her aunty and husband and requested that he Kamarainba wanted to take her out."They both agreed to the request of the first accused person and immediately, the second accused person did my hair and dressed me, after which, the first accused person came and took me in a green vehicle", she stated.
According to the witness, Mr. Mohamed Kamarainba Mansaray took her to a place popularly known as Diamond Lodge Hotel in Kono. Whilst inside the vehicle, the first accused person called one of the Hotel female staffs for an apartment key. The woman came and handed over the key to the first accused, Mr. Mohamed Kamarainba Mansaray and we both of proceeded to the apartment.At the Hotel apartment, the victim said she sat in the parlor watching television, and whilst watching television the accused called her to join him in the room but she refused.
The accused came out of the room half naked and forcefully took her into a bed room, undressed her, claimed top of her and inserted his penis into her vagina, and started moving on top of her, she narrated
After the accused had got up from her, the victim said she felt pain and got up from the bed when she saw blood substance on the bed sheet, she then went to the bathroom to clean herself and on her return to the room, the bed sheet had been removed.
"Upon my return home, I never told my aunty as to what happened, and after two weeks my Aunty based on a mobile phone conversation with Mr. Mohamed Kamarainba Mansaray, instructed me to go and clean up and prepared as the first accused is coming to take me out; Mr. Kamarainba came and took me to the same hotel and penetrated me for the second time after which I observed white substance within my legs", the victim iterated.
"Mr. Mohamed Kamarainba Mansaray sexually penetrated me five times at various locations including his unfinished house in Kono where he asked me to bend down and touch my knee, and twice in Freetown where he slept with me for a night with the consent and instruction of Aunty Marion Arouni", she said.The victim continued that she travelled to Freetown together with the second accused person and her children to attend their grand father's funeral which transported fare was facilitated by the first accused, Mr. Mohamed Kamarainba Mansaray.In Freetown after passing the night with Mohamed Kamarainba Mansaray, the witness said he gave her a mobile phone in the morning and then took her to Youyi Building where the second accused came and picked her up.
The victim said she showed the phone to the second accused person who felt annoyed and said "Ar feel say sef na better phone Kamarainba gee u", and since then aunty Marion started accusing her of having sex at an early age when she (Victim) was with her parents."We returned to Kono after two weeks in Freetown, and later my aunty's husband Mr. Arouni took the phone from me and since then I did not see the phone", the victim stated."I had already made up my mind to leave when aunty Marion asked me to take out my belongings excluding the dresses and shoes Mr. Kamarainba bought for me", she added.
The second accused handed me to my father on allegation that, I am misbehaving. My father took me with him and whilst at home playing with my father, he (father) suspected something on my left hand which I described as Captain Band, a family planning preventive measure, she (victim) got at the Koidu Government Hospital from one Nurse Mary on the instruction of aunty Marion, who then told her to lie whenever Mr. Arouni asked."My father later reported me to his elder sister Aunty Fatu. Aunty Fatu together with my Father and I left for Tankoro Police Station and reported the matter. I was issued with a Police Medical Form for treatment and examination at Rainbow Centre, and again returned to the Police Station with an endorsed medical form after which a statement was obtained from me", the victim concluded.The case was continued to 31st August 2020 for cross examination of victim's testimony.