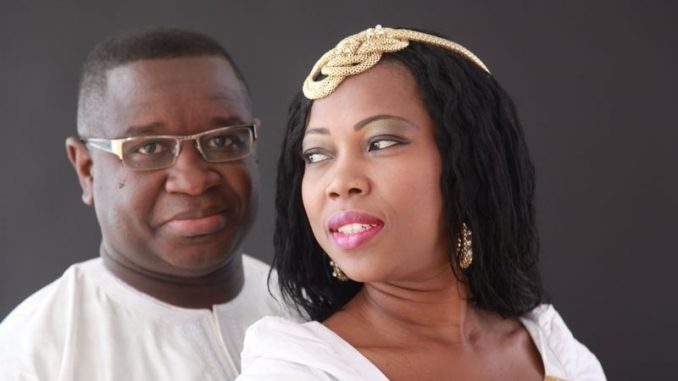 A firestorm of public dissent and condemnation has spread through Sierra Leone and the diaspora as President Bio takes First Lady Fatima Bio to the altar on Friday, though the couple actually married many years ago in London through a traditional muslim ceremony.
Since they are already married , Sierra Leoneans consider Friday's ceremony an unnecessary public psychodrama,  economic waste pf the nation's meagre resources  , wrong timing and wrong priority.
The condemnation of the marriage cuts across party lines as an angry Fatima Bio and some of her aides and bootlickers removed themselves from some Whatsapp Sierra Leone People's Party ( SLPP )  forums where Mrs. Bio and her husband have been bitterly criticized for insensitivity to the suffering of the Sierra Leonean people.
Sierra Leoneans, very suspicious that the President would use government money to fund the wedding are very angry and have made videos and audios  in the social media to protest.  They think it is a callous attempt to waste precious state funds at a time when everybody is complaining about extreme economic hard times in the country.
With annoyed voices and in some cases expletives and profanities,  Sierra Leoneans in social media videos and audios accuse President Bio not only of  economic waste,  but insensitivity to the welfare of the people who are suffering under his government . For instance, the government has not been able to pay January salaries until last week–Mid- February.  The country is plagued with  electricity blackouts. Prices of food are escalating with the government seeming to have no solution to the problems.
Some other Sierra Leoneans even believe that President Bio and Fatima will be violating the doctrines and theology of the Catholic church because President Bio had previously married his first wife, Francess Bio in the catholic church and that he is embarking on another catholic marriage without first divorcing Francess.
---
WE ARE IN THE INTERNATIONAL NEWS AGAIN FOR THE WRONG REASONS….BUT AGAIN, IT IS GOOD FOR INTERNATIONAL NEWS ORGANS TO RAISE THE DEBATE. IT VALIDATES OUR CONCERNS
Ernest Bio Complete season 1
*State wedding; Sierra Leone president plans to marry his wife Fatima for the 2nd time*
It's not clear between the president and the first lady who suggested this irrational marriage proposal at the time when the majority of Sierra leoneans are *striving hard to make ends meet*.
The state wedding report is gaining momentum amidst cries of hardship and dissatisfaction under the slpp government of president bio . The increase in the fuel price, the rise in electricity tariff, price of basic commodities doubling, late payment of salaries, gross human rights abuse including *shooting of unarmed civilians and a complete hijack of the judicial process of*
*Ernest bio*
Bassie Kanu Bro Cidi Koroma President Bio is an employee of the state he receiving salary like another employee so he is entitled to whatever he wants to do with his salary. But my own question if the money is coming the tax payers at this time when our country is going through hard time.
Ansu Kaikai The excitement of some people about the unpopular marriage between Bio and Fatima is deplorable. Leh we dae go noh moh
Toni Kay My dear have you ever heard the saying that money which is not hard earn will always find a way to perish without accomplishing any meaningful thing.
For me I say let them do it , it is about time that the people enjoy their money even if they eat some through a marriage celebration. Dae gron dry hungry boku,
Bring on the food
Umaru Kanu We are living in a sad state. A state where people are now defending the undefended. The wedding is not timely considering the present economy situation.
Joseph John Lahai Hmmmmmmm oh!!! Salone all tem we set record why make we for gie we country to posin way nor responsible ar mean marriage man