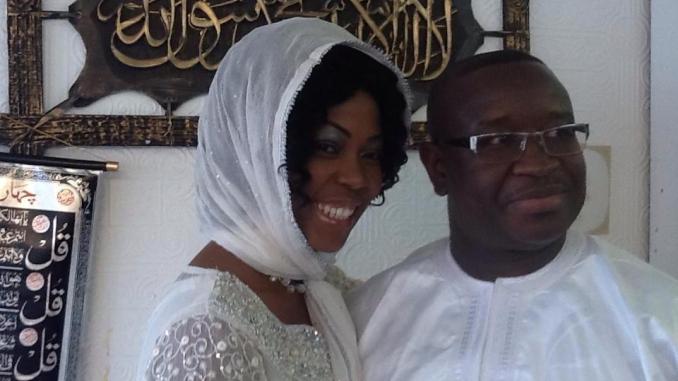 By Kabs Kanu
NOW you can see why our country never goes forward and will remain backward. Our priorities are very wrong. Now you can see how some of our leaders are not serious at all. In these dire economic times, why would I remarry a woman who has been my legal wife if it is not to show off and waste precious money that could have been used for better things . Marriage is honorable before God but once you have married a woman ,you do not go on doing it, especially in these difficult economic times when every penny counts.
THE marriage vow is sacrosanct and once taken it remains valid. There is no reason to take a woman to the altar for a second time within a short time, unless the previous marriage was fake and both partners had been fornicating. Once is enough as long as it is valid Whether it was marriage in a church, mosque or registry or through native traditions, it is valid. The Bible did not specify any method.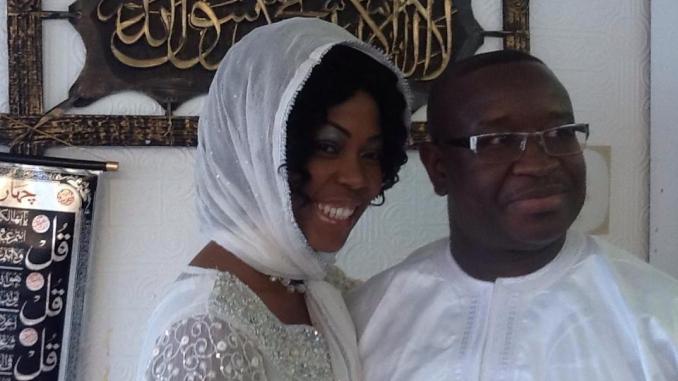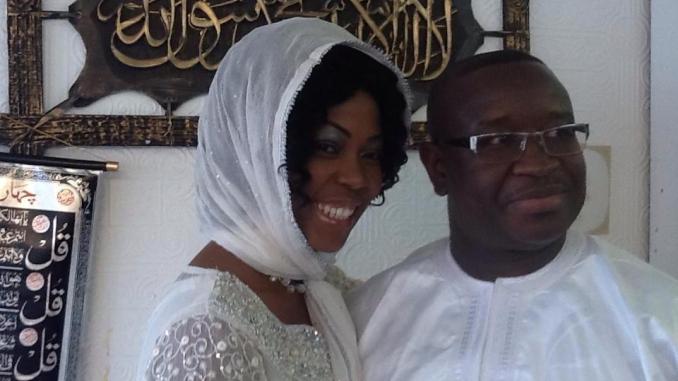 PRESIDENT BIO AND HIS WIFE ARE SEEN HERE AFTER THEIR MUSLIM MARRIAGE IN LONDON FEW YEARS AGO IN 2013 WHEN HE WAS NOT PRESIDENT
The most important thing is love expressed within the marriage. If you love your wife and she too loves you and everybody is cooperating to make the marriage work, there is no need for a public show.and waste of precious money if you have already married the woman through one legal process.
For those who would say it is not anybody's business  that President Bio is remarrying Fatima , here is why it is our business. Two important issues are INVOLVED here : If the President will be using his own money, it is his business. One would have said it was nobody's business. But this President has been unemployed for over 26 years and was broke and living on public charge and his wife's graces in London. Where would he have accrued the money to fund the kind of grandiose remarriage he wants to stage ? He will definitely be using public money and resources and this is the height of wastefulness and profligacy. And this is why it is everybody's business. State resources and money will definitely be used. We know our leaders. Our country is desperately poor and money is scarce, but some of these leaders do not feel sorry for us. Our President and public officers are doing nothing to save the precious little we have.
The second issue is priorities. Is a Presidential remarriage our priority in Sierra Leone ? The government cannot pay salaries regularly; the government cannot provide regular electricity. Water is in short supply ; there is no food for the people to eat and the scare basic commodities available are very expensive ; inflation is at an all-night high and everybody is complaining. The economy is on the verge of collapse and investment is not coming in because the country is unstable due to the repressive governance style of the President and his human rights abuses .
Given all these problems besetting our struggling nation, a state wedding involving the President and a woman he has already married is the wrong priority and a big distraction from burning national issues.
If the President has a lot of money , why not give some to the poor ? WHY waste it on a useless and unnecessary remarriage ?
Because people are suffering in the country, no serious person will agree with the President on this. His wife said they got married through a Muslim process. That is perfectly legal . That was the process they chose. There is no need to go over it in these difficult economic times. Remarrying in a Catholic Church will not make the marriage any more legal than it is. It is a waste of time and money.
THIS just shows how unserious our leaders are in the country. Vanity preoccupations, ostentation and wastefulness of public money and resources are all they are preoccupied with.
If you and Fatima have made enough money in the two years you have been in power, give some to the poor or engage in pro-poor projects that will benefit the people. What about the SLPP supporters who gave their lives to have Bio elected who are now languishing at the party office, neglected ? The money about to be wasted on a vanity remarriage could do them a world of good.
Stop vanity and wasteful projects.
VANITY OF VANITIES, ALL IS USELESS MISDIRECTION
Do you see the vanity and displacement of priorities ? Big man like Maada Bio behaving like a small boy getting married ? WHY all this ? You are not even delivering anything? Do you think people will like this kind of vanity and waste of money ? If it is just to conduct a Christian side of your marriage, are all these necessary ? The money you are spending could be better used helping the SLPP supporters languishing at the party office
Waste …waste …waste of government money .