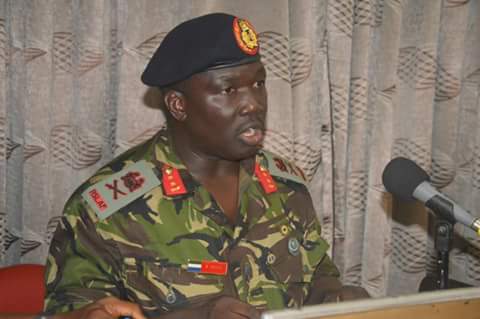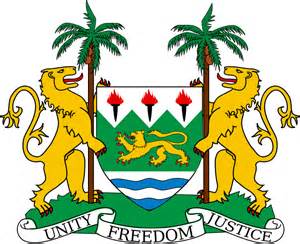 GOVERNMENT OF SIERRA LEONE  PRESS RELEASE
THE GENERAL PUBLIC IS HEREBY INFORMED THAT IT HAS PLEASED HIS EXCELLENCY THE PRESIDENT DR. ERNEST BAI KOROMA TO ANNOUNCE THE FOLLOWING APPOINTMENTS, SUBJECT TO THE APPROVAL OF PARLIAMENT WHERE NECESSARY:
MAJOR-GENERAL BRIMA SESAY – CHIEF OF DEFENCE STAFF
DR. RICHARD MOIGBE – INSPECTOR-GENERAL OF POLICE
BRIG-GENERAL DAVID TALUVA – DEPUTY CHIEF OF DEFENCE STAFF
DR. AL-SHEK KAMARA – DEPUTY INSPECTOR-GENERAL OF POLICE
MR. ANSUMANA M. IDRISS – DEPUTY NATIONAL SECURITY CO-ORDINATOR, OFFICE OF NATIONAL SECURITY
CAPT (RTD) SAIO S. MARAH – DIRECTOR-GENERAL, CENTRAL INTELLIGENCE AND SECURITY UNIT
MAJ (RTD) DR. MATHEW KAMARA – DEPUTY DIRECTOR-GENERAL,
CENTRAL INTELLIGENCE AND
SECURITY UNIT
MR. FRANCIS ALIEU MUNU – AMBASSADOR TO THE REPUBLIC OF LIBERIA
LT-GENERAL JOHN MILTON – DEPUTY HIGH COMMISSIONER TO THE FEDERAL REPUBLIC OF NIGERIA
MAJ-GENERAL MOHAMED M. KEITA – DEPUTY HIGH COMMISSIONER TO THE GAMBIA
END
STATE HOUSE
FREETOWN 29TH NOVEMBER, 2017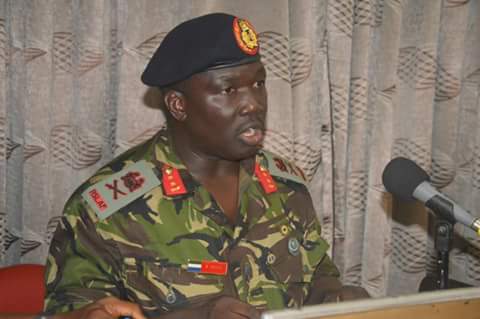 MAJOR -GENERAL BRIMA SESAY
Gen Brima Sesay was born on 4 June 1965 in Musaia, Folosaba Dembelia Chiefdom, Koinadugu District in the Northern Region of Sierra Leone. This town is located 12 miles from the district headquarter town of Kabala. He attended the National Diamond Mining Company Nursery School from 1969-1971.
He attained primary education at the Roman Catholic Primary Schools in Kono and Musaia from 1972-1978. He also attained secondary education in Kabala, Kono and Freetown from 1978-1986. After his sixth form at the St Edwards Secondary School he proceeded to the Fourah Bay College in the 1986/87 academic year. He graduated in the 1990/91 academic year with a Bachelor of Arts Degree (majoring in English Language and Political Science) and a Diploma in Education (BA DipEd).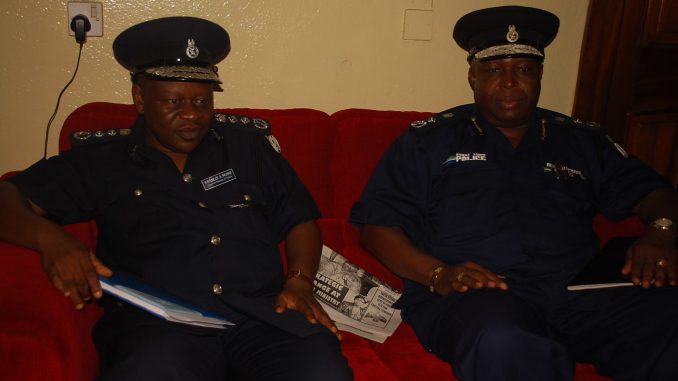 OUTGOING POLICE CHIEF MUNU ( LEFT ) AND NEW BOSS RICHARD MOIGBE
He also holds a Post Graduate Diploma in Public Administration from the Ghana Institute of Management and Public Administration (GIMPA). Brig Gen Sesay, on completion of his university education enrolled into the Republic of Sierra Leone Armed Forces (RSLAF) as an officer cadet and was commissioned as a Second Lieutenant on 29 October 1991.
Gen Sesay has attended various military courses in his career. Some of them are Progressive Qualification Scheme Level One, Junior Division Staff Course at the Armed Forces Command and Staff Brig Genlege – Jaji in Nigeria, the International Logistics Officers Course (ILOC) in the UK, Executive Seminar on Legal Aspect of the Military in a 21st Century Society, Senior Command and Staff Course in Ghana, International Crisis Management Course, Defence Management Course, International Peace Support Operations Course in Ghana, the Next Generation of African Military Leaders Course at the National Defence University, Washington DC, USA, organised by the African Centre for Strategic Studies (ACSS), the National Defence College Course, Abuja, Nigeria and the Masters in Strategic Studies Course (MSS) at the University of Ibadan, Nigeria. He recently attended a seminar in Paris, France (Forum of the Institute of Education and National Defence on the African Continent) at the Ecole Milittaire on the theme, "Preconditions for Sustainable Stability in Africa".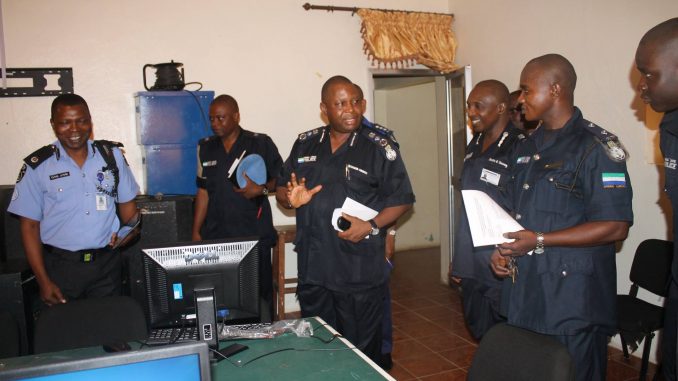 NEW I-G RICHARD MOIGBE SEEN HERE ( CENTRE ) MEETING TOP BRASS OF THE SIERRA LEONE POLICE
Gen Sesay has held various appointments in the RSLAF ranging from Platoon Commander, Adjutant, Company Commander, Staff Officer Grade 3 operations, Aide de Camp (ADC), Military Assistant (MA), Second in Command of the Infantry Training Centre (ITC) (a centre which he constructed), SO3 J4 Combat Supplies, SO2 J4 Combat Supplies, Second in Command of the Joint Logistics Unit (JLU), Commanding Officer of the Joint Logistics Units (JLU) (the first RSLAF officer to hold that appointment), Deputy Chief of Staff (DCOS) of the Joint Force Headquarters (JFC), Commander of the 4 Infantry Brigade Makeni, Chief of Staff (COS) of the Joint Force Headquarters and Commander 3 Infantry Brigade. Brig Gen B Sesay is currently the Commander Joint Force (CJF). Brig Gen Sesay was awarded the Ministerial Award for Meritorious and Dedicated Service to the Brig Genours and the country during the February 2009 RSLAF Army Day celebrations.
He is married to Mrs Sunkaire Sesay and they are blessed with 5 children (4 girls and a boy). His hobbies include reading, watching movies, jugging and playing volleyball.