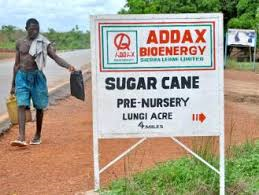 By Stanley Bangura :
At the time of writing, more than 1,000 inhabitants of West Africa have died from the Ebola Virus Disease (EVD), according to reports from the World Health Organisation (WHO). The National Ministry of Health and Sanitation (MOHS) report that 315 of those who have died are from Sierra Leone. New infections continue to be reported daily.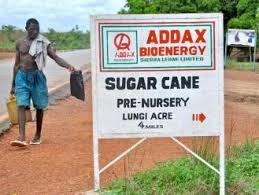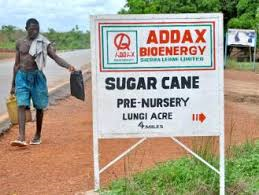 Addax Bioenergy Sierra Leone (Addax Bioenergy) is a producer of bio ethanol and renewable electricity, situated at the Mabilafu factory site. The company has planted over 5 000 ha of sugar cane that will be harvested to produce fuel ethanol for local markets and export to Europe, and to supply electricity into the national grid. The area under cane production will be developed to 10 000 ha by mid-2015. The project has been certified under the Roundtable on Sustainable Biomaterials, registered as a Clean Development Mechanism under the United Nations Framework Convention on Climate Change (UNFCCC), and abides by the sustainable development guidelines of the Africa Development Bank (AfDB) and the World Bank's IFC.
Addax Bioenergy has pro-actively tackled EVD and set up programmes to safeguard its employees and their families, the project and communities in the Bombali and Tonkolili districts. These programmes include:
• A detailed emergency response procedure for all Addax Bioenergy stakeholders;
• Over 300 chlorine wash stations, where employees can regularly disinfect their hands;
• The distribution of soap for employees to take home and use to disinfect themselves at home;
• Over 50 temperature measurement stations, where employee, contractor and villager temperatures are taken as an early indicator of ill health;
• Construction of an EVD isolation unit with reception, dressing and undressing rooms for medical staff and three single rooms;
• Six trained nurses, brought in from South Africa, to run the isolation unit and provide support for its medical staff and health clinics;
• Personal Protective Equipment (PPE) including gloves, suits, face masks and boots, imported for use in the isolation unit;
• Regular communication workshops held with all employees and communities. To date over 70% of the 52 villages in the company's operational area have received education in EVD causes, symptoms and prevention.
• Fortnightly Syndicated radio shows dedicated to awareness raising and education on EVD.
Addax Bioenergy is also working closely with the Sierra Leone Ministry of Health and Sanitation (MOHS). In particular:
• Addax Bioenergy and its employees have donated LE 35M to the basket EVD fund;
• Three vehicles have been donated to MOHS, one to the basket fund and two to MOHS Bombali;
• Chlorine, cell phones, loud hailers, shovels and picks, as well as temperature monitors have been supplied to MOHS Bombali and Tonkolili.
The following assistance is also being provided at District and Municipality level;
• Loan of containers for use at check point stations;
• Sponsorship of fumigation of Makeni City;
• Loan of a skip truck to Makeni City to assist with garbage removal.
Addax Bioenergy is committed to doing everything it can to protect its employees, its project and its stakeholders from EVD in a responsible manner