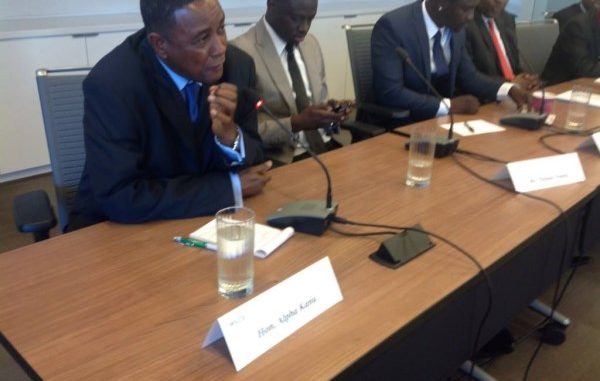 By KABS KANU and PASCO TEMPLE : 
Senegalese American R&B and hip hop recording artist, songwriter, and record producer Aliaune Damala Akon Thiam, known as 'Akon' has described Sierra Leone's President Ernest Bai Koroma as one of the finest leaders of Africa, whose love for youth has transformed the West African Country from one of the least developed, to that of one of the fastest growing economies in the world. He said President Ernest Bai Koroma's love for youth is in his policies and actions.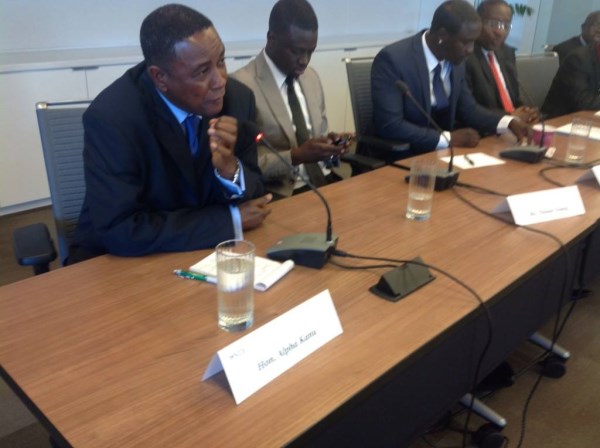 AKON IS SEEN HERE  ON THE HIGH TABLE WITH ALPHA KANU
Speaking during a one day meeting of the West African Youth Forum at the National Democratic Institute (NDI) in Washington D.C. Thursday, Akon said  the early stage  of his life was characterized by challenges like most youth, and said some countries including Sierra Leone were also feted with challenges at some stages, but with determination and fortitude, the challenges were overcome and things got turned around for the better.
Akon said he met President Ernest Bai Koroma some years back and described him as a leader with vision, whose determination has immensely contributed to the turn – around of the country.
Akon promised President Koroma that he will help to electrify the country by providing solar light in all towns in the country. He promised to put structures in place to ensure the implementation of the project.
He also used the medium to call on African – Americans to support their people through the provision of knowledge and other means to acquire knowledge.
Earlier, Thione Niang , a political activist,  community leader, international motivational speaker and consultant recalled visiting Sierra Leone, and in particular President Ernest Bai Koroma  some years back, and said "I compared the country before he assumed Presidency and  the present: "I can say President Ernest Bai Koroma has  Passion for youths."
Delivering his key note address on behalf of President Ernest Bai Koroma, Minister of Information and Communications and Government Spokesman Hon. Alhaji Alpha Kanu said "Mr. President has dedicated his second term in governance to youth empowerment and development.
"Since President Koroma became president in 2007, his ambition has been to promote youth affairs. He has established youth policies that will bring more skills-training and jobs for young people in Sierra Leone: and the government is now bringing both the private and public sectors together to address issues affecting youth development in the country.
He said President Koroma had issued a directive urging Ministries, Departments and Agencies of government to develop documents and programmes that will aim at creating empowerment and employment for young people in the country.
"As I speak, the government has established the National Youth Commission, and most importantly, the government of His Excellency President Dr. Ernest Bai Koroma has received funds from the Government of the People's Republic of China to construct a modern youth village for the youth in Sierra Leone."  Adding, the minister disclosed that  "The village will be solely meant for the acquisition of skills and knowledge." Minister Kanu emphasized.
In his contribution, Minister of Youth Affairs, Hon. Alimamy Kamara reiterated his call on young people to be disciplined and law abiding.
He said the government was about to construct many technical vocational institutes to capacitate them.
Hon. Alimamy Kamara said the Government is working with the United Nations Development Agency (UNDP) on the Youth Employment and Empowerment Programme (YEEP), initiated in 2011.
He said this program builds on UNDP's extensive post-war experience, supporting the recovery of Sierra Leone's youth.
The Minister went on to say that  the program is designed to strengthen national policy, strategy and coordination for youth employment and further seek to provide basic support services for youth across the country.
The Hon. Minister said the Program is focused on three key components: (a) Institutional and Policy Development that is based on building sufficient technical capacity of the Ministry of Youth, National Youth Commission (NAYCOM) to facilitate policy development and ensuring that relevant policies are coherent and have a positive impact on employment creation.
(b)Youth Empowerment that is focused on promoting youth empowerment and leadership through the strengthening of Chiefdom and District Youth Councils. (C)Employment Promotion- Focused on assisting youth in their transition from school to work through the provision of employment promotion services such as internship opportunities and support to micro, small and medium-sized business development.