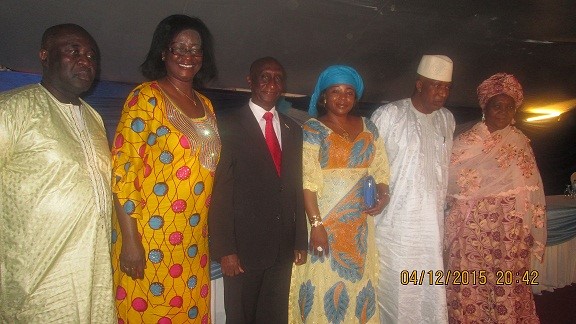 Sierra Leone's Minister of Mines and Mineral Resources, HON. Alhaji Minkailu Mansaray over the weekend delivered his speech as Guest Speaker at the annual Graduation of West African Insurance Institute WAII Graduation of the 35th and 36th batches of one year WAII Diploma Students, at the WAII Campus, in The Gambia.
Also present at the ceremony were the Hon. Minister of Finance of The Gambia Abdou Kolley, Ambassador Soulayman Daramy, Deputy Ambassador Haja Sadiata Sesay Kamara, Aaron Issa Anafure, Vice Chairman Governing Council WAII, Madam Alice Onnumakeh of RITCOP Sierra Leone and Everett Clark of UNDP in Liberia.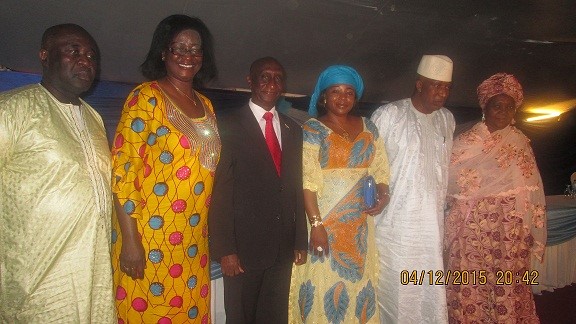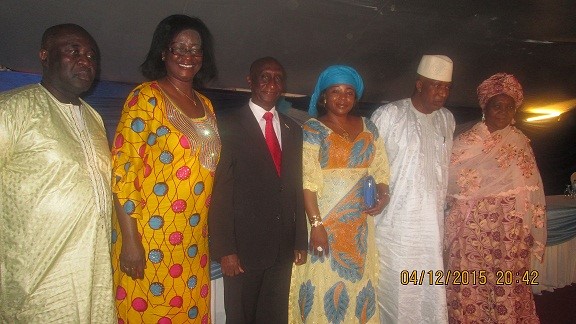 Hon. Minkailu Mansaray and Team from Sierra Leone
The Hon. Minister, as Guest Speaker of the occasion was also awarded = FELLOW OF THE WEST AFRICAN INSURANCE INSTITUTE in recognition of his contribution towards the development of WAII.
Among the West African students that offered for the courses are nine Sierra Leoneans, Alieu Deen Swaray, Kanja G Sandy, Sulaiman E Kanneh, John M Caulker, Hafsahbelle Conteh, Rachel Ellen Coker, Mohamed M Sillah, Arnold S Bangura and Alieu Badara Musa of RITCORP, FITCO, AUREOL and National Insurance companies respectively. Other countries involved were Liberia, Nigeria, Ghana, The Gambia and Cameroon.
Guest Speaker Hon. Mansaray
Delivering his address as Guest Speaker, Hon. Minkailu Mansaray, expressed his thanks and appreciation on behalf of President Ernest Bai Koroma and the people of Sierra Leone to President Yayah Jammeh Babili Mansa, his government and people of the Gambia for their warm hospitality extended to Sierra Leoneans in The Gambia'.  He thanked President Jammeh for his contribution towards ending the Ebola Virus in Sierra Leone.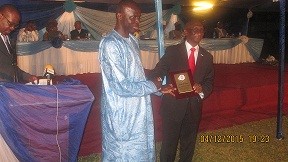 Hon. Minkailu Mansaray honored
The Guest Speaker, titled his talks- Managing Risks in Africa's Socio -Economic Development – A call to action for Insurers. Risks he noted can be looked at in three levels- macro level risks, the meso – level risks and micro level risks.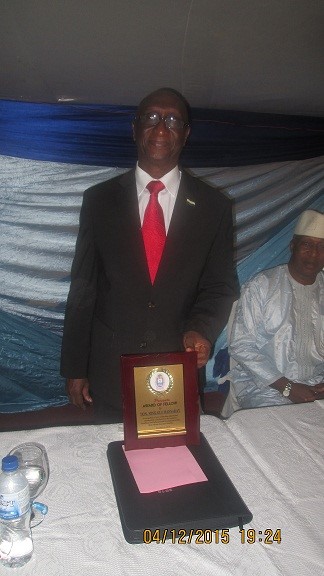 Micro level risks he observed can be termed as managing risks at the national and International level, whilst with meso level risks is looking at risks at the sub- national level that is the level of companies and corporation within countries.  With regards micro level risks, that Alhaji Mansaray explains involves risk at the individual household level.
According to Hon. Minkailu Mansaray, who also is the Deputy Chairman of the APC Party in Sierra Leone, Africa is growing together with population, cities and economies and with such a growth he pointed out, our continent is revamping older sectors like agriculture and housing, moving into newer sectors like mobile money transfers and utilizing newer tools like Information Communication technologies.
The Guest Speaker called upon Insurers to put premium on Health Insurance. Africa he observed have a dismal health statistic because the continent has not pooled resources together to established and pay for medical services. He said many have been trained but have left the profession causing brain drain. ATTENTION, the Minister said must be given to the health sector.
Hon. Mansaray observed that worldwide it is the Insurance companies that back up Banks as they move into newer terrains and therefore it is high time, these same Insurance companies do the same for Africa.
Speaking directly to the students, the Guest Speaker warmly congratulated them, saying as they celebrate their successes all and sundry salutes them with honor and dignity. He noted that WAII has made them big and prepared them for the journey of Insurance challenges ahead. With the support and guidance of the Institution he cautioned them against all odds but to stand up for what they had learnt and applauded the academic and management staff for keeping alive the values and merits of WAII.
The Guest Speaker informed that one of WAII graduates of eminent states men and women, great Diplomats and Parliamentarians, Ministers of Government, is no other person but The President of Sierra Leone Dr. Ernest Bai Koroma.
He concluded that the fraternity of professionals shall continue to push Insurance unto newer and higher grounds and WAII eminent graduates contributions shall be central to the re- awakening of the continent.
Distribution of certificates, diplomas and awards of merits were done by the Director General and Head of Mission Frederick Bowen- John and assisted by Ambassador Soulayman Daramy, Deputy Ambassador Haja Sadiata Sesay Kamara, Hon Abdou Kolley and wife of the Guest Speaker Mrs. Mabinty Mansaray.
,
BY:    Ralph EseDonnu Sawyerr,
Information Attaché,
Embassy of Sierra Leone,
In Senegal and The Gambia.