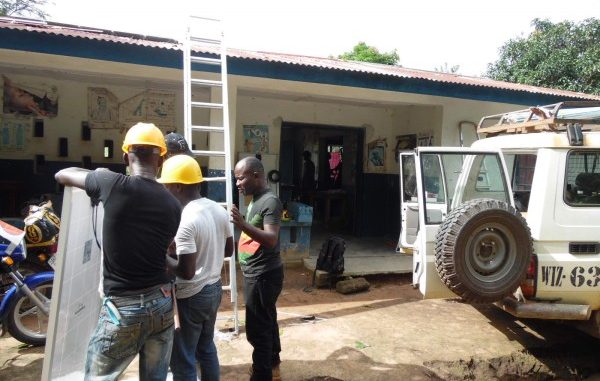 Solar electrification in 60 schools and 18 PHUS: the Playhouse Foundation and the Danké Koroma Foundation in partnership with GIZ Liberia and OSIWA
Energising Development's support to Sierra Leone has achieved landmark results within three months. Solar lighting has been installed in 60 schools in Bombali, Bonthe, Kailahun, Kono, Moyamba and Port Loko Districts: 34 schools in Kono District including U.M.C. Secondary School, Yengema, Jaiama Secondary School, the alma mater of the late Abu Aiah Koroma, Esq., Songu Mbriwa Memorial Secondary School, Yengema Secondary School, Koidu Girls' Secondary School library, Koidu Boys' Secondary School and St. Patrick's Secondary School. The beneficiary chiefdoms in Kono District are Fiama, Gbense, Gorama Kono, Kamara, Mafindor, Mbane Kandor, Nimikoro and Sandor. R.C. Peya and the peripheral health unit, Peya, Nimiyama Chiefdom and St. Edwards Junior Secondary School, Manjama, Soa Chiefdom were also beneficiaries. Moyamba Distict's legendary schools like the Harford School for Girls, the alma mater of the late Mrs Danké Koroma, Fergusson Memorial Secondary School and June Hartranft Primary School and Bonthe District's Centennial Secondary School were proud recipients of solar electrification.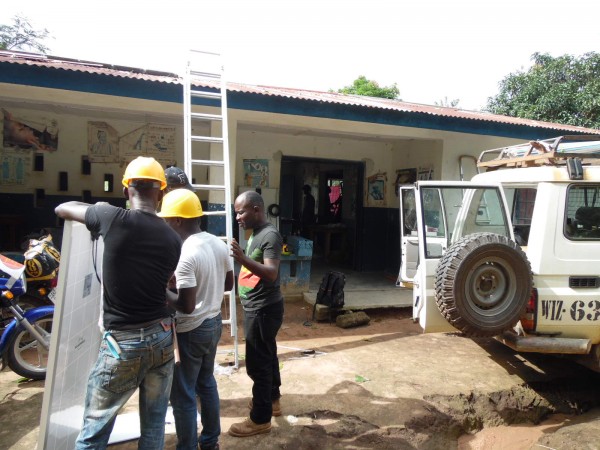 In Kailahun District, solar lighting was installed at 11 schools (primary and secondary) in Bomaru in Upper Bambara Chiefdom, Baiwallah in Dea Chiefdom, Daru and Guma in Jawei Chiefdom, Mofindor in Luawa Chiefdom, Koindu in Kissi Teng Chiefdom, Buedu in Kissi Tongi Chiefdom and Dia in Kissi Khama Chiefdom. In Bombali District, solar electrification was installed at 5 schools in Makeni, Bombali Shebora Chiefdom, Yeli Sanda, Makara Gbanti Chiefdom and Kamabai, Birwa Limba. 2 schools in Port Loko District's Gbomsamba, Buya Romende Chiefdom were also beneficiaries of solar lighting. In the final phase, schools in Kaffu Bullom Chiefdom, Port Loko District, Bombali District and the Government Secondary School, Kakua Chiefdom, Bo District, the alma mater of Abu Aiah Koroma Esq. will also benefit from solar lighting.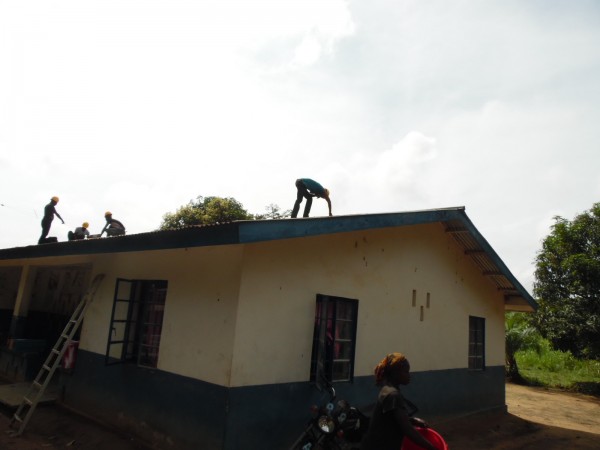 17 PHUs in Bombali, Kailahun, Kono and Port Loko Districts have also received solar electrification as well as solar refrigerators to store blood and vaccinations. These include the maternity section of the newly constructed medical centre at Daru Barracks and solar lighting was extended to the doctors' and nurses' quarters at this facility.
This exciting project is being implemented by the Playhouse Foundation and the Danké Koroma Foundation in partnership with GIZ Liberia, OSIWA and the Republic of Sierra Leone Armed Forces (RSLAF). The impact of the project is immeasurable. School children in remote parts of the country, especially in the border chiefdoms, communities in former Ebola 'hotspots' like Daru, Jawei Chiefdom, Kailahun District, Makeni, Bombali District and Sukudu, Kamara Chiefdom in Kono District as well as very poor communities in the other districts covered by this initiative, are able to study in the evening to prepare their homework but more particularly, those sitting to national examinations like NPSE, BECE and WASSCE are able to study in a comfortable environment. Madam Finda Koroma, Co-Founder of the Playhouse Foundation made the following remark: 'We are so happy to provide exemplary service to these communities and we expect to see a marked improvement in the academic performance of pupils in these schools, with time'. H.E. Sia Nyama Koroma, First Lady of the Republic of Sierra Leone who is a Registered Nurse and Chemist and serves as the Chairperson of the Danké Koroma Foundation is relieved that babies can be delivered safely at night in facilities in the remote parts of the country that now have solar electrification. She is equally pleased to note that vaccinations and blood can be stored properly for use by communities in these areas.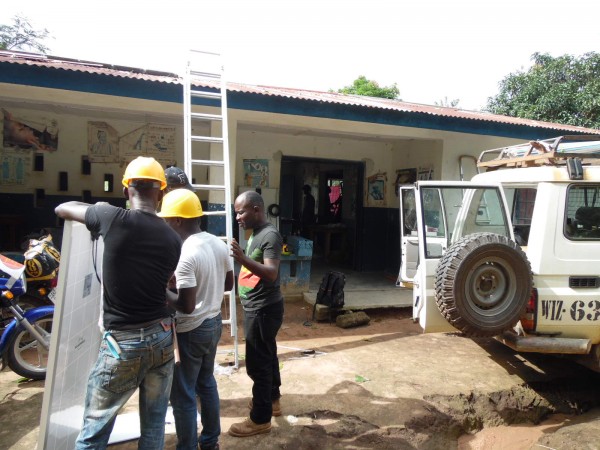 The Playhouse Foundation owes a debt of gratitude to its partners especially Mr. Euler Hartlieb and his team from the Energising Development project that is being implemented by GIZ Liberia. Members of the team recently spent their Christmas and New Year holidays training 12 military technicians in 4 regions that have been made available by Lieutenant-General Samuel Omar Williams, Chief of Defence Staff, RSLAF. Much gratitude also goes to the Chief of Defence Staff and his team for all the logistical support the RSLAF has provided to the project over the last three months. OSIWA has been a strong partner of the Playhouse Foundation throughout the Ebola outbreak, making it possible for infection prevention control training and more recently, solar lighting and education projects to be extended to border chiefdoms in Kono and Kailahun Districts.
This project is in fulfillment of the Government of Sierra Leone's post-Ebola strategy which focuses on capacity building in response to future emergencies.
The Playhouse Foundation was founded by Madam Finda Koroma and Mr. Abu Deedee Koroma in memory of their late parents, Abu Aiah Koroma Esq. and Mrs Danké Koroma.