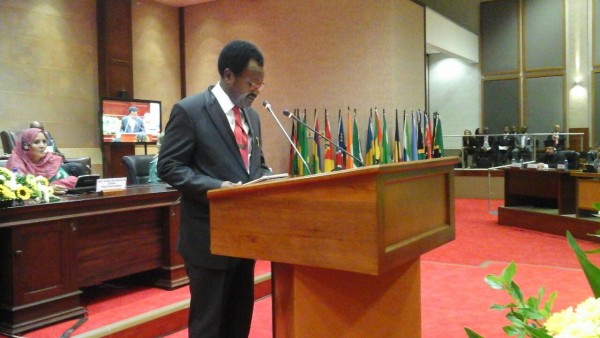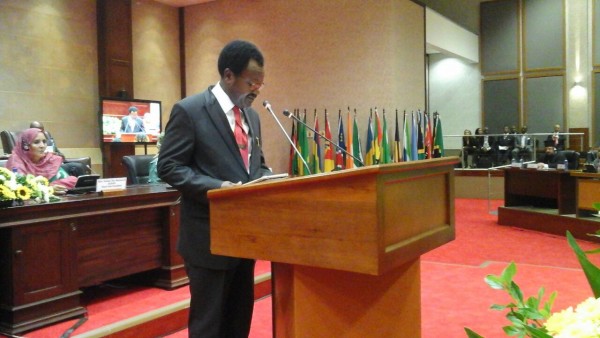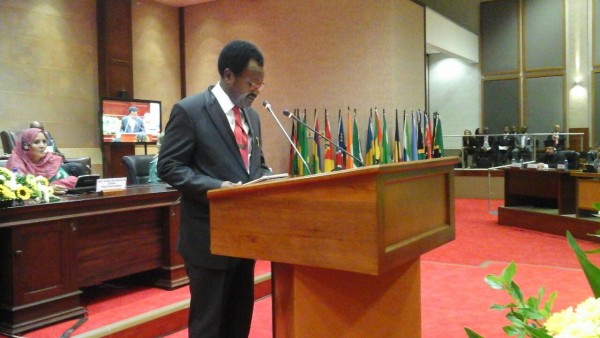 Hon.Vice President Foh  delivered his speech on behalf of His Excellency President Dr. Ernest Bai Koroma
ADDRESS BY AMBASSADOR DR. VICTOR BOCKARIE FOH
VICE PRESIDENT OF SIERRA LEONE –
GUEST OF HONOUR AT THE SECOND ORDINARY SESSION OF THE FOURTH PARLIAMENT OF THE PAN-AFRICAN PARLIAMENT –
MOUSA IDRIS HALL, MIDRAND, SOUTH AFRICA
3RD MAY,2016
Your Excellency, President of the Pan-African Parliament
Hon. Roger Dang Nkodo
Hon. Vice Presidents
Honourable members of the Pan-African Parliament
Excellencies
Distinguished Guests
Invited Delegates
Ladies and Gentlemen
I bring you fraternal and goodwill greetings from His Excellency the President, Dr. Ernest Bai Koroma and the people of the Republic of Sierra Leone. I also bring you profound apologies from President Koroma for not being able to attend this Session of the Pan-African Parliament. He asked me to represent him, and I am sure he is here with us in spirit, because he holds dearest to his heart the Pan-African Parliament and what you stand for, namely, Good Governance and prosperity for the people of Africa.
On my own behalf, I consider this a singular honour for which I am thankful, first to my President for asking me to represent him and second, to the President of the Pan-African Parliament (PAP), Hon. Roger Dang Nkodo, Vice Presidents, Honourable Members and staff of this august Body, for the privilege to address them on this occasion. I am considerably humbled, yet extremely pleased that with PAP, Africa is certainly moving towards integration and development.
Mr. President,
Excellencies
It is disheartening to note that while Africa is moving forward, we are confronted with emerging challenges which, otherwise, could be avoided. The threat posed by armed organizations and the unsavoury attacks by these groups are among some of our greatest man-made challenges we are faced with. Let me, on behalf of President Ernest Bai Koroma and the people of Sierra Leone, express deepest sympathy to all those countries affected by such attacks. As a country, we went through it for more than ten years, and we know how frightening and devastating these attacks could be, not least of all the fear and anxiety the people live with. It is a pity that these attacks are happening in our "backyards" and by our own compatriots. While these attacks may target individual countries, we must find a continental and / or global solution to them. We believe PAP, through its mandate, can strengthen continental solidarity and build a sense of common destiny among the people of Africa.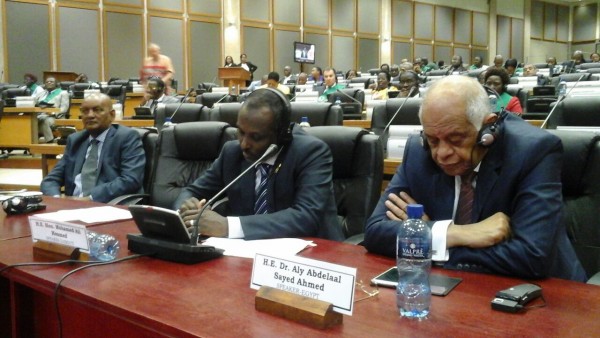 Mr. President,
Excellencies
Recently, we were visited by the deadly Ebola Virus Disease. We lost scores of our compatriots. It was a dreadful scourge. As a country and as a sub-Region, we were devastated. Economic growth and development were halted. Our survival as a nation was threatened. With the resilience of our people and through the support of friendly countries of the world, we fought a good fight and defeated the Ebola Virus Disease. Some of our dear African countries banned flights to Sierra Leone and to the sub-Region. We bear no grudge. Suffice it to say, we learnt good lessons, and we will build on lessons learnt to push for greater African unity, and show each other that we should, and must be our Brothers' Keepers". Sierra Leone is now Ebola-free, and we are on the path to Economic recovery. On behalf of His Excellency Dr. Ernest Bai Koroma and the people of Sierra Leone, let me thank all those friendly countries that supported us and our sister countries in the Mano River Basin to combat the outbreak of the Ebola Virus Disease. We say so from the bottom of our hearts.
Mr. President,
Excellencies
A new Bureau of PAP has been elected into office. I wish them a successful tenure. Let me thank the out-gone Bureau for moving PAP to another level. The secret to success is for the new Bureau to build on the foundation laid by the out-gone Bureau. You can never succeed by quarreling with your past. However, you can learn good lessons from the past to build great institutions. You can learn from the successes and / or failures of the past to promote peace, security and prosperity throughout the continent. You can use the failures and / or successes of the past to be innovative; to facilitate cooperation and development in Africa; to facilitate cooperation among Regional Economic Communities and their Parliamentary fora.
Mr. President,
Excellencies
The new Bureau is dear to all Sierra Leoneans because this is the first time a Sierra Leonean is elected to the Bureau of PAP and in no mean capacity.
As a Government, we wholeheartedly supported the candidacy of Honourable Dr. Bernadette Lahai, notwithstanding the fact that she does not only belong to the Opposition Party, but also, the Minority Leader in our Parliament. We should practise cross-party politics to do what adds value to us as a country, and as a continent. As recently observed by His Excellency Dr. Ernest Bai Koroma, Politics is not a matter of life and death….let us change the dynamics and see politics as a means to improving the welfare of our people.
Mr. President,
Excellencies,
The Pan-African Parliament was founded on the principle that the people of Africa would be fully involved in the economic development and integration of the continent. It grew out of the vision to provide a pan-continental platform for the people of Africa through African Parliamentarians, and grassroots organizations to get more involved in discussions and decision-making on emerging challenges in Africa and elsewhere. While progress may be slow, we applaud your achievement, so far. I am pleased to inform you that the Sierra Leone Parliament ratified the protocol to the Constitutive Act of the African Union relating to the Pan-African Parliament on the 21st April, 2016 making us the fourth country to ratify this protocol in Africa. Let me also assure this House that all the remaining AU legal instruments will be ratified with minimum delay.
Mr. President,
Excellencies
It is pleasing to note that the AU theme for 2016 is: Year of Human Rights, with special focus on the Rights of women and girls; the role of women in development and challenges to the full enjoyment of their Human Rights. We feel strongly and passionately about the involvement of women in the Economic growth and prosperity of Africa. We all should march forward, leaving no one behind, as we endeavour to build a strong and productive continent. We must empower women through purposeful education, appropriate exposure and useful resources, so that they would emerge and favourably compete in all fields of endeavours. In our Recovery and Development strategy, namely, our Agenda for Prosperity, the issue of Gender, Women's human rights and empowerment and human development stand out very prominently. Empowerment and Advancement of women must be a priority to all of us.
Mr. President,
Excellencies
In this light Sierra Leone has taken giant strides to enact laws and ratify Protocols in favour of women, including:
The Maputo Protocol
The Domestic Violence Act of 2007
Devolution of Estate Act of 2007
The Registration of Customary Marriage and Divorce Act of 2007
Child Rights Act of 2007
The Prevention and Control of HIV and AIDs Act of 2007
The Sexual Offence Act of 2012
His Excellency the President, Dr. Ernest Bai Koroma is mindful of the role and contributions of women to national development. Critical decision-making positions in Sierra Leone are now occupied by women. We believe women who have been capacitated must be part of state governance at all levels.
Mr. President
Excellencies
There cannot be good reason why it is easier to trade with Asia, Europe and the Americas, than trade with our compatriots in Africa. Why should trade with other continents flourish to the detriment of intra-African Trade? Where is our common destiny? For the most part of our recent history, we are only a source of raw materials; exporting resources and jobs to other parts of the world with, gross imbalance in rewards. Africa must use its raw materials and resources to industrialize; to create jobs for its own people; to significantly open its market to African Products, so that we can together build a prosperous Africa. This way, we can end the risk of insecurity, of radicalizing our youth and promote peace, security and stability. The nexus between Peace, Security and Development cannot be over-emphasized. By this way, we can create a prosperous continent now and for the future. We must see ourselves as competitors for the development of Africa. Our collective destiny lies in our collective hands.
Mr. President,
Excellencies
Let me end my remarks by touching very briefly on the African Peer Review Mechanism, the APRM. As we all may recall, the APRM was established primarily to foster the "adoption of policies, values, standards and practices of political and economic governance that lead to political stability, accelerated sub-regional and continental economic integration, economic growth and sustainable development". It is a mutually agreed instrument, voluntarily acceded to by the member states of the African Union as a self-monitoring mechanism. By becoming a member, we all agreed to "voluntarily and independently review our compliance with African and international governance commitments".
To be able to compete favourably at the international sphere, we must ensure good governance by instituting measures to monitor our progress and build on our successes. The Pan-African Parliament must strengthen its monitoring capacity of member states through established structures, not least the African Peer Review Mechanism. This is how we ascertain and ensure that quality services are delivered on a timely basis. This is how Africa can move forward.
God Bless you
Long Live African Unity
God Bless Africa
I thank you for your attention.
Ambassador Dr. Victor Bockarie Foh
VICE PRESIDENT
Republic of Sierra Leone