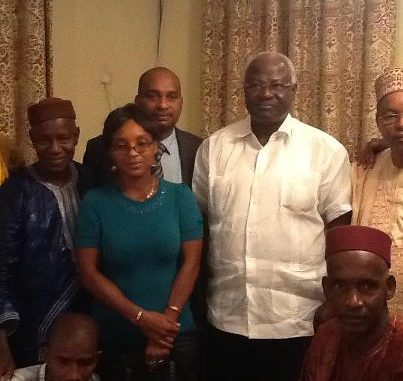 With just hours for polling to start in Sierra Leone's landmark elections, the ruling All People's Congress has received another  huge boost . Two of the  parties registered to contest the elections have followed the example of the United Democratic Movement ( UDM )  by stepping down and declaring for the APC. The two parties are the National Democratic Alliance ( NDA ) and the Citizens' Democratic Party ( CDP).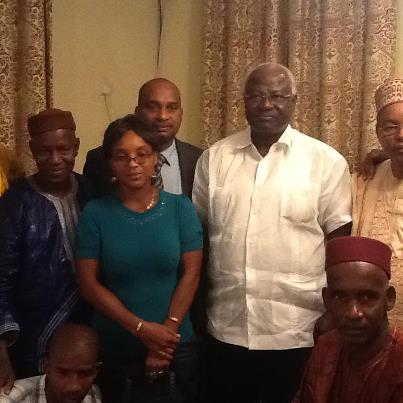 PRESIDENT KOROMA AND THE NDA LEADERS AND MEMBERS OF THE FULA COMMUNITY IN MAKENI YESTERDAY-photo credit : Stanley Bangura
STANLEY BANGURA, reporting from Makeni, said that the Leader and Chairman of the NDA Party , Alhaji Mohamed Musidal Jalloh,   said at the Presidential Lodge in Makeni that he believes in the leadership of President Koroma and that he is calling on all those who believe in him both within his NDA party and the entire Fullah community to cast their votes for President Koroma on Saturday/
Mr. Bangura writes : "This latest move by no less a person than  Musidal Jalloh is indicative of the fact that all the remaining contesting aspirants excluding SLPP's Maada Bio will lend their support to President Koroma to win the first ballot."  According to him, in another development,  SLPP young Generation Youth leader Kandeh Sesay has officially declared for APC and called on all youths to vote EBK.
THIS MORNING, the Leader of the Citizens' Democratic Party ( CDP) , Mr. Joshua Carew, also stepped down, declared for President Koroma and called on his  supporters to vote for the ruling All People's Congress ( APC).