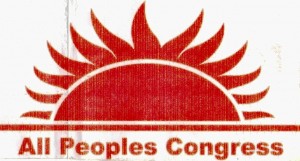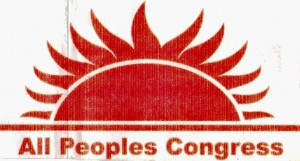 Continued Commitment To Uphold Democracy…
APC Holds A Low Key Emergency National Delegates Conference On 30th April
By We Yone Staff Writer
The National Secretariat of the ruling All Peoples Congress has informed the general publics including its organs, members and supporters of a slated low key national delegate conference on the 30th April 2015.

As part of its commitment to uphold democracy, the Party, according to the release signed by the APC national scribe, Ambassador Osman Foday Yansaneh, states is in accordance with article 6.9.2 (ii) of the 5th September 2005 Party Constitution.

The Emergency meeting on Thursday 30th April 2015 would take place at the Bintumani Conference Centre in Freetown.

Information reaching We Yone state, in the meeting, party members would deliberate on diverse issues of importance and chat the way forward in order to win the next elections and any other subsequent election thereafter.