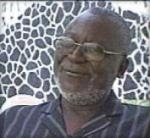 Monday June 6, 2005
Witness TF 2-078  has told the war crimes tribunal in Freetown that the Civil Defence Force were ordered to burn down every house occupied by members of the AFRC  junta and to seize and use any property belonging  the RUF  rebels or the AFRC. From Freetown, Tamba Borbor reports :
Witness disclose plans for Operation Black December' at Special Court
By Tamba Borbor from Freetown
In the joint trial of the three CDF indictees- Sam Hinga Norman, Alie Kondowa and Moinina Fofana, witness TF2-079 has disclosed plans for Operation Black December'.
The witness said that the National Co-ordinator- Chief Sam Hinga Norman called them to a meeting where he informed them of the operation which he said was going to take place thus: all supply route to the RUF would be cut off; felling of trees on major roads and feeder roads- for which purpose they were given power saw to cut down the trees. Also, bridges were to be dismantled.
The witness went on, "the operation was to be carried out simultaneously as all RUF bases were to be attacked. Civilians and Police collaborators are to be treated as common enemies; all houses occupied by the AFRC were to be burnt and properties including vehicles belonging to the RUF or AFRC and collaborators should be owned and used by the Kamajors." The witness further disclosed that another meeting was also held at Walihun II where most members were present including the War Council authorities- Orenco, Nallo and himself.
At that meeting the witness said, Hinga Norman told them that gravel, which the AFRC Junta had dug, should be washed, sold and the proceeds be brought to him. The 43-year-old man who is also a member of the CDF told the Court that he first saw the second and third accused in November when he went to Base Zero at Talia to request for arms and ammunition as their supply had drastically reduced. "When we arrived, we went to the house where Hinga Norman was residing but we were told he had gone to Liberia. We were introduced to the Director of War- Moinina Fofana who received us with open arms after we had told him about our purpose.
The next morning, he took us to the house of the High Priest- Alie Kondowa. We stayed at Base Zero for three days during which Hinga Norman came and we handed over the Situation Report to him. He advised that some men return back with the arms in and ammunition that was given to us." He said that the lives of the civilians were also danger as anyone caught travelling between Tongo and the Kamajor base was killed. "A lad travelling from Tongo to Panguma on foot was caught and butchered by the Kamajors. Around the vicinity of Tongo, palm wine tappers were also killed by Kamajors," he narrated.