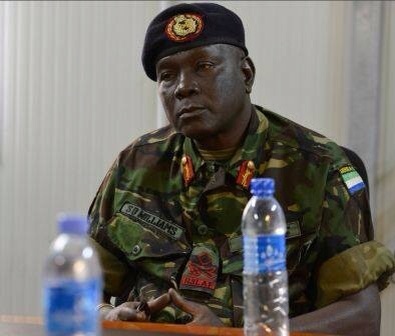 By Alhaji Saidu Kamara
The Chief of Defence Staff of the Republic of Sierra Leone Armed Forces (RSLAF), Lt. General. S. O. Williams yesterday addressed a cross section of LEOBAT One at the Hockey Pitch Wilberforce Barracks by calling on them to maintain discipline at all times.
LEOBAT One was Sierra Leone's contingent to AMISOM, which operated in war torn Somalia under the command of Col. Abu Conteh.
It would be recalled that LEOBAT One left the shores of Sierra Leone in July 2013 to join other African countries to restore law and order in the East African country of Somalia under the African Union Peace Keeping Mission (AMISOM).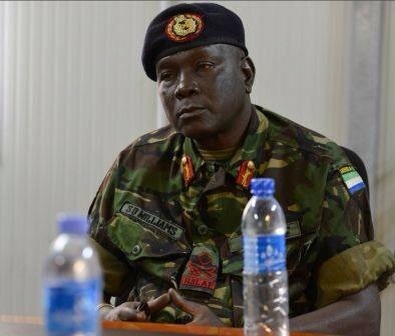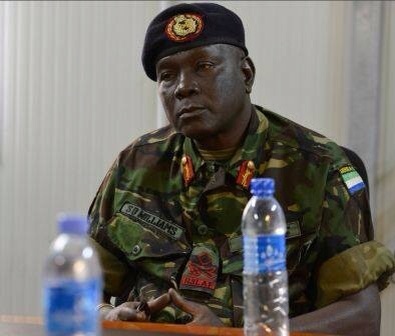 During their stay in Somalia, the Sierra Leone Peace Keeping force excelled in their area of peace keeping operations which earned them International recognition.

However, the troops finally returned home in January 2015 without one soldier Lance Corporal Septimus Swarray who died in action and three others sustained injuries.

Addressing officers and other ranks of LEOBAT One, the CDS Lt. General S.O. Williams said there is wide rumour doing the rounds that certain officers have allegedly eaten the leave allowance of LEOBAT One personnel and other allegations pertaining to the former peace keeping mission.
The CDS said all those allegations doing the rounds are completely baseless and misleading.
He said there is no leave allowance for LEOBAT One personnel because the agreement between the RSLAF and the African Union did not make provision for any leave allowance.

He said the agreement starts when enter the personnel enters the theater (country of deployment) and the agreement ceases when they leave the country.

He said African Union is giving benefit of US $50, 000 to the widow of a serving soldier who died in peace keeping operation. He further said the UN is giving out US$ 70,000.

The CDS read out official letters from the secretariat of AMISOM to debunk the allegations. He assured those who sustained injuries that they will be compensated but it has to take some time citing the case of Lance Corporal Swarray who died in July 2013 but his family received the benefit in November 2015.