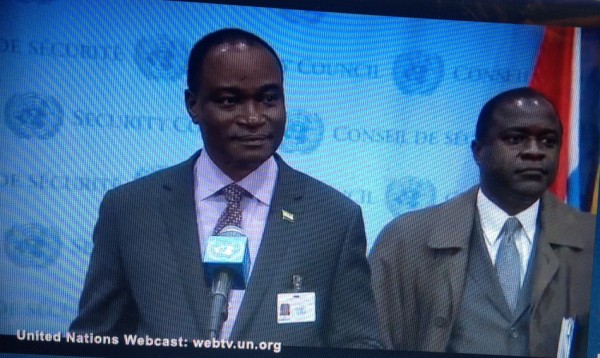 PHOTO : FROM LEFT : FOREIGN MINISTER SAMURA KAMARA AND PERMANENT REPRESENTATIVE VANDI MINAH
The Minister of Foreign Affairs and International Cooperation, Dr. Samura Kamara today Wednesday March 26, 2014, answered questions from the international media at the United Nations , after the UN Security Council Meeting on the completion of the United Nations Integrated Peacebuilding Office in Sierra Leone (UNIPSIL) mandate in Sierra Leone.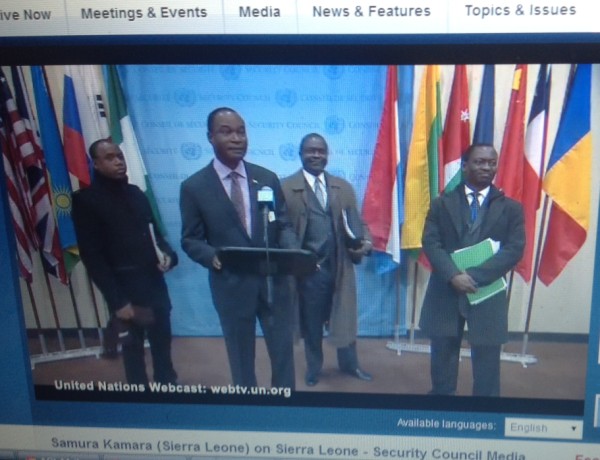 Standing at the podium with the Minister from left  are the Deputy Permanent Representative ( Legal ), Ambassador Osman Keh Kamara ; the Permanent Representative, Ambassador Vandi Minah; and the Deputy Permanent Representative ( Political ) , Ambassador Amadu Koroma.
The event is brought to you courtesy of the UN webtv.
CLICK BELOW TO LISTEN :
http://webtv.un.org/watch/samura-kamara-sierra-leone-on-sierra-leone-security-council-media-stakeout-26-march-2014/3395152879001/http://webtv.un.org/watch/samura-kamara-sierra-leone-on-sierra-leone-security-council-media-stakeout-26-march-2014/3395152879001/