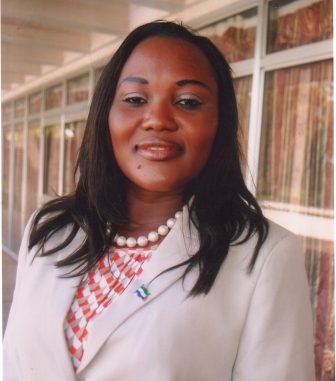 By Martin Wusha Conteh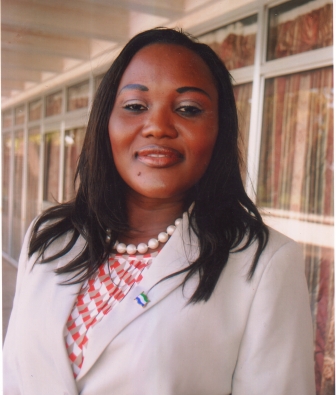 The Member of Parliament for Constituency 103 in the Western Urban Hon. Jariatu Osaio Smith has donated food and non-food items to quarantined homes and Ebola affected families at KaniKay, Culvert, Blackhall Road and Quarry.
In her keynote address Hon. Jariatu emphasized that she is ready to show gratitude to his people because they make her feel like the most important individual in the country. She thanked her constituents for their inflicting support.
Hon. Jariatu disclosed that she has engaged both the management of LEOCEM & BOLLORE Companies to support affected homes as part of their corporate social responsibility. She reiterated that Ebola is real and kills, and urged people of her constituency to always wash their hands, keep their environment clean and adhere to safety practices issue by the Ministry of Health and Sanitation.
Hon. Jariatu said that the food donated includes bags of rice, gallons of oil, palm oil, packet of maggi, packet of onion, bathing soap, corn-flakes etc. According to her these items will be going to ten families homes quarantined. She thanked the management of LEOCEM and BOLORE for their continue support to her constituency and admonished people to adhere by the byelaws underscoring that ignorance of the law is no excuse.
President of National Bike Riders Union, David Sesay also commended   Honorable Jariatu Osaio Smith for her tireless efforts in making the exercise a success. According to him, Honorable Jariatu was the brain behind the Elite Friendship Syndicate of young children residing in constituency 103.
Mr. Sesay urged youth groups in the constituency to take the necessary precautions to avoid contracting the Ebola disease. He pledged his continue support to partner with the honorable in eradicating the deadly epidemic not only in the constituency but the entire country.
The Public Relation Officer (PRO) for constituency 103 Mr. Foday Y Thoronka applauded Hon JK for her relentless effort in fighting Ebola in her constituency. He said Ebola has affected the people of constituency 103 very seriously and call on members of the constituency to work together with the Honorable and elders to eradicate the disease in the country.
The Zonal Chairlady Mrs. Mariatu Kamara thanked the MP for this donation to their people that have been affected by this deadly Ebola Virus in constituency 103. She described the MP as a very hard working politician that has helped his people greatly.