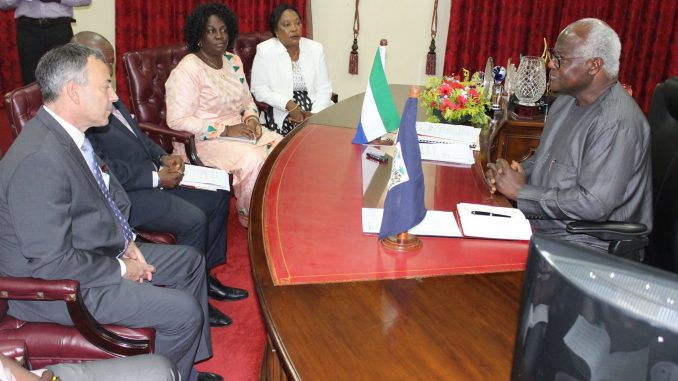 By State House Communication Unit
The Israeli Government has through the Office of the First Lady Mrs. Sia Nyama Koroma, donated some medical relief supplies, including 5 cartoons of septrin suspension, 11 cartoons azithromycin tabs, 5 cartoons ciprofloxacin, 3 cartoons septrin tabs, 4 cartoons doxycyline tabs, 8 cartoons vibramycin suspension, 1 box of catgut, 1 box furovenir solution and 68 cartoons of face masks for the August 14 2017 flood and mudslide victims.
Reporting on the relief supplies to President Dr Ernest Bai Koroma at State House today, Tuesday 5 September, the Israeli Ambassador Paul Hirschson said the donation was an emergency aid support from the Israeli Government for victims of the August 14 tragedy which he described as a terrible experience.
President Koroma on behalf of the Government and people of Sierra Leone thanked the ambassador for the donation, stressing that government's response to the disaster would not only target the directly affected persons but also extend to people living in disaster prone areas by providing them with new settlements to prevent future disasters. "It's going to be a big project," he said.
The Head of State extended via Ambassador Hirshchson his regards to the Prime Minister of Israel Benjamin Netanyahu for his letter of condolence in the aftermath of the August 14 catastrophe.