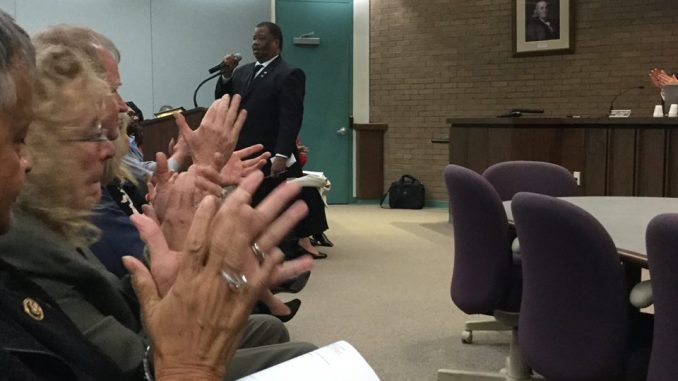 By KABS KANU :
Here is the photo I promised to post of U.S. senators and mayors applauding me as I deliver my speech on behalf of my President , Dr. Ernest Koroma and beloved country during last Friday's colorful and historic inauguration of the Mayor of Somerset, Dr. Phil Kramer in New Jersey.
I told the captive and jampacked hall about the inspiring leadership of His Excellency President Ernest Bai Koroma and the fact that democracy prevails through the length and breadth of Sierra Leone . I told them about the outstanding leadership that led to our country being declared Ebola-free by the WHO . On behalf of my President and people of Sierra Leone, I thanked the United States, other countries and international organizations for their valuable help to us to bring the ebola outbreak to an end. I also thanked the Mayor himself for the role he played in alerting international attention to the ebola outbreak in Sierra Leone and to his support for the Sierra Leone community.
My speech , which I delivered off head, was punctuated with prolonged applause twice, at the middle and at the end. Additionally, Senator Cory Booker added more zip to my speech by taking my IPAD and standing out there taking my photos. What occurred to me where I stood talking was that Mammy en daddy Blessing sweet ! ! Can you imagine a whole senator of the U.S, and a very, very important one like Hon Cory Booker standing there and snapping a humble boy from Sierra Leone like me in such a huge and august gathering. Senator Booker taught us , Sierra Leoneans at the hall , an indelible model of humility and service.
My politician brother, Hon. Dauda Jawara Mansaray , said at the APC Whatsapp forum that I almost stole the show. While appreciating my brother's sentiments, the fact was that I went there not to steal the show. It was all about the new Mayor in New Jersey. That was his show. For me, it was all about service to my President and my country and it was also about patriotism—Continuing to rebrand my beloved country.
I thank God for the priviledge to serve and represent one of the best Presidents in Africa. You can say what you want, but President Koroma is known in the U.S. and the world as an outstanding Leader , and we will continue to drum it home anywhere . The world knows he is a good leader and that is why his name strikes a cord wherever it is mentioned.
HERE IS THE PHOTO OF SENATOR CORY BOOKER TAKING BY PHOTO WHILE TELLING THE U.S. MAYORAL INAUGURATION THE GOOD NEWS ABOUT SIERRA LEONE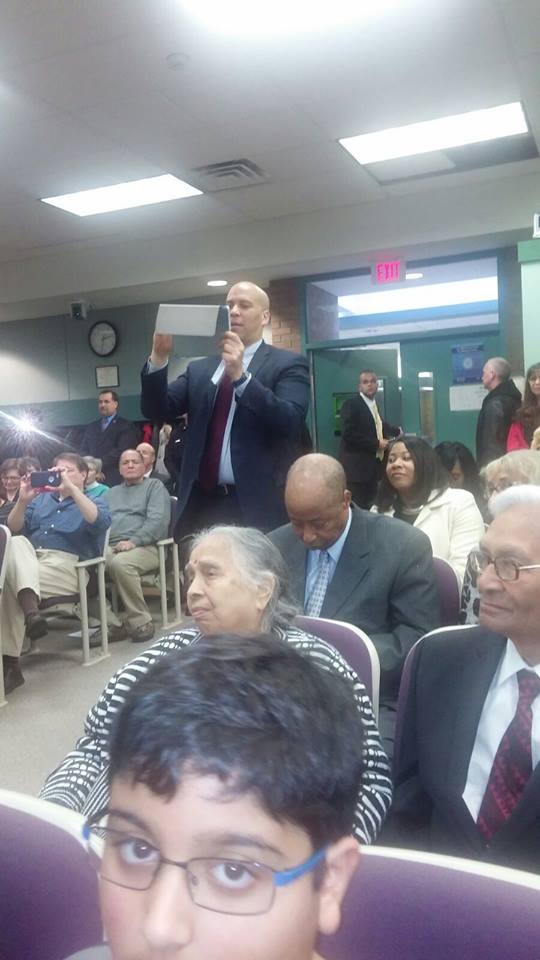 Senator Cory Booker is one of the most loved and progressive U.S. public servants.
He exemplified the ideals of the humility and selfless public service he preaches by taking my IPAD and opting himself to snap me while I delivered the statement on behalf of President Koroma at the grand inauguration ceremony of the Mayor of Somerset, Dr. Phil Kramer , last Friday. I could not believe my eyes.
I was so humbled.